The Oinkari Dancers at the Folklife Festival: 1968 to 2016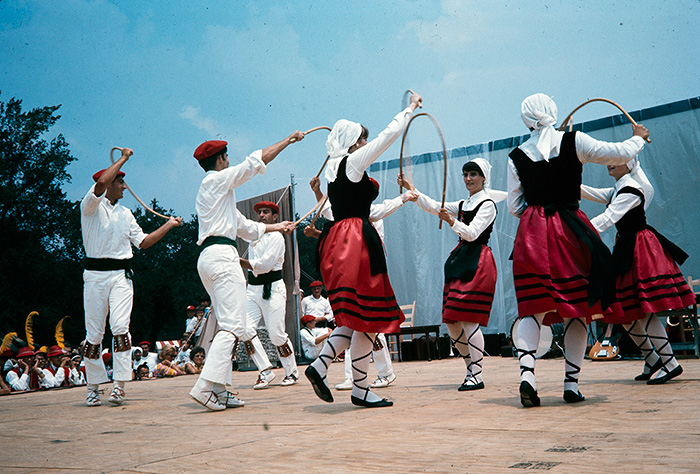 At the 2016 Folklife Festival, the Oinkari Basque Dancers energetically twirled, jumped, and high-kicked across the Musika eta Dantza Etxea and Frontoia. But this wasn't their first time gracing the National Mall. They first performed at the Festival (then called the Festival of American Folklife) in 1968 and again in 1973.
The Oinkari Basque Dance troupe was founded in 1960 in Boise, Idaho—the home to a large population of Basque immigrants and their descendants. The founders, a group of young Basque Americans, traveled to Basque country with the intention of bringing back Basque dance. The founders' devotion to reviving, sustaining, and cultivating Basque dance in America is evident in the enthusiasm and skill of the group today.
"Soon after we got back from Basque country, there was a sheepherders ball," explained founding member Albert Erquiaga. He was the Oinkari director in 1968, and returned this year with the Biotzetik Basque Choir. "So we thought, we are going to teach this dance from Basque country to a few other people to fill out our group. We went and taught the dance. People just lost their minds—they cried, they yelled. It was amazing. And from that time on, we couldn't stop getting enough kids. Everyone wanted to join the group."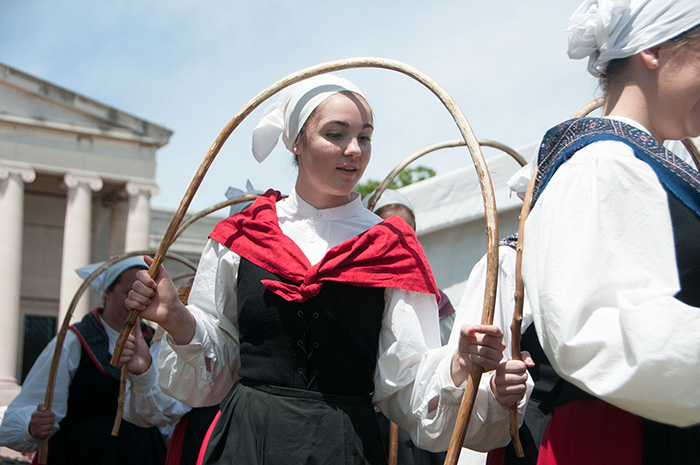 Dan Ansotegni, a former member of Oinkari and current accordion player for Amuma Says No, shared his memories from the 1977 Festival.
"I was a younger member of the group at the time, but I remember being overwhelmed with everything that was going on around us," he said. "We thought we were only really known locally, and we didn't think about anything outside of the western states. So to be able to come here was really an eyeopener to us."
Oinkari means "one who does with his feet" in Euskara. It perfectly describes the Basque dance technique, which focused primarily on delicate footwork organized into complex patterns. They truly can "do" with their feet. Currently the troupe is led by Elise Overgaard and Ben Monasterio, two Basque Americans who emphasized the importance of Basque dance.
"It's a living museum!" Overgaard said. "It has been preserved so carefully for so long. It is the result of many people dedicating their lives to preserving dances. Plus it is just fun! It is a beautiful social thing that includes all generations and all peoples despite language."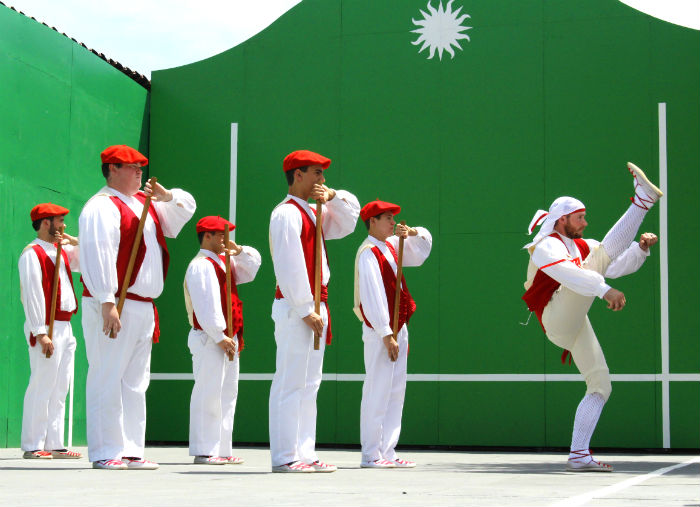 Of course, each Folklife Festival experience has been different. This year, traditional dancers from Oinkari were able to talk with and learn from contemporary dancers from the Aukeran Dance Company.
"Since we are American and don't have the Basque influence around us all the time, that combination completely takes away any ties that we have to our heritage," Overgaard said. "We are in America, trying so hard to preserve these dances perfectly, whereas they use the dance steps to do cool artistic movements. It is a totally different approach to Basque culture."
Fruitful conversations that form connections like these are central to the Festival atmosphere, and have always been. Ansotegni described the role that the Festival has played in bridging communities.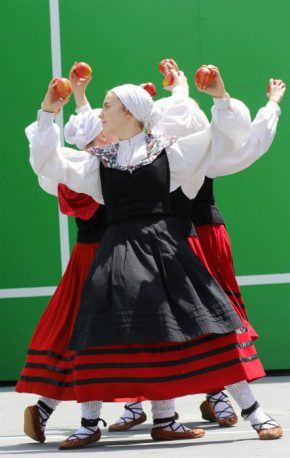 "Since the mid '70s we had this outreach where we started to reach back to the Basque country. Now we see that it is happening both ways. It strengthens the whole diaspora when we have people from the diaspora and the Basque country working together. I am now old enough that I have been able to recognize the changes.
"It was a regional, almost stagnant, version, where the culture in Boise was just a copy of itself. With every five years, you could see it diminishing. The dances were getting a little less tight, the music was changing. Now all that is coming back together, the dances are tighter, music better, and it is because of events like this."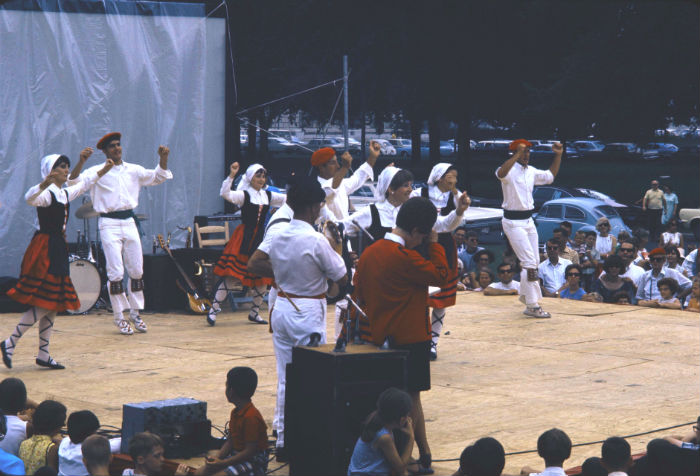 According to Ansotegni, the Smithsonian Folklife Festival has facilitated the connection of the Basque diaspora to the Basque country, playing a central role in the revival of Basque American culture. Hopeful they will join us again at a future Festival!
SarahVictoria Rosemann is the Folklife Festival media intern. She has a degree in ethnomusicology, with a focus in Tibetology, and grew up in Reno, Nevada.