The Frontón: A Basque Soundscape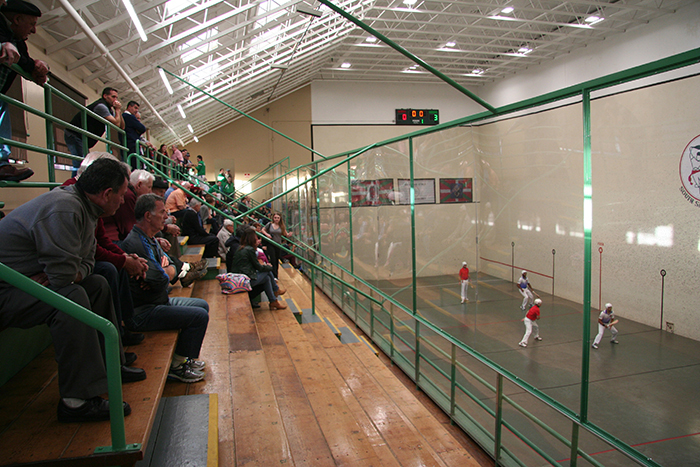 The frontón is a centerpiece of Basque community life. A pelota or handball court at its core, these spaces were once sides of village churches and now can be found in parks, community centers, and casinos in Basque Country and around the world. Always with one high front wall, usually with a long left-side wall, and often with bleachers to the right, open air or indoors, they have evolved to become gathering spaces: a place of competition, celebration, contemplation, and cuisine.
The San Francisco Basque Cultural Center, which celebrated its thirty-fourth anniversary in February with a full weekend of events, consists mostly of an indoor frontón. The rest of the building is a restaurant, two bars, some office spaces, and a ballroom. In fact, the center came to be in 1982 because the Bay Area Basque community needed a pelota court after their one option at a North Beach playground was renovated.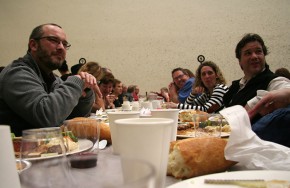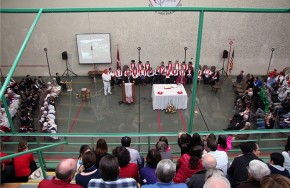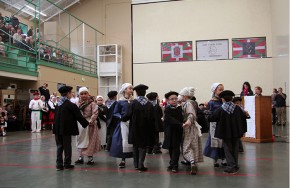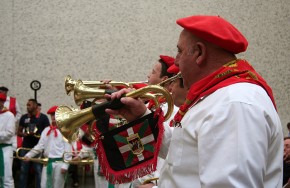 During their anniversary weekend, attracting Basque Americans from across the country, all the action was in the frontón (called frontoia in Basque). It reminded me of town plazas in Latin America, or my elementary school cafeteria: not just for food fights at lunch but also talent shows, musicals, book fairs, and sixth grade graduation. The resonant room was full of constant chatter in Basque, Spanish, French, and English, with the sharp crack of the pelota ball against paleta rackets punctuating every conversation.
As an outsider, spectators seemed to cheer indiscriminately, for any pelota player who made a wild shot or save. When the scheduled matches were complete, the service, pass, and fail stripes on the court floor became guides for lining up long dinner tables that night, then for lining up the newest and smallest generation of Basque dancers the next morning. Swift setup and takedown between events was a communal effort. As one organizer told us, "You're not Basque until you've stacked up five hundred chairs."
Audio
The Frontón: A Basque Soundscape
In this sound collage, you'll hear the variety of activities that took place in the center's frontón over two days. In order, there's a paleta cuera game, a txistulari flute and drum duo accompanying the children's dance troupe, Father Lastiri leading a Sunday morning Mass in Basque, crowds in the bleachers singing along with the Elgarrekin Choir, North American Basque Organizations president Valerie Arrechea, five hundred visitors sitting down to five hundred racks of lamb, the thunderous klika brass band, and a young dancer reciting a passage in Basque during the Mass.
The frontón will be a centerpiece of the 2016 Folklife Festival as well. Although its design will be modified to stand among the oak trees on the National Mall, it too will be a hub of activity, from pelota demonstrations to dance performances and more. What sounds will you hear?
Elisa Hough is the editor and unofficial audio adventurer of the Center for Folklife and Cultural Heritage.