The Basics of Bertsolaritza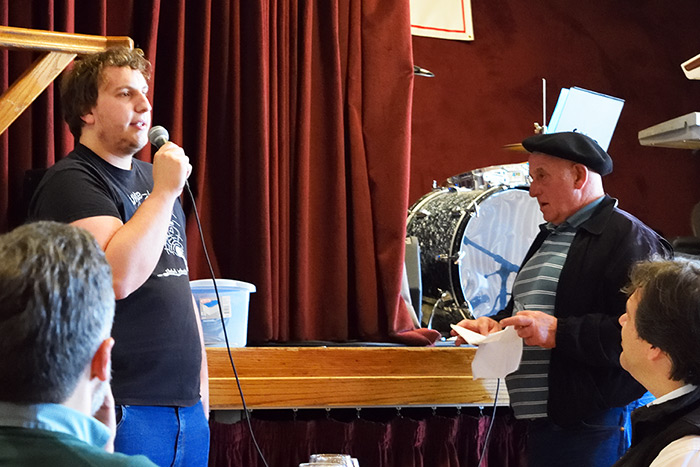 Quick wits, a keen ear, a powerful voice, and a thousand rhymes—these are the instruments of the Basque bertsolari.
Part of a unique performance tradition called bertsolaritza, these singers improvise poetry on assigned topics in the Euskara language. In pairs or groups they compete, whether as after-dinner entertainment in homes or national championships in sold-out stadiums, alternating verses full of quips, jokes, jabs, and profound truths.
In 2003, the National Endowment for the Arts awarded four Basque American bertsolariak the National Heritage Fellowship, recognizing their work in sustaining their culture's language and artistic expression. Two of those singers, Johnny Curutchet and Martin Goicoechea, recently explained their art form in a small park outside the San Francisco Basque Cultural Center in California.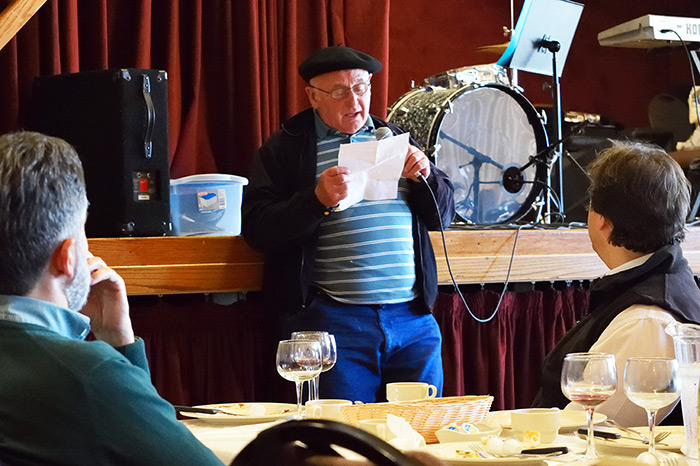 How does the bertsolaritza begin?
Johnny: First they give you a subject. For example, I might be a policeman; he might be a thief. Martin, you might be king; I might be president. I'm the husband; you're the wife. And then instantly we have to write those verses.
Martin: Once you know what you're going to sing about, your preparation is like walking backwards. You find the punchline that you're going to end with, and you find that rhyme. Then you find other rhymes to match it, and you start singing.
Johnny: You don't have too much time. Usually it's quiet from the public, and that helps a lot. We're concentrating 100 miles per hour there. By the third line, we know pretty much what the other person's going to say, so you have to figure out right away how you're going to reply with your next verse.
Martin: We pick on each other, just like politicians. We see who makes the best points. That's the main thing for the audience is to listen and compare to see which one they like.
Beyond the rhymes, you have to pick a tune. You have to choose the words and syllables to fit in the tune. If it's sad subject, you usually pick a sad melody. If it's happy, you take a livelier melody. We don't usually use the same melodies at weddings as we would at funerals. You can have people laughing, and we can also make people cry. I've seen people in tears a lot of times after we finish singing.
How do you prepare leading up to a performance?
Martin: If I know if I'm going to perform in Washington in the summer, for example, I will prepare lines about the government, the politicians, and what Obama is doing. I'm going to have quite a bit of information in the back of my mind in case they throw any of those topics at me.
Johnny: But maybe they won't give any topics from Washington because they might think we've been preparing for those subjects!
Martin: In my rhyme word collection, the last time I counted I had over 800 words. Before we went to the Basque country last October, I was practicing on that every day. Every day I had that out. Every day. They come easier.
Have you ever been stumped?
Johnny: Sometimes it doesn't come out the way we want it. It's like when you prepare food: it might not be good, but it's going to be edible.
Martin: It's just like in church today. I was ready to sing. I had the tune prepared. But after all these guys sang with the choir before me, I couldn't think of that tune when I went to the microphone! So I took a completely different measure, a lot longer. I was lucky it came out right, but sometimes it could be kind of shaky.
Johnny: It's all mental. If something's bothering you, like your health or your family or something, your mind is not there, that is the worst thing you could do. You have to be there. Nothing else exists.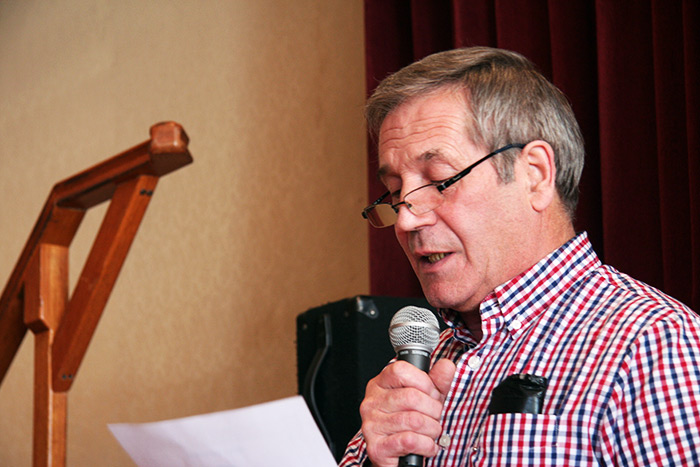 How did you become a bertsolari?
Martin: I started very young, probably eight or nine years old. I used to lock myself in almost every evening, for a couple hours, reading the bertso books. There were a couple programs on the radio each week. I never missed those. Even my parents knew that my chores had to wait until the radio program was over.
When I was twelve years old, my brother took me to a carnival in town. He took me to the dinner table and he put me with one of the bertsolaris singing there, and that was my first time. I did quite a bit, especially in the summers at the festivals. I was quite—I don't want to brag about it—quite popular, I would say. They used to offer dinner and whatever to see me sing.
From there I went to one of the championships of our province, and I took fourth place. I qualified to be in the finals, but I was unable to make the trip. Between our friends and work and dinners I sang a little bit, but I was kind of mute for years and years, until the opportunity to sing in Garnerville in 1991. I was so nervous before that.
But when I went up to the stage, I felt so relaxed. It was like I was home. I was satisfied with the performance, so I started from there again. The topic was the Gulf War, and there were four of us. One was President Bush, the other was Saddam Hussein, the other was fighting the allies, and I was a dying bird on the oil spill they created. And I blamed it on all of them!
Have you passed the tradition onto your children?
Martin: She doesn't know the language. That's my biggest mistake. If she had our language, there's a good possibility she could be a bertsolari, because she has quick lines. Very quick lines. She surprises me a lot of times.
Johnny: Same thing with me. In order to perform this, you have to be very fluent in Basque. You have to use all the words you can.
Will you sing a bertso for us?
Audio
Johnny and Martin's Bertso
Martin: I said there was a kind of fresh air in the park, and…
Johnny: I said, and I'm living right by this park all the time…
Martin: And then I finished, we have to do this because you won't leave us alone!

Experience bertsolaritza for yourself at the 2016 Folklife Festival, June 29 to July 4 and July 7 to 10. Martin Goicoechea will be participating during the first week, along with bertsolariak Irati Anda and Xabier Paya.
Elisa Hough is the editor for the Center for Folklife and Cultural Heritage. She conducted this interview along with Folklife Festival community engagement coordinator Greyson Harris in February 2016.