Mastering Iron: César Alcoz and the Art of Basque Burdinola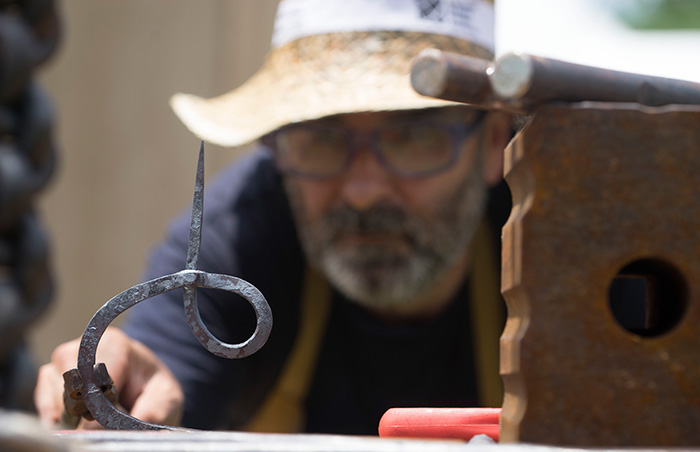 One of the most telling marks of mastery is the apparent ease with which an artist approaches his or her craft—the willingness with which the material complies with their hand, chisel, brush, or hammer to form the objects we admire. Throughout the 2016 Folklife Festival, Basque masters displayed this deceptive effortlessness, a seeming ease born out of years of study and intense concentration and precision.
For few was this evidence of proficiency as obvious or as mesmerizing as it was for decorative ironworker César Alcoz. Equipped with a forge, a blowtorch, a hammer, an anvil, and a few other specialized tools, and with a few of his impressive works on display behind him, César spent the Festival manipulating his unyielding iron rods into intricate designs and precise structures.
Across from his tent, master ceramicist Blanka Gomez de Segura's steady hand glided along her malleable material, applying the perfect pressure to guide traditional Basque pots, jugs, and plates into being. Still, juxtaposed against the supple clay, César's rigid iron at times appeared no less delicate and obedient in his hands, braiding, snaking, and knotting around the frame of a gate or into elegant candlesticks.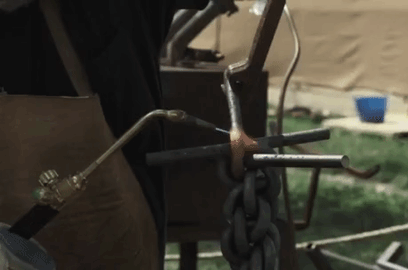 César has been cultivating skill in the art of burdinola, or blacksmithing, since the age of fourteen, when he and his three brothers began learning the craft from their father in his workshop in Urbiola, Nafarroa. For years, he assisted his father in his shop whenever possible, on every break from school or studying. Eventually he moved to Markina-Xemein, Bizkaia, to open his own workshop, where he has been able to develop his own signatures and designs and continue a journey of lifelong learning fueled by a deep love and curiosity for his work.
While blacksmithing in Basque country was originally confined to more practical agricultural and industrial uses, César's work contributes to a more recent turn toward the artisanal, combining function with beauty. His balconies, gates, window grills, and banisters, which feature both traditional motifs and his own designs, are entirely hand forged, down to the rivets that connect the iron bars.
Recently, César has collaborated with other local artisans to create unique pieces that combine iron with other—what he deems—"noble" materials, such as glass, wood, and stone. The result is a beautiful juxtaposition of textures and weights, like his spider figurines, with delicate bodies of blown glass, and thin iron legs that were for sale in the Festival Marketplace.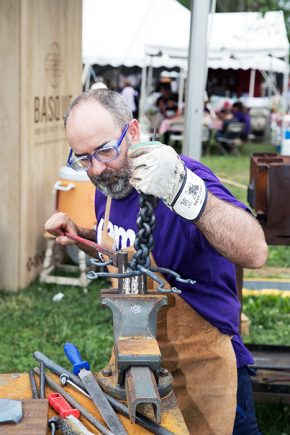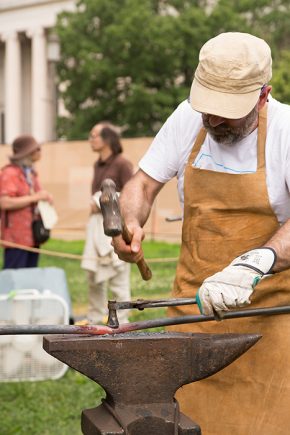 César is one of the few remaining professional ironworkers in Basque country. Though the Basque government provides support for local artisans and for the preservation of traditional crafts, it is not enough to live on. He explains that he and most craftspeople must put in a huge amount of work to make a living. Still, César and his fellow artisans at the Festival emphasized the passion and dedication they put into their work, and the pleasure and satisfaction they get out of it.
"No somos ricos, pero somos felices," he said. "We are not rich, but we are happy."
Despite the clear mastery of his work, César insists that the learning process is an endless one. While he got his start in his father's workshop, most of what he has now accomplished he has learned along the way, sometimes taking additional courses, but otherwise relying on the cumulative experiences of trial and error and a passion to keep improving.
"La clave es tener curiosidad por lo que haces y buscar informacion, experimentar, probar, y avanzar y evolucionar," he explained. "The key is to have a curiosity for what you do, and to research, experiment, try, and advance, and evolve."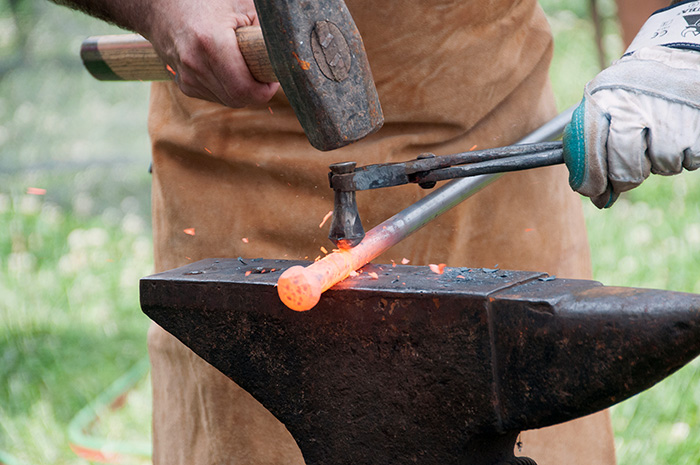 Grace Carroll is a Basque program intern for the Smithsonian Folklife Festival. She is a senior at Wesleyan University majoring in sociology and American studies.