Live from Oakland: The Sounds of California
In addition to Basque: Innovation in Culture, the 2016 Folklife Festival will feature a second program on Sounds of California. A concert series, the program is part of a broader research and community engagement initiative exploring music and soundscapes as vital expressions of collective experience in the state.
We presented a related precursor Sounds of California event at the Oakland Museum of California on December 6, celebrating the power of music to express community identity, migration experiences, and cultural resilience. The event was co-produced with the Alliance for California Traditional Arts and Radio Bilingüe, in collaboration with the Oakland Museum.
Take a listen below to some of the sounds emerging from the places, interactions, and experiences reshaping California today.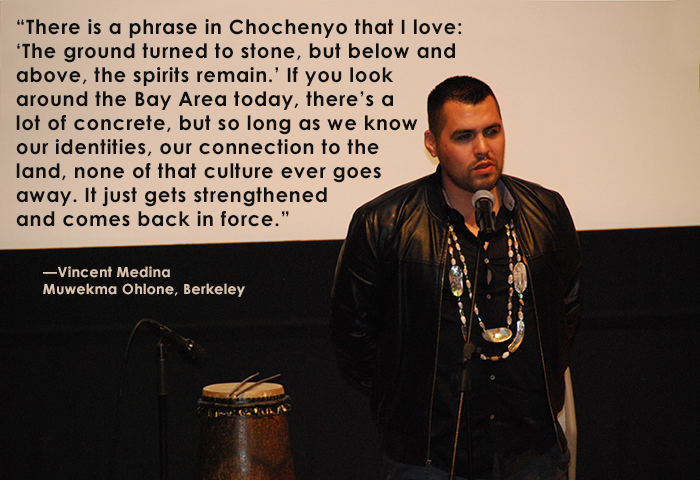 Vincent Medina
Muwekma Ohlone, Berkeley
A leader in the movement to revive Chochenyo, the language of his Muwekma Ohlone tribe, Vincent Medina is a writer and poet who serves as assistant curator at Mission Dolores and outreach coordinator for News from Native California/Heyday Berkeley Roundhouse. In this audio segment he tells the story of Blood Monster and how a community, with the help of Coyote, defeats it.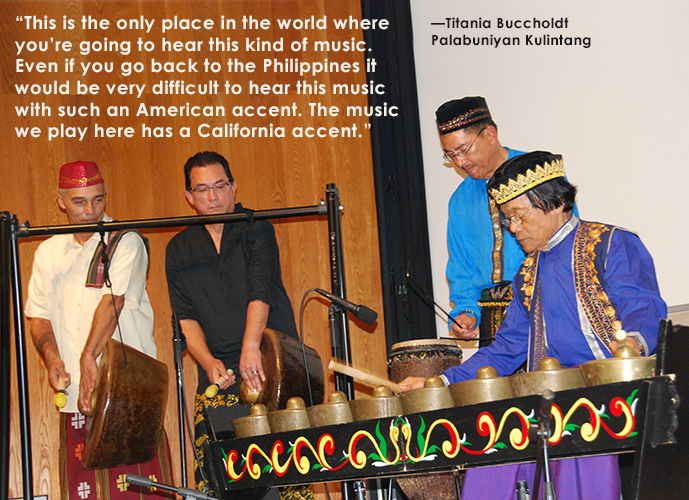 Palabuniyan Kulintang Ensemble
San Francisco
This ensemble specializes in traditional tuned gong music rooted in the indigenous Muslim-Filipino Maguindanaon culture of Mindanao Island. The group is led by Danongan "Danny" Kalanduyan, an NEA National Heritage Fellow who has been central to developing kulintang music in the United States.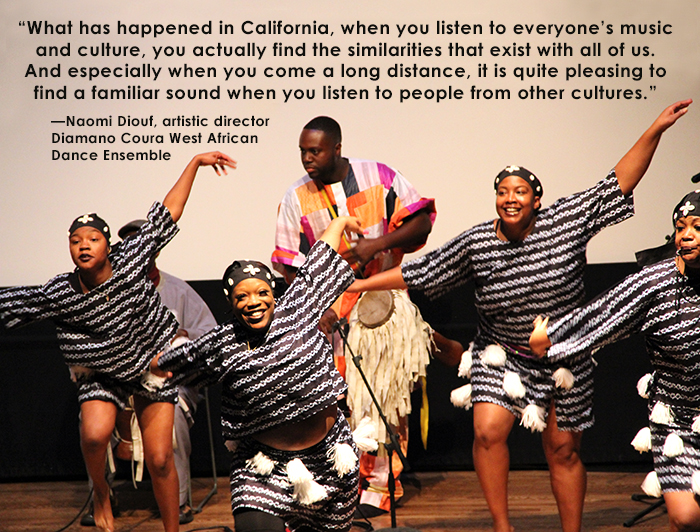 Diamano Coura West African Dance Company
Oakland
This cultural and performance company is dedicated to the preservation, education, and appreciation of West African music, dance, theater, and culture. Under the direction of Zak Diouf and Naomi Gedo Diouf, the group lives up to its name, which in the Senegalese Wolof language means "those who bring the message."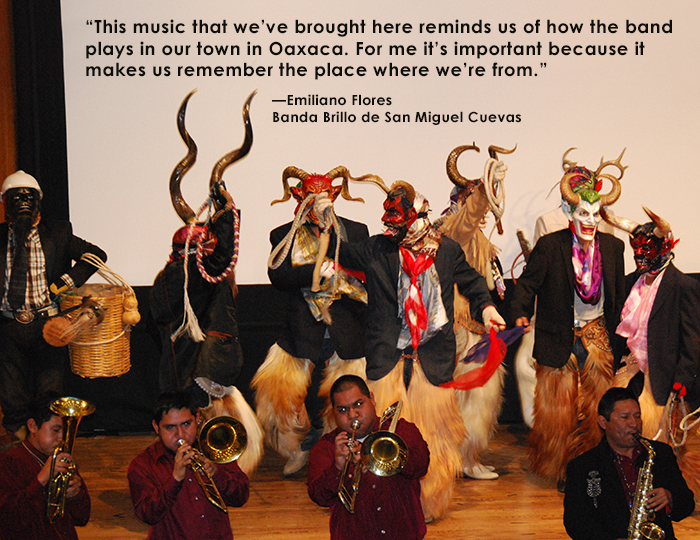 Grupo Nuu Yuku – Danza de los Diablos de San Miguel Cuevas & Banda Brillo de San Miguel Cuevas
San Joaquin Valley
These musicians and dancers represent the region's Mixteco farmworker communities—including those who grew up in California. Banda Brillo is a ten-person wind ensemble that was established in 2005. Grupo Nuu Yuku is comprised of as many as fifty men, women, and children, who perform a specialized local tradition, danza de los diablos, widely practiced in the town of San Miguel Cuevas in northern Oaxaca.
Hear more from the program and learn about the Sounds of California initiative on KQED and Radio Bilingüe.
Photos by Lily Kharrazi, Nancy Ukai Russell, and Steve Velasquez. Audio recordings by Michael Yoshida, courtesy of Radio Bilingüe. Media editing by Elisa Hough.
The Sounds of California initiative is a collaboration among the Alliance for California Traditional Arts, Radio Bilingüe, and the Smithsonian's Center for Folklife and Cultural Heritage. Thanks to the Oakland Museum of California for co-producing the December 6 event, in particular Cynthia Taylor, Lisa Sasaki, Jorge Gonzalez, and Aja Archuleta. The program was funded in part by the Smithsonian Grand Challenges Consortia for the Humanities.