Gâteau Basque: The Signature Basque Dessert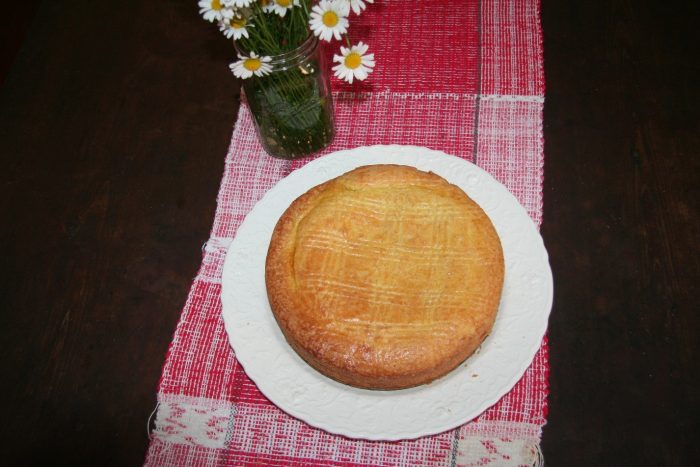 This relatively simple custard filled cake has a dedicated following within Basque communities. There is a Gâteau Basque Museum committed to demonstrating the technique of baking and a two-day Fête du Gâteau Basque in the adorable Basque village of Kanbo (Lapardi) in the southern part of France.
Traditionally filled with black cherry jam or a rum-flavored cream surrounded by a crunchy tart-like exterior, this gâteau sounds more similar to a pie than a cake. There is an easy trick to know which filling to expect: if there is a crosshatch pattern on the top, then the filling is cream, and if there is a Basque rounded cross (lauburu) then the filling is black cherry.
According to Mark Kurlansky, author of The Basque History of the World, gâteau Basque appears to date from the eighteenth century, may have originally been made with bread, and called bistochak.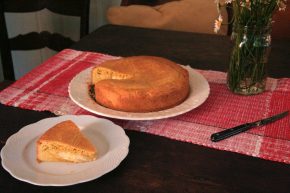 Of the two fillings, cherry is the oldest, suggesting that the first gâteau Basque was a form of cherry bread.
To make a traditional gâteau Basque with the real black cherry jam, one must use xapata cherries which are only found in the valley of the Nivelle River during a couple of weeks in June. The cherries that survive the initial harvest are saved in the form of preserves then used for cake filling. This cake is considered a regional specialty, and gâteau experts state that you must only use jam from this region when making it.
Within one family of the Basque diaspora community, this particular recipe has been handed down for generations, evoking memories of homeland through the simple act of eating a family meal. This recipe comes from Valerie Arrechea, president of the North American Basque Organizations, passed down from her husband's great-aunt Jeanette Iribarren who brought it from Banka, in the Basque region of France.
Valerie will demonstrate how to make gâteau Basque at the 2016 Folklife Festival in the Ostatua Kitchen. Valerie Arrechea was kind enough to share her family recipe with those of us who have not had the opportunity to taste this fantastic Basque cake.
Cream Ingredients
1/4 cup Sugar
2 eggs
1 1/4 cup milk
3 tbs flour
Vanilla
Cake Ingredients
2 whole eggs
1 egg yolk
1 1/2 cup sugar
3 1/3 cup flour
1 cup unsalted butter (softened)
1 tsp baking powder
Flavoring of choice (2 tbs Pernod, 2 tbs rum)
Directions for the Cream
In a medium bowl, combine the 2 egg yolks and 1/4 cup sugar. Beat until frothy. Add 3 tbs flour.
In a saucepan, boil 1 1/4 cup milk and vanilla (to taste).
Add a small amount of the milk and vanilla to the bowl of egg and sugar. This is so that the eggs do not cook too fast and curdle. Then add the mixture from the bowl to the saucepan.
Bring back to a boil for a few minutes and whisk until it thickens.
Take off the stove and put in a larger bowl to cool. Cover top with plastic wrap so that it doesn't make a film.
Directions for the Cake
In a medium bowl, mix together the sugar, two whole eggs, and one egg yolk.
Add the softened butter, flour, and baking powder.
Add flavoring of choice: Ricard, Pernod, rum, etc.
If you have time, let it sit overnight in the refrigerator. This will allow you to roll out the dough. Roll out the bottom in a springform pan, pour in the cream, then roll out the top to cover.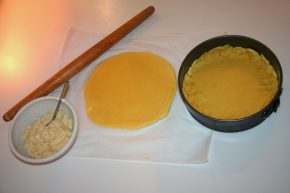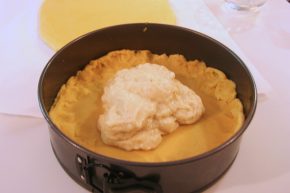 If you plan to cook it the same day, take small balls of the dough, cover with a little flour so it doesn't stick, and pat into place in the pie pan. Cover bottom and sides of pan—it will come together when it cooks. Pour in cream. Pat out top layer.
Wash top with egg yolk and add design if desired. This helps the dough come together and look uniform.
Bake in 350 degree oven for 40 to 45 minutes.
Helpful Hints
This dough has a lot of butter so it melts very quickly, especially when it is hot and humid. Work fast rolling the dough out when you take it out of the refrigerator, otherwise it will melt apart.
When you add the custard to the middle of the cake, leave an inch of free space around the bottom of the cake so that the top crust can fuse with the bottom crust.
When you are attaching the top and the bottom, you can use a little water as glue.
SarahVictoria Rosemann is the Folklife Festival media intern. She has a degree in ethnomusicology, with a focus in Tibetology, and grew up in Reno, Nevada.