Filosofía Caribeña: Transmitting Afro-Cuban Sacred Traditions through Song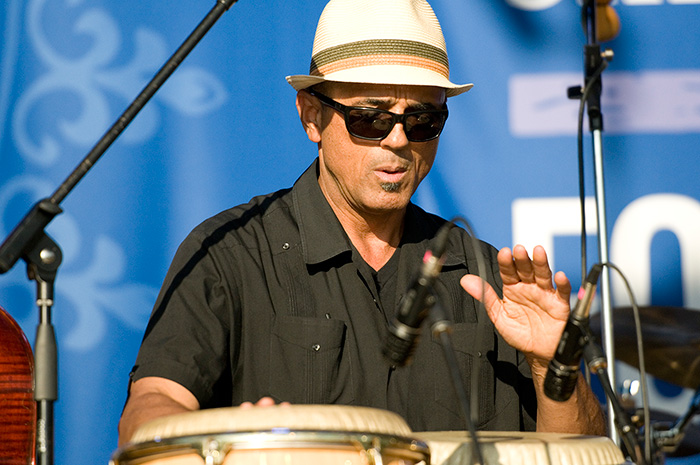 In 1937, Cuban public radio broadcast for the first time the sounds of the batá drums. Danzones and boleros were popular in 1937, but these genres, though they carried various degrees of African influence, are largely based in the European forms and expressed nothing as boldly African as the rhythms of the batá.
While studying the syncretic nature of Cuban culture, anthropologist Fernando Ortiz helped bring together two music greats from very separate worlds. The first, Jesús Pérez, was "keeper of the drum" and a practitioner of Santería. The second was classically trained composer Gilberto Valdés. Sponsored by the Havana Department of Tourism and the mayor's office, Valdés composed a series of pieces incorporating the batá drums and other Afro-Cuban percussion into his orchestra. Along with Pérez, he directed three concerts in the city's amphitheater, one of which was free and open to the public and broadcast live over radio. These performances integrated over sixty musicians, including members of the Havana symphony and some of the most accomplished Afro-Cuban percussionists active in the Yoruba Lucumí traditions.
This event was an extension of the Afrocubanismo movement, which emphasized African roots in Cuban culture and contributed to the popularization of many Afro-Cuban musical genres. Batá rhythms, once reserved exclusively for the sacred rituals of the Yoruba Lucumí religion, have since become an essential element to many Cuban musical genres, both sacred and profane.
There was, however, significant controversy surrounding the collaboration between Valdés and Pérez. Many of the Cuban elite wished to suppress and, in fact, actively denied any African influence on Cuban culture. Many practitioners of Santería disapproved of bringing a private, sacred tradition out into the public.
Debates like these continue today. Who "owns" tradition and culture? How do they transform over time? When is it appropriate to bring sacred traditions into a secular context? How do we respectfully teach and share traditions? What is the responsibility of the individual artist or culture bearer?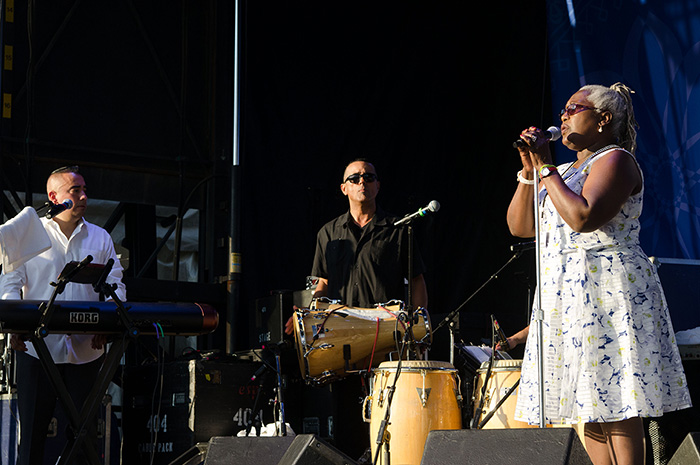 During a panel entitled "Sacred Music" in the 2016 Folklife Festival's Sounds of California program, Oakland-based percussionist John Santos addressed many of these questions. Santos is of Puerto Rican and Cape Verdean descent, and he grew up surrounded by music with professional musicians on both sides of his family. An authority on Latin jazz and Afro-Cuban sacred music, he learned many of these traditions firsthand from active Yoruba Lucumí practitioners. He has gone far beyond simply learning the music, spending significant time learning the importance of the cultural, historical, and religious elements of these traditions.
Audio
John Santos on Sacred Music
Listen to Santos describe how African traditions were maintained in Cuban music, and the particular knowledge of healing, nature, and the divine that is recorded in the Palo Congo rhythms, prayers, and songs. In the end, he gives a brief demonstration of a palo, followed by a jazz arrangement inspired by this Afro-Cuban sacred rhythm.
Audio
"Two Palos" by Palo Monte musicians
"Two Palos"
By Palo Monte musicians
From Music of Cuba, Folkways Records
This is an example of the palo monte tradition, using ritual prayer of Congolese origin to evoke the power of the natural elements. Included on the album Music of Cuba produced by John Santos and Verna Gillis through Folkways Records, this track was recorded in Guanabacoa, Cuba, in 1978. Santos also wrote liner notes and musical transcriptions for this album.
Audio
"Mr. Stallings" by the John Santos Sextet
"Mr. Stallings"
By the John Santos Sextet
From Filosofía Caribeña Vol. 2, Machete Records
In this track, Santos incorporates palo congo rhythms into a jazz arrangement done along with John Calloway. Recorded in Oakland, California, in 2011, this piece is an example of how Afro Cuban sacred music has been introduced to new audiences through these creative adaptions.
Robin Morey is a 2016 Latino Museum Studies Fellow at the Smithsonian Latino Center and the Center for Folklife and Cultural Heritage. She is a master's student in anthropology at Columbia University studying the evolution of a traditional Puerto Rican musical genre, bomba.