Communities on the Move: From Enslavement to Freedom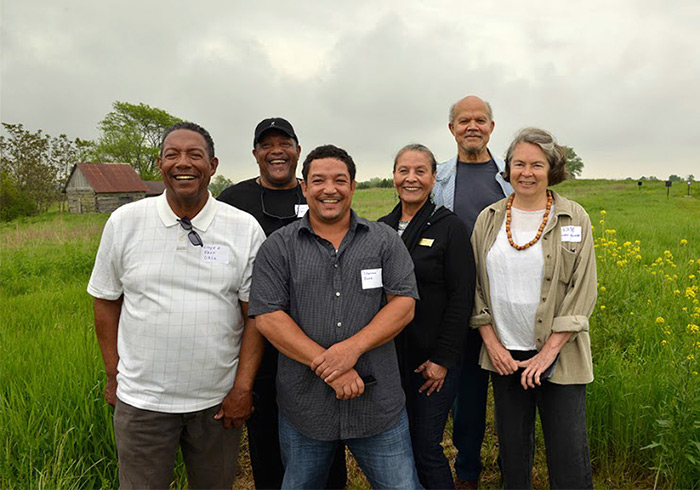 In the nineteenth century, American pioneers pushed through the boundaries of the nascent nation to undeveloped western lands, following their dreams of economic opportunity, self-determination, and prosperity. Frank McWorter, a freedman, followed this westward human migration to achieve his own American dream. In addition to the quest for economic opportunity, self-determination and prosperity, he was determined to earn enough funds to liberate enslaved family members.
While enslaved in Kentucky, McWorter accomplished an amazing feat. Through a variety of enterprises, he purchased freedom first for his wife Lucy in 1817, his own in 1819, and in 1829 he traded a lucrative saltpeter manufactory to liberate his son, young Frank, who fled to Canada in 1826 to escape slavery.
Later, as a freeman and landowner in Illinois, McWorter purchased freedom for seven children and grandchildren left behind in bondage when he migrated from Kentucky. Provisions in his will ensured liberation for five more grandchildren who remained enslaved at the time of his death in 1854.
In 1836, McWorter made history as the first African American to legally register a town in our country. He sold lots in the town he called Philadelphia, Illinois, later known as New Philadelphia, to African Americans and European Americans alike. The small enclave of three homes in the 1840s grew to a community of up to 160 residents by the 1860s.
As a diverse community, New Philadelphia became a place where freeborn and formerly enslaved African Americans lived alongside European Americans in a region and time of intense racial strife. New Philadelphia residents actively participated in the move to end slavery by concealing, harboring, and sometimes accompanying fleeing enslaved African Americans north to freedom.
The McWorter family values of community service, entrepreneurial zeal, ambition, and innovation instilled by Frank and Lucy continue and flourish through generations. As an inventor, grandson John McWorter held several patents for his "flying machine" designs in the early twentieth century.
Contemporary descendants excel as accomplished educators and scholars, including historian and author Dr. Juliet E. K. Walker and author and professor Dr. Abdul Alkalimat (Gerald McWorter), and as professionals in the arts, sociology, government, and private companies. McWorter descendants currently reside in Alaska, California, Colorado, Illinois, Kansas, Oklahoma, Texas, and Virginia.
The story of Frank McWorter, his family, and New Philadelphia is an inspiration for present and future generations of Americans struggling for freedom and fostering opportunity and love for family.
How do the themes of freedom, opportunity, and love for family from Frank McWorter's story resonate with us today? Visitors will have a chance to discuss these issues and learn more about the McWorter family with the New Philadelphia Association at the 2016 Folklife Festival's On the Move: Migration and Immigration Today tent on July 9 at noon.
This guest blog post was written by Charlotte King, a member of the New Philadelphia Association. She was part of the team which successfully nominated New Philadelphia to the National Park Service's Underground Railroad Network to Freedom program. We thank the National Museum of American History for sharing this important story with us.