A Foodie's Guide to the Festival Marketplace by José Andrés
Named one of Time magazine's 100 Most Influential People and awarded Outstanding Chef by the James Beard Foundation, José Andrés is an internationally recognized Spanish American culinary innovator, passionate advocate on food and hunger issues, and author.
A pioneer of Spanish tapas in the United States, he is also known for his avant-garde cuisine. Andrés' award-winning restaurants include Jaleo, Oyamel, Zaytinya, America Eats Tavern, China Chilcano, and Beefsteak in Washington, D.C., as well as locations throughout the United States and in Mexico City.
As a master chef and lover of Basque cuisine, José Andrés shares some of his favorite picks from the Folklife Festival Marketplace.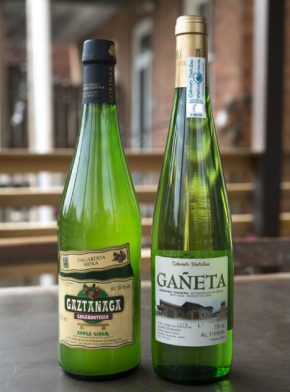 Ganeta White Txakoli
Txakoli is such a unique wine! So fresh, so clean and green. I love to drink it and let the grassy and limestone aromas take me to the countryside. In the small village of Getaria in the Basque country, the family of Julian Ostolaza and his wife Itziar have been producing Gañeta wines for many years. They made some of the very first txakolis to be exported here, to the U.S., and I serve Gañeta wines in several of my restaurants.
This Getariako txakolina white wine is made with grapes with the name Hondarrabi zuri, and it is prized for its minerality. It has earned a prestigious "Denominación de Origen" designation.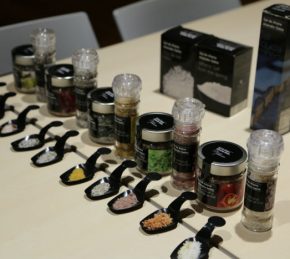 Chuzo de sal and flor de sal from Sal de Añana
Salt is something that is so easy to take for granted. But the prized Añana Salt from the Basque province of Álava reminds us of how precious it can be.
Salinas de Añana is home to a spectacular place: a salt valley. Imagine, for 200 million years, veins of solid salt have built up deep in the earth, and then the ancient craft of the salt workers brings it to us.
Añana Salt is produced in the traditional, sustainable way, harvested by hand from water that flows through the salt veins. Basque chefs have praised the salt's special flavor. I like to finely grate the chuzo de sal or "stalactite" over finished dishes and dark chocolate squares for an impressive presentation, and use flor de sal to add an extra element of depth.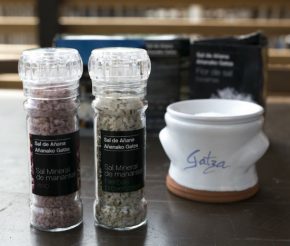 Basque Salt Pot by Loitz Ceramica
If your salt was harvested in and sold at the market in the traditional way, maybe you had a special place to keep something so precious. In Bilbao, the biggest Basque city, Alex and Angela Gonzalez of Loitz Ceramica are continuing that tradition. The colors, white with blue accents, are seen all over the region, and the word gatza painted on the pot means "salt" in Euskara, the Basque language. Put the flor de sal from Sal de Añana inside, and keep it next to your stove or on your table.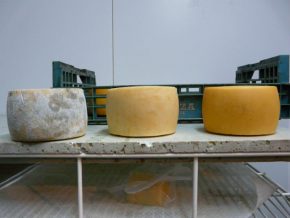 Artzai Gazta Idiazabal Cheese
Idiazabal is the world-famous cheese of the Basque country. The natural beauty of this lush, green land gives the Basque Laxta sheep, somehow, a very special diet. Of course their milk is going to become something amazing! Idiazabal cheese has a nutty, crisp, smoky flavor, and it is dry but not crumbly. It is wonderful on its own and even makes an incredible soup.
In the Basque country, Idiazabal is still family-produced, and production is strictly regulated to ensure quality and sustainability. At the Folklife Festival demonstrations, you are going to be able to see how this special cheese is made.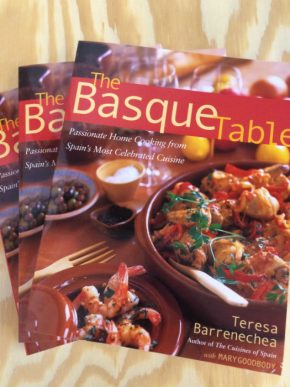 The Basque Table by Teresa Barrenechea
Everyone these days is talking about local and seasonal ingredients. In the Basque country, that is a way of life. You are going to leave the Folklife Festival inspired. And when you have this book, it will help you recreate some of the dishes you have tasted. These recipes are a celebration, an homage to the Basques' culinary heritage with traditional seasonal ingredients, like baby eels in sizzling garlic, baked fresh sardines, and home-style roasted potatoes. You will be making them right away!
The Folklife Festival Marketplace will be open June 29 to July 4 and July 7 to 10 from 10 a.m. to 5:30 p.m. in the Smithsonian's Arts and Industries Building.