A Basque Dancer from Head to Toe
While Basque country is home to many styles of dance, each with variations in dress, there are some basic elements that dance costumes have in common. Most of these pieces are based on traditional everyday clothing, with some embellishments so the dancers are really dressed to impress.
Six traditional Basque dance troupes will be performing at the Folklife Festival. Even though these groups are from California, Nevada, Idaho, and Utah, they retain many of the classic movements and costumes of performers from their homeland. How many can you spot at the Festival?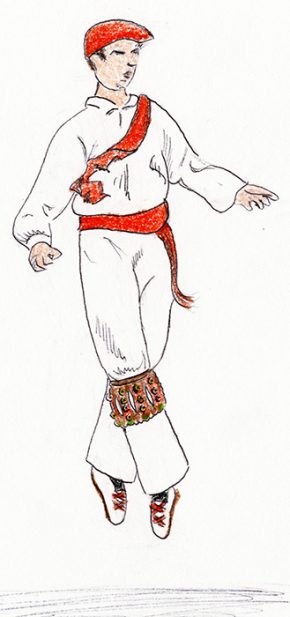 Beret
The beret, or txapela, is a Basque icon. While the felt hats had been worn by farmers all over northern Europe, Basques made it fashionable. Even Napoleon Bonaparte thought the "Basque berets" were hip, so now they are known as basco in Italian, baskeri in Finnish, and baskenmütze in German.
Sash
Some men's costumes include a cloth sash, or gerriko, either tied around the waist or across one shoulder. Most often these are bright red or green, representing the Basque flag.
Bells
Male dancers wear small bells sewed to a piece of cloth or leather and tied around their shins. Others wear larger bells fastened to their waists. Following a widespread early European superstition, the noisy bells are meant to drive away evil spirits.
Espadrilles
These simple sandals, called abarketa in Basque, are made from either canvas with rope soles or from leather, similar to ballet shoes. Once worn by peasants, then by laborers and military, espadrilles have become fashionable around the world.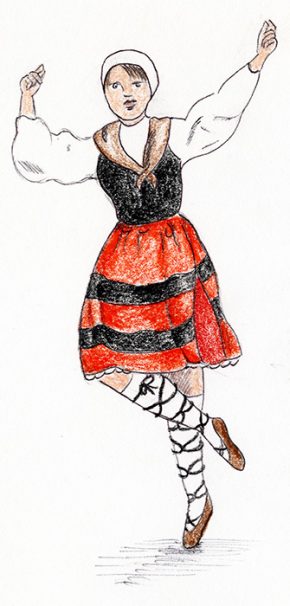 Scarf
Women often wrap a white scarf over their heads. This is the first part of the poxpolin, a costume popularized when women began performing men's dances.
Braids
They usually wear their hair in braids, tied with a ribbon at the top called zintamuxko.
Handkerchief
Around their necks, women and men tie square handkerchiefs, or lepozapi. The colors can indicate the dancers' club, town, or region.
Ribbons
Rainbows of ribbons are woven into berets, braided into hair, and wrapped around ankles to lace up shoes. They add color to the dancers' costumes and accentuate their motions. Some dances incorporate ribbons into the movements, like the zinta-dantza, a Basque version of the Maypole dance.
Skirt
Women dance in long wool skirts. The color and stripes at the bottom traditionally indicate their home region. Over time, it has become more fashionable to shorten the skirts, from just above the ankle to around the knee, exposing voluminous petticoats.
Color Guide
According to some Basques, the colors of cloths and ribbons in costumes symbolize certain things. Here is a short guide to those meanings.
Red = Life, love
Blue = Heavens
Green = Regeneration of nature
White = Purity, innocence
Join us at the Smithsonian Folklife Festival to see Basque dance performances and learn some steps for yourself. In the Festival Marketplace, located inside the Arts and Industries Building, you will find berets, handkerchiefs, and espadrilles to take home.
Elisa Hough is the editor for the Center for Folklife and Cultural Heritage. Dulcia Halliday is a graphic design intern for the Folklife Festival; she studies graphic design at SUNY New Paltz.