Touching Tradition: A Visit to a Ceramics Studio in Ayacucho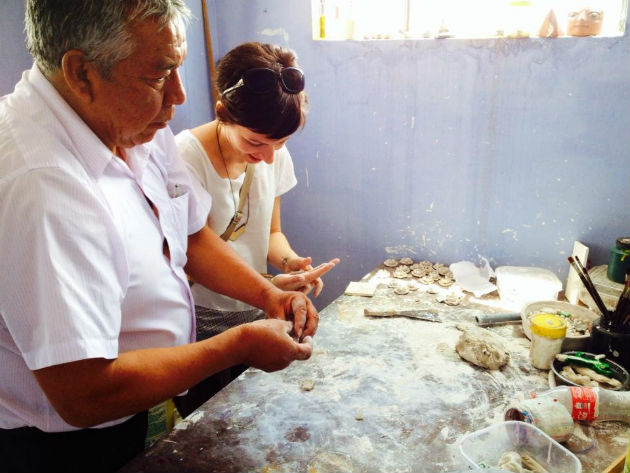 Even though it was seventy degrees in Ayacucho, Peru, the air felt more like a cold, crisp winter as I adjusted to the nine thousand-foot altitude of this Andean town nestled in the mountains. Two hundred miles southeast of Lima, Ayacucho has a rich craft heritage—ceramics, painted tin, masks, and retablo (story boxes)—with techniques rooted in Wari culture of this Andean region from about 500 to 1000 AD.
While in Peru, our mission was to meet with Folklife Festival participants, gain a deeper understanding of their craft heritage, work with the artisans to select products, and plan how to ship items to Washington, D.C., for the Folklife Festival Marketplace. In Ayacucho, artisan Alfredo Lopez Morales led us through the narrow, weathered stone streets toward his studio. There Lopez makes retablos, handcrafted wood and clay sculptures originally built as portable altars. Each wooden box tells stories of everyday life, Catholicism, or local Andean festivals.
Lopez explained that he learned his art from his father, just as his father learned it from his grandfather. The deep pride in this family tradition permeated through the language barrier as he unhinged his grandfather's painted advertisement from the wall.
As we climbed from the ground-level studio to the floors above, Lopez introduced us to each stage of his creative process. One room contained unpainted wood planks spread across the floor and leaning against the walls. In the next, certain shapes take form: a cross about four feet tall, a plain rectangular box, a large screen. His roof houses a work table where he combines water, flour, and plaster to make the "clay" that he molds, pinches, rolls, and carves into the many figures, decorative flowers, and small dolls that adorn his wooden sculptures. He paints these figures in the vibrant colors that retablos are known for: reds, blues, greens, and yellows against a white backdrop.
Planning for the Folklife Festival Marketplace, it's easy to focus on just the business details: determining the quantity of items to stock, safely packing items in transit from Peru to D.C., or hiring staff to assist customers. But meeting these master artisans in Peru was a wonderful reminder to consider how the sights, smells, and ambiance of a master artisan's space affects their work, and how they pay homage to family and cultural traditions through craft.
On that bright afternoon in Ayacucho, it didn't matter that I would never master the art of sculpting or that I do not have my own artistic tradition passed down from generation from generation. As Lopez took the time to teach me how to feel the correct consistency when rolling the clay to create a small flower, I felt honored, like I was touching tradition.
Jackie Flanagan Pangelinan is the Marketplace coordinator for the 2015 Smithsonian Folklife Festival, Perú: Pachamama program. The Marketplace will be open June 24 to July 12 in the National Museum of the American Indian's Potomac Atrium.