Saving Peru's Endangered Languages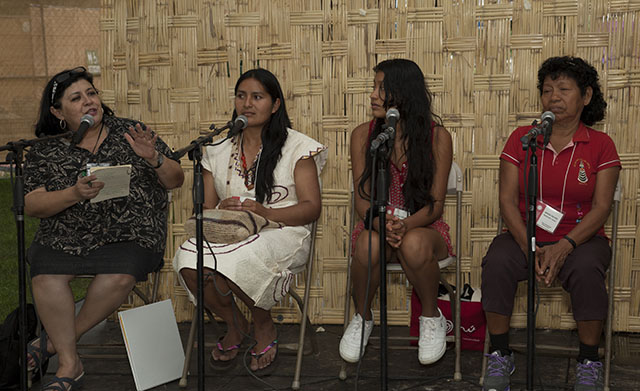 As the Perú: Pachamama program opened on the National Mall, the Peruvian Ministry of Education announced a new policy officially recognizing the alphabets of twenty-four indigenous languages. "In this way," the policy states, "the right of children to be educated in their own native language is respected."
Some of the participants at the Folklife Festival—speakers of highly endangered languages Wachiperi and Kukama—have been fighting for that right for a long time. Both Kukama and Wachiperi belong to small indigenous communities with long pre-Hispanic histories. To preserve those histories, both communities are actively working to document and spread their languages.
The Wachiperi historically lived in the Madre de Dios River basin in Peru's southern Amazonian region. Through the 1960s, decades of disease, enslavement, and displacement from their land dramatically decreased the Wachiperi population until only two communities remained: La Comunidad Nativa de Queros and Santa Rosa de Huacaria. Only about one hundred Wachiperi remain, and even fewer speak the language.
Today, many Wachiperi move to cities for work, where they meet and marry members of other ethnic groups. Unable to speak Wachiperi to their spouses, they choose instead to speak Spanish at home. As a result, there are very few children who learn Wachiperi as a first language, even though they may hear and understand it.
"There are fewer and fewer people who can speak Wachiperi fluently," explains Odette Ramos Dumas, who, having spoken Wachiperi since her early childhood, is a rare exception.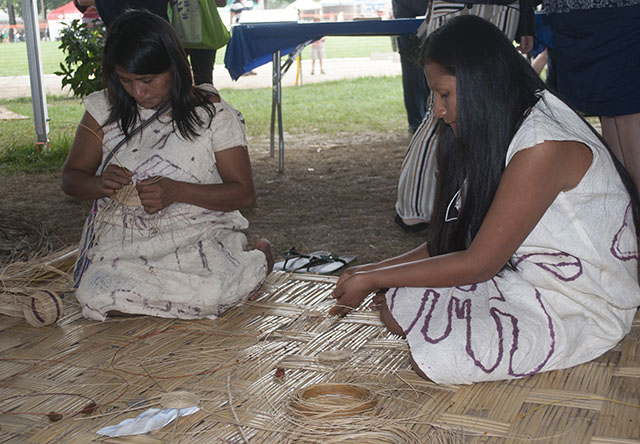 For the Kukama people living on the banks of the Marañon River in the Amazon, discrimination and industry infringing on their land played a part in endangering their language as well.
"When state public schools came to our area years ago, they prohibited us from speaking our mother language," says María Nieves Nashnato Upari, a Kukama elder and teacher. "They wanted us to practice speaking only Spanish, and even discouraged us from speaking Kukama at home."
As a member of the last generation to learn Kukama as a first language, Nashnato believes that teaching children to speak Kukama is the key to keeping the language alive. She helped open the Escuela Ikuari language school seven years ago—with help from indigenous media station Radio Ucamara—to teach Kukama to local children.
"We want the language to live on in our children," she says. "Then, it is guaranteed to be spoken in the future." She hopes children will eventually learn Kukama from their parents as a first language again.
Today, the Escuela Ikuari has close to 130 students, including fifteen-year-old Danna Gaviota Tello Morey, who began learning Kukama five years ago. She represented her fellow Ikuari students at the Festival.
"The young people are the future of the country," Tello Morey said. "If all of the young people are involved in something, it will spread quickly and become well known. That is what I hope will happen with the Kukama language.
"Even though I am still learning, Kukama is part of my home and my identity. I was ridiculed at first for speaking and singing in Kukama, but the criticism only made me want to work harder. I wanted to be a part of a project that is bigger than myself and help save the language of my people."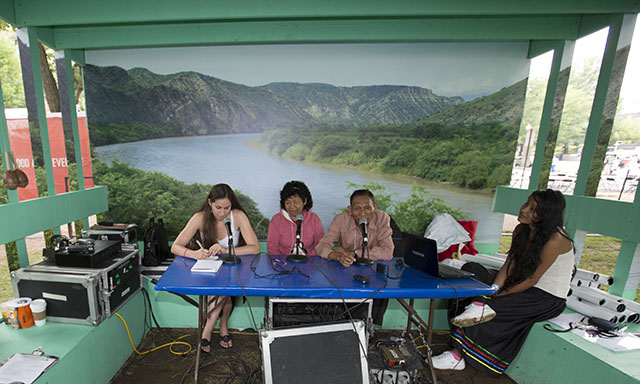 The Wachiperi also focus on passing their language onto younger generations.
"Even though we are young, we realize how important it is to preserve the songs and stories of our people," Ramos Dumas says.
Once a week, a local member of the Peruvian Ministry of Culture teaches Wachiperi language lessons. "We can't just teach vocabulary," Ramos Dumas insists. "We want to involve them in activities like drawing, painting, and games so that they learn to speak Wachiperi more naturally."
With help from the Ministry of Culture, Wachiperi elders recently published the first dictionary and textbooks documenting their language. Along with recording Wachiperi words, the books also include standardized pronunciations to help keep the language consistent over time.
Despite the progress both communities have made in recent years, they are by no means finished with their work.
"There is still a lot to do, because the children do not yet speak Wachiperi fluently," Ramos Dumas says. "We need to have more classes for the children."
"We'll need more support for the school so we can continue to educate our children," Nashnato Upari confirms. To gather some of that support, the Escuela Ikuari created an Indiegogo campaign, Save the Kukama Language, where contributors from all over the world can help fund the school. Visit the page to donate and watch music videos by Tello Morey and other Ikuari students.
With continued dedication within both communities, as well as support from outside—like the Ministry of Education's plan to include indigenous alphabets in future curricula—there is hope that Wachiperi and Kukama will survive for generations to come. As the Ministry's announcement explains, "It's been proven that this is the way [students] can learn better, as they feel more motivated, their cultural identity is respected, and their self-esteem becomes stronger."
Georgia "Ellie" Dassler is a media intern at the Center for Folklife and Cultural Heritage and a student at the College of William & Mary, where she studies anthropology and teaching English to speakers of other languages.