Recipes from Peru: Papa a la Huancaína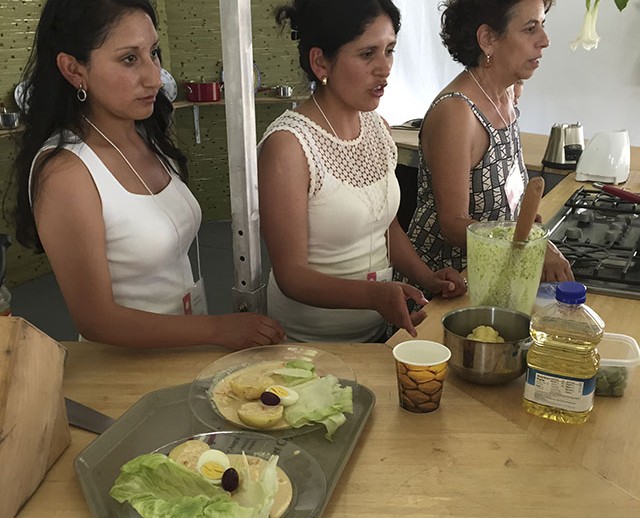 Sisters Katya and Blanca Canto Lazo are best known for their intricate gourd carvings, sold in their hometown of Huancayo, Peru, as well as in Anthropologie stores in the United States. But like many of the artisans at the 2015 Folklife Festival, they are multi-talented. In El Fogón Kitchen, Katya and Blanca proudly demonstrated their cooking skills by preparing papa a la huancaína and japchi de habas.
They explained that in their community, cooking is an inherited cultural tradition. Their mother taught them several typical dishes that have been passed down from generation to generation, including papa a la huancaína. This potato dish covered in a creamy yellow sauce, served alongside a hard-boiled egg, lettuce, and olives, derives its name from the town of Huancayo, where many of the ingredients grow abundantly. Though this community is eight hours inland from the capital of Lima and towers over most of the country at an altitude of around 10,000 feet, the city's popular potato dish has spread across geographical barriers and become a customary meal throughout Peru.
Japchi de habas is a green fava bean sauce which is used to top various different side dishes, especially the Peruvian white corn, choclo. Mothers often pack this simple sauce with corn for their children when they head off to school.
Papa a la Huancaína
Ingredients
1 large steamed and peeled potato
2 Peruvian yellow peppers (aji amarillo)
3 chunks of fresh cheese
1/2 can of evaporated milk (or fresh milk)
8 saltine crackers
Red olives
Preparation
Remove the veins and seeds from the pepper and dice it into tiny pieces. Sauté the pepper on high flame with a little oil.
Using a fork, crush crackers and mix them with milk to create a pasty texture. Combine the sautéed pepper, milky paste, and cheese in a blender and blend until the peppers are no longer visible.
Place lettuce, steamed potato, hard-boiled egg, and red olives on a plate. Cover the potato in the cream sauce and enjoy!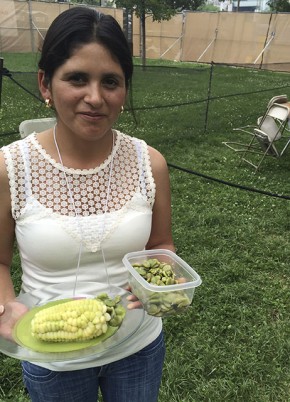 Japchi de Habas
Ingredients
1/2 cup parsley
1 piece rocoto pepper
1/4 cup cilantro
1 cup fresh cheese
2 1/2 cups fresh fava beans
4 pieces white corn (choclo)
Salt
Preparation
De-stem the parsley and cut the rocoto into little squares.
Steam the fava beans and the corn.
Blend a quarter cup of water with cilantro, parsley, cheese, rocoto, and a little salt. Pour the mixture over the fava beans and corn to complete the dish.
Erin Kurvers is a Perú: Pachamama program intern and studies international relations and Spanish at Creighton University.