Recipes from Peru: Mazamorra de Quinua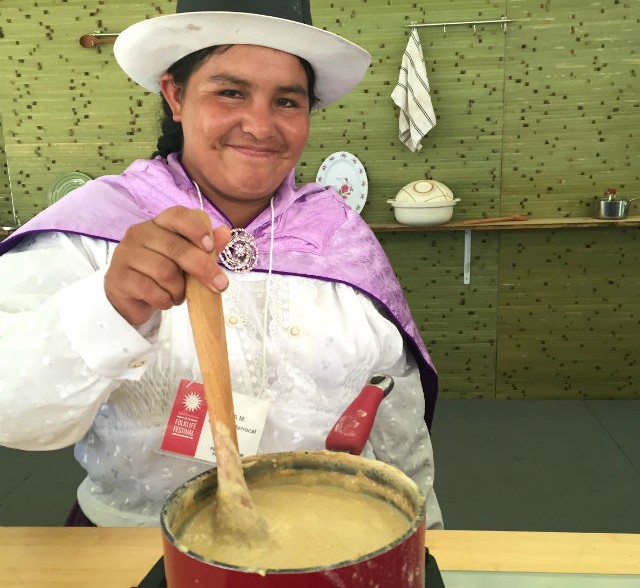 In the Perú: Pachamama program's El Fogón Kitchen, Ayacucho quinoa farmers Ana Ccahuin Berrocal and Ives Gálvez Huamán demonstrated one of the countless ways in which seemingly bland quinoa seeds can create delectable dishes. The women prepared mazamorra de quinua, a pudding-like dish which can be served for breakfast or as an afternoon snack.
The daily routine of women in Ayacucho revolves heavily around the kitchen. They spend their days preparing breakfasts, lunches, and dinners, often using local ingredients and cooking over firewood. On Sundays, their entire day is devoted to preparing for the upcoming week's meals.
Making mazamorra de quinua comes naturally to Ana and Ives, as quinoa is a central staple of their diet. This dish in particular is also customary throughout the Ayacucho region.
When asked for specific measurements, they always gave vague replies such as "just a little bit," because they are so accustomed to cooking based on taste, smell, and sight, rather than precise amounts. Nonetheless, an approximated recipe of the dish is provided below, allowing a bit of Peruvian flavor to enter your kitchen.
Ingredients
1/2 lb cooked quinoa
10 1/2 oz raw sugar cane
1 cinnamon stick
2 cloves
1.7 oz raisins
1 can evaporated milk (or 12 oz regular milk or water)
Preparation
Heat half a pot of water over the stove. Add cinnamon, cloves, and raisins to the water.
Combine cooked quinoa, and small pieces of raw sugar cane in a mixing bowl. Dump the mixture into the water and wait for the pudding to boil. Adjust the quantity of milk or water added to create desired consistency.
Once boiled, the mazamorra de quinua is complete. It can be served alone or topped with additional ingredients such as fresh fruit or almonds.
Erin Kurvers is a Perú: Pachamama program intern and studies international relations and Spanish at Creighton University.