Recipes from Peru: Chupe de Res and Ocopa Arequipeña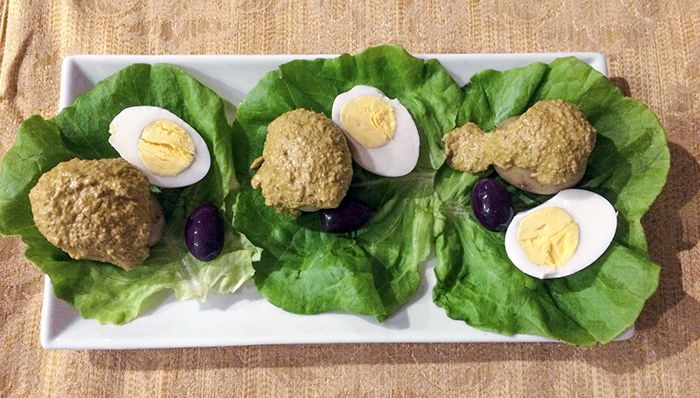 In case you haven't noticed, Peruvian food is having a Moment. Ceviche (fish and shellfish "cooked" by the acid in citrus juices), ají de gallina (shredded chicken in a spicy cream sauce), pollo a la brasa (rotisserie chicken), lomo saltado (stir-fried beef, onions, and french fries), papas a la huancaína (potatoes in a spicy cheese sauce), and of course pisco sours are easier to find than ever. As a lover of Peruvian food, it's a good time to be an eater. It's also a good time to have a Peruvian uncle.
To celebrate the Smithsonian Folklife Festival's Peru program, my aunt Isa and my uncle Lucho were kind enough to work through a couple of Lucho's family recipes on a recent stormy evening. Isa is Cuban but makes excellent Peruvian food, with many of her recipes coming straight from Lucho's mother, Antonieta Belaunde. Judging from the pile of her handwritten recipes on index cards in their kitchen, she was a very accomplished cook.
One of the recipes Isa and Lucho shared with me is a chupe, or a stew, and a quick internet search will tell you that the most referenced type of chupe in the Arequipa region is made with freshwater crayfish. But true to the diversity of Peruvian cuisine, it's far from the only one.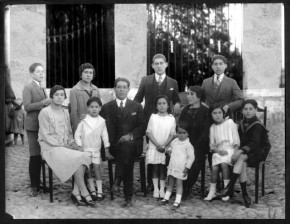 Antonieta was from Lima, on the central coast of Peru. Lucho's father, Manuel Valencia, was from Arequipa, in southern Peru. Being from the coast, Antonieta was accustomed to seafood, but Manuel didn't care for it, so crayfish was not on the menu. But with choices like chupe de trigo (wheat), de viernes ("Friday," to indicate the use of leftovers at the end of the week), de mani (peanut), de peras (pear), and de olluco (a type of Andean tuber), you can hardly feel left out if you don't like shellfish.
During my visit, we made chupe de res (beef), which also hails from Arequipa. In this dish, beef, choclo (Peruvian corn), potatoes, tomatoes, cabbage, and calabaza (pumpkin) crowd a highly flavored broth of ají amarillo (yellow chile), garlic, onion, cumin, and cilantro.
But as the ancient saying goes, "Man cannot live on chupe alone." So we also made ocopa arequipeña.
As a sauce and condiments person, it's hard for me to accept that anything can't be made better with vinaigrette, a roasted salsa, or even good mayo. "In Peru, you don't eat anything dry," says Isa, and potatoes, the great staple of Andean cuisine, are the canvas for the country's fine sauces.
Like the popular papas a la huancaína, ocopa arequipeña centers around boiled potatoes covered in a smooth cheese sauce flavored with ají amarillo. Of the two hundred varieties of chiles in Peru, ají amarillo, a bright, beautiful yellow-orange, is the most ubiquitous, added to nearly every dish. It is absolutely worth searching out in fresh, frozen, dried, or paste form, as the flavor is incomparable.
Ocopa gets fancy with the addition of nuts (peanuts, usually, but Lucho's family always used walnuts), fried onions, and cilantro. Traditionally, it is made with a fresh, tangy farmer's cheese, but since the kind particular to Peru can be difficult to find even in Latin grocery stores, Lucho and Isa use a combination of cream cheese and feta to approximate the flavor. The sauce is blended until smooth and served over potatoes with artfully placed hard-boiled eggs, black olives, and a slice of fresh cheese.
These two dishes made for a hearty meal in the midst of a rainstorm, and though we washed it down with red wine, a pisco sour would do nicely, too.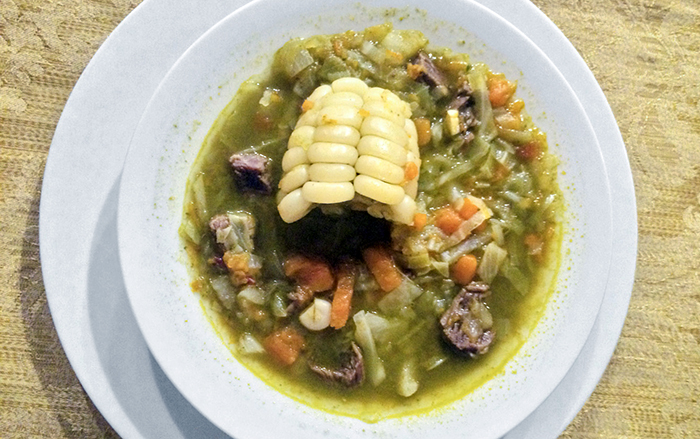 Chupe de Res
Ingredients
2 1/2 lbs flank steak, sliced and cut into 2-inch pieces, or brisket, cut into 2-inch chunks
10 cups of water
3 onions, 1 halved, 2 diced
2-3 garlic cloves, minced
3 tbs canola oil
5 fresh/frozen ají amarillo, sliced lengthwise and de-veined with seeds removed
1 tsp cumin
1 medium tomato, diced
1 bunch cilantro
4 medium-large russet potatoes, peeled
1 ½ lbs calabaza (you can find this in many Latino supermarkets, but can also substitute butternut or kabocha squash)
3 ears Peruvian choclo corn (available frozen in some Latin supermarkets), each cut into 4 pieces
½ small cabbage, thinly sliced (about 2-3 cups)
Salt to taste
Directions
In a pressure cooker, boil meat with a peeled, halved onion until tender. If you do not have a pressure cooker, braise meat in water with onion at a simmer until tender. Remove onion and set aside.
In a large pan, sauté onion in canola oil over medium heat until it is translucent. In the meantime, purée ají with garlic and a little water (about 1/2 cup) until smooth. Add mixture to onions, along with the cumin and tomato and cook for a few minutes. Purée cilantro (including stems) with a little water and add to pan and continue to cook. This will be the flavorful base of the soup, known as sofrito.
While the sofrito simmers, prepare the potatoes. Traditionally, the potatoes are sliced into half-inch rounds and pounded between a folded dishtowel with a heavy object. This breaks the potato up into bite-sized, uneven pieces but also releases the starch in the potato, which will add a velvety texture to the soup. Pound potato in stages and soak crushed potato in water to prevent browning while preparing the leftover potato.
This is a very labor-intensive option, and it is perfectly acceptable to simply dice the potato.
Add the potatoes, calabaza, choclo, and sofrito to the meat and broth created from boiling the meat. Bring to a simmer and cook until potato is just tender, then add the cabbage and cook until cabbage is soft (but not too soft). Taste for salt.
Serve piping hot, with a piece of choclo in each bowl. Serves about 6 people
Ocopa Arequipeña
Ingredients
6 medium-large waxy potatoes, such as Yukon gold
10 dried ají amarillo
1 small onion, halved lengthwise and sliced into half circles
10 raw walnuts
3 oz cream cheese
1 oz feta cheese
1/2 bunch of cilantro
1/3 cup + 2 tbs canola oil
Salt to taste
Soda crackers (optional)
Black olives, hard boiled eggs, fresh farmer's cheese, and a few large lettuce leaves for serving
Directions
Boil potatoes until tender. Set aside.
Toast the ají in a dry pan over high heat. When ají begin to darken and smell fragrant, take off heat. Soak toasted ají until soft in enough hot water to cover—about 15 to 20 minutes. Remove ají and reserve soaking liquid.
Sauté onion in two tablespoons of canola oil over medium-high heat. Fry until a bit brown and caramelized.
In a food processor or blender, combine ají, onions, walnuts, cheese, and cilantro with a few tablespoons of the ají soaking liquid. At this point, the mixture should be somewhat dry. Continue to blend while very slowly adding 1/3 cup of canola oil. The sauce will get very creamy. Taste for salt.
If sauce is too spicy, blend in a few soda crackers to alleviate some of the heat. If you want the sauce creamer, slowly add more oil while blending.
If using smaller potatoes, leave whole; larger potatoes can be cut in half or sliced. Arrange potatoes on lettuce leaves and ladle sauce on top. Hard-boiled eggs can be quartered and placed with olives and cheese around potatoes.
Serve as an appetizer for 6 or more people, or as a light meal for 4.
Cecilia Peterson is a digitization archivist in the Center for Folklife and Cultural Heritage's Ralph Rinzler Folklife Archives and Collections.