Recipes from Peru: Causa en Lapa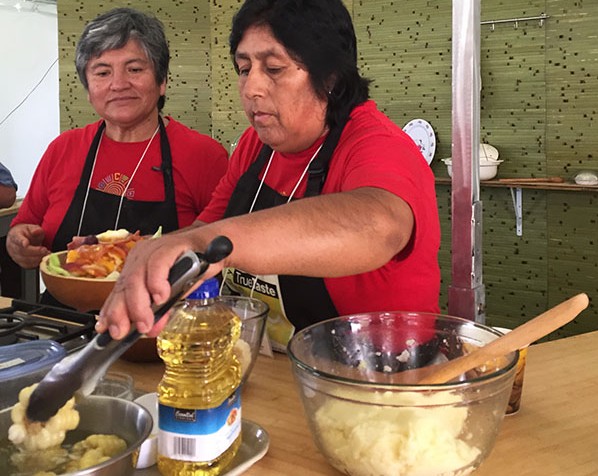 Causa en lapa is a mashed potato and salted fish dish commonly served during Holy Week, a time when many Catholics in Peru abstain from eating red meat. It is typically served for lunch, the largest meal of the day in Peruvian culture.
Anatalia Gonzalez Gutierrez and Eloisa Piminchumo Domínguez presented this meal in the El Fogón Kitchen as part of the Perú: Pachamama program at the 2015 Folklife Festival. Natives of Huanchaco, a beach town along the northern coast of Peru, these women are highly accustomed to cooking with fish. Yet, one element sets this dish apart from other typical meals: the bowl.
Lapa is the traditional handmade bowl, created from a hollowed-out gourd to accompany the meal. The delicious ingredients placed in these unique serving dishes create a festive specialty for Peruvian Holy Week celebrations.
Ingredients
1 lb dried/salted mackerel
1 1/4 cup Peruvian yellow pepper (aji escabeche or aji amarillo)
1 head lettuce
3/4 cup Peruvian olives (aceitunas de botija)
1 Peruvian white corn cob (choclo)
2 lbs mashed yellow potatoes
3 eggs
Minced garlic
Onion
Annatto
Oregano
Oil to sauté
Gourd
Preparation
To create the lapa bowl, first plant and harvest a squash or pumpkin! Then split it in half, scrape out the seeds and pulp, and let dry out to disinfect.
Wash and rehydrate the fish. Cook it a bit to extract the broth. Set the broth aside.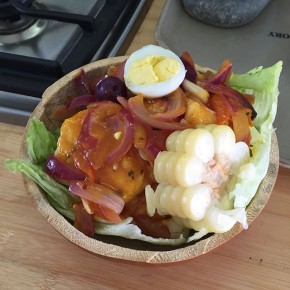 Cut the spine out of the yellow pepper. Boil the pepper, then de-skin and puree in a blender.
Mix blended pepper, minced garlic, and oil in a saucepan and heat. Add four large onion chunks and a pinch of salt to the sauce.
Add annatto (for color) and oregano to the fish.
Mix the fish broth into the mashed potatoes.
Combine the potatoes, fish, and sauce in a dish over a lettuce leaf and top with olives and a hard-boiled egg. Eat with white corn on the side.
Erin Kurvers is a Perú: Pachamama program intern and studies international relations and Spanish at Creighton University.