Peru by Mototaxi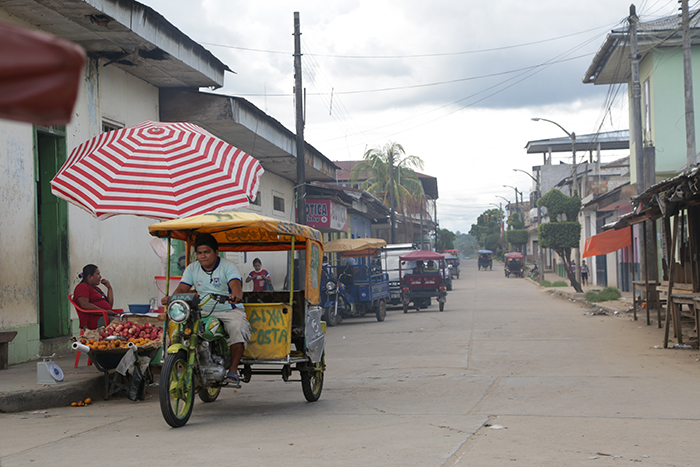 My wife recently had to visit a school in a community in the Peruvian department of Loreto. She left Iquitos in a 4×4 truck along the only highway in the area. After two hours, she boarded a speedboat in the Marañon River. Following an hour on water, she waited for a mototaxi to travel the last thirty minutes through the thick jungle to reach her destination.
A mototaxi is a small vehicle with three wheels that uses a small, loud motorcycle motor, generally serving as a means of public transportation. The mototaxi, also known as motocar or moto, is prominent all over Peru, although some neighborhoods and historic districts prohibit its entrance. When the Smithsonian Folklife Festival curatorial team traveled here, we found and used mototaxis throughout our fieldwork. It was funny to see how that which is part of the landscape to us locals continues to be interesting to foreigners.
Honda dealers in Peru insist they introduced mototaxis in Peru back in 1980 with a model designed by engineer Octavio Mavila. Currently mototaxis are manufactured in Japan, India, China, and they are used in many other countries, especially poor ones. The vehicles can be open or closed, with designs varying according to the regions' climates. It is common to see owners install sound systems, often as loud and powerful as the motor, and decorate the outsides with paintings or phrases. Some have religious connotations, like, "Let everything that hath breath praise Jehovah." Since most owners and drivers are male, other quotes celebrate their girlfriends, or parents and children, such as, "To love is my sin." Many mototaxis use chicha-style graphics, resembling the colorful and eye-catching posters advertising concerts of popular music groups. Their ingenuity is such that contests are held to reward the most creative mototaxi designs.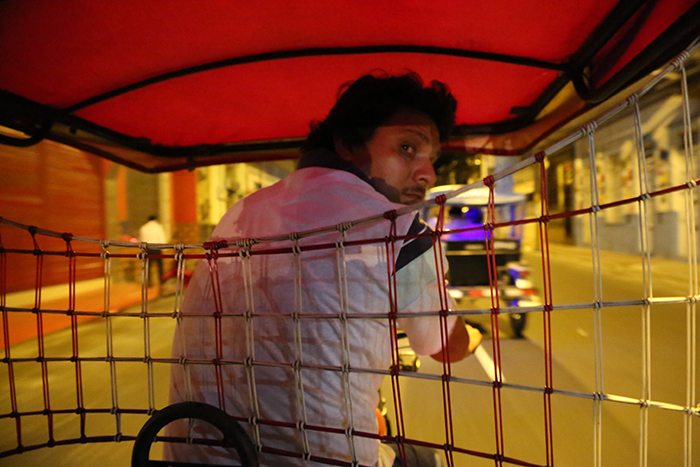 At first mototaxis were used in peripheral zones of cities, where public transportation was not profitable. They then surreptitiously caught on in towns and cities, competing with official passenger and freight vehicles. In Chiclayo, this is how most of the bread, cherished by city dwellers for breakfast and mid-afternoon coffee, arrives—in dozens of mototaxis from neighboring Monsefu. In the Magdalena del Mar market in Lima, buyers return home with overflowing baskets of goods in mototaxis, often times squeezing family members into the tiny space of the vehicle. Mototaxis manage to circulate through streets, plazas, and highways. They are everywhere. And we now found them carrying freight and even offering services such as a mobile library.
Some drivers consider mototaxis as a plague, polluting and disrupting the already disorderly Peruvian traffic. And while some municipalities pay to install mufflers on the loud engines to avoid the deafening sounds, others have attempted to force drivers to install mufflers themselves. Then the mototaxistas have organized and stayed "together, mototaxi drivers have not been defeated," as the slogan goes. Without a doubt, many view them as an affordable transportation alternative, which are also well-ventilated for hot regions, like the Amazon and north coast. Furthermore, the mototaxi offers young workers an opportunity to thrive in a secure market, representing entrepreneurship from the ground up. Lastly, mototaxis have become works of art in paintings, murals, and other graphic and literary expressions.
This will all be apparent during the 2015 Folklife Festival, when we bring a mototaxi to the National Mall to be used as a radio booth, broadcasting stories of people's ancestral knowledge to fellow participants and visitors. The mototaxi will stand as an icon that symbolizes everyday life in Peru, giving visitors a once-in-a-lifetime experience.
Rafael Varón is a historian and former vice minister of cultural heritage based in Lima, Peru. He is currently the research coordinator for the Perú: Pachamama program at the 2015 Smithsonian Folklife Festival.