Exploring with Ellie: Screen-Printing with MONKY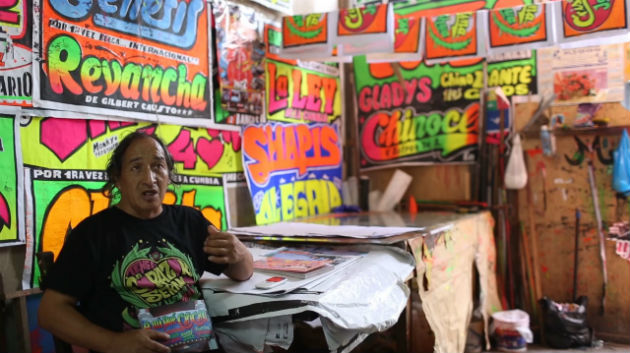 During my summer as an intern at the Smithsonian Center for Folklife and Cultural Heritage in Washington, D.C., I want to soak in as much of the city as possible. As the Festival's Perú: Pachamama program is underway, and I'm excited to get to know some of the participants.
Chicha silkscreen artist Pedro "MONKY" Tolomeo and Festival presenter Alfredo Villar (a.k.a. DJ Sabroso) arrived a few days early last week, just in time for the SMITHSONIAN at 8 kickoff event, "Chicha! A Peruvian Dance Party." While DJ Sabroso provided the music, MONKY demonstrated the silkscreen technique he uses to create vibrant chicha posters.
Before he could amaze party guests, MONKY had to prepare the images on his screens with a process called "burning." We headed to Art League in Old Town Alexandria to borrow some equipment.
The standard process begins by coating a fine screen with emulsion—the same chemical mixture used to develop photographs. Laying a black design on a transparency over the screen and exposing it to ultraviolet light will effectively "burn" the image onto the screen. Since the screen now acts as a negative, the areas of the design that were transparent will not absorb any paint, while the blacked-out areas will.
But MONKY prefers his own low-tech method. As he explained in the Art League studio, he prefers to use a stencil, cutting out a negative of the image he wants to print, clamping it to the screen, and spreading ink across the surface to reveal his design. This time, since his designs were on plain printer paper instead of a transparency, he used vegetable oil from a nearby restaurant to paint across the surface, turning the blank parts clear.
The Art League silkscreen artist joining us had never seen anyone use cooking oil. Using equipment in the studio to mime their preferred methods, the artists were able to transcend the language barrier and share ideas.
After exposing the screen to UV light and rinsing off excess emulsion, the screen was ready. It featured two different prints: sisters Katya and Blanco Canto Lazo holding mate burilado, and a portrait of MONKY himself posing in front of a mural in Lima.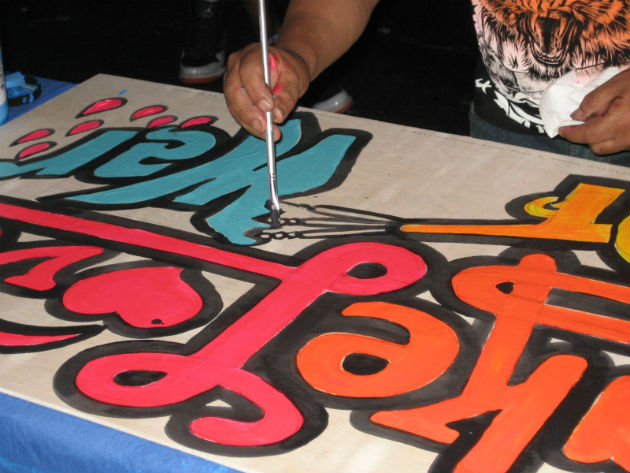 Later that night, MONKY and DJ Sabroso performed at the Blind Whino, where every possible surface—including its steepled exterior—is covered in a frenzy of colorful murals that match the style of MONKY's posters and the feel of chicha music.
Inside, MONKY was certainly in his element, chatting with partygoers and painting a large sign with a "Make Love, Not War" design he had drawn that afternoon. He was framed by a wall of chicha posters, glowing in the dark as cumbia music thumped from the DJ booth upstairs.
To create the posters, MONKY placed the screen over a fresh piece of paper and piled black paint onto one end. He spread the paint, slowly and evenly, across the surface with a squeegee and lifted the screen to reveal a black and white print.
MONKY's chicha prints look beautiful on their own, but watching the designs take shape from beginning to end gives more life to the art. After meeting MONKY, it's easy to see how much fun he has with the creative process, infusing his bright personality into each of his prints.
You can purchase original prints and postcards by MONKY in the Festival Marketplace. Check the Festival schedule for more silkscreen demonstrations and opportunities to meet the artist.
Georgia "Ellie" Dassler is a media intern at the Center for Folklife and Cultural Heritage and a student at the College of William & Mary, where she studies anthropology and teaching English to speakers of other languages.