Building Bridges: A Festival Reflection from Julie Freundt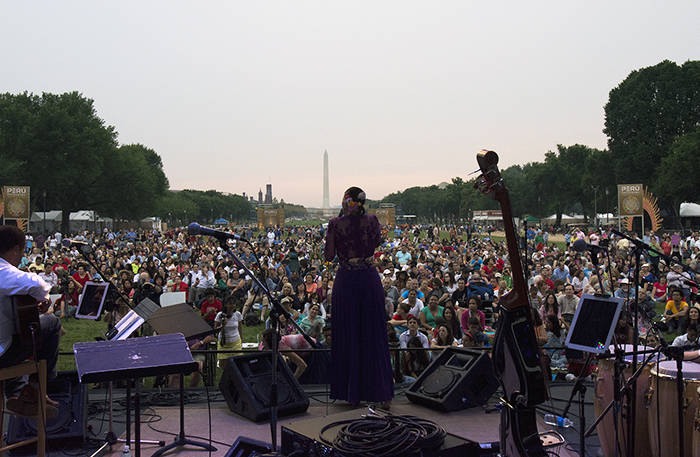 Editor's note: Julie Freundt was a participant in Perú: Pachamama, as the lead singer for the music and dance ensemble Marinera Viva!!! After seeing the 2015 Folklife Festival video "Crossing," she sent us these song lyrics and reflection about her experience.
For two weeks this summer, I had the opportunity to live an extraordinary experience at the Smithsonian Folklife Festival, sharing with different communities of my country our traditions, our cultural expressions in music, dance, food, art, and ceramics. The Festival offered precious moments to come to know each other and think about the differences we have, which give us the richness of our multicultural heritage.
Smithsonian Folklife Festival has changed my life,
Because it changed my way of looking through life's eyes
I was born in a country in the middle of South America: Peru. I grew up celebrating my traditions, with music, with songs, in family, perhaps as so many families, and as so many of you. I've given myself the opportunity to have an inside view, and look in each other's eyes, to find myself, my reason to express, to embrace, to feel part of people, my people, in a Wachiperi melody, in the joy of contradanza, with the sounds of quenas, accordeon, and mandolines from my Andes, the rhythm of my cajón and the tap dancing, or cumbia rhythm with an electric guitar from my amazonía. Dancing, singing, playing, drawing, cooking, sewing, we have touched hearts with our heart, and spoken about tradition with respect to heritage.
History gives us the documents to know, but our hearts give us the wisdom to understand, to forgive the history that sometimes drives us apart instead of bringing us together. We grow up not knowing each other, feeling different, building walls instead of building bridges.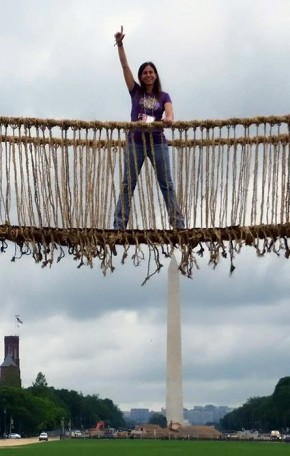 Start looking inside:
(Where all the answers are)
to see myself,
to recognize my people,
to love even more my country,
to feel proud of my race,
feel blessed of my different cultures
and understand our same human nature.
Crossing the Q'eswachaka Bridge made me think about future, past, and present. I thought about how many bridges I have built in my life to bring people together through music, and how many bridges I've crossed to be here helping bring our cultures together. Let me always cross bridges to be together, not to separate; to celebrate, not to fight; to communicate, not to isolate; to cross, not to burn.
I feel thankful for my experience at the Smithsonian Folklife Festival, for all the people, for their love and respect.
I have decided to build new bridges.
Julie Freundt is a renowned Peruvian criolla singer, songwriter, guitarist, and dancer.