Behind the Scenes: Planting Peruvian Seeds in D.C. Schools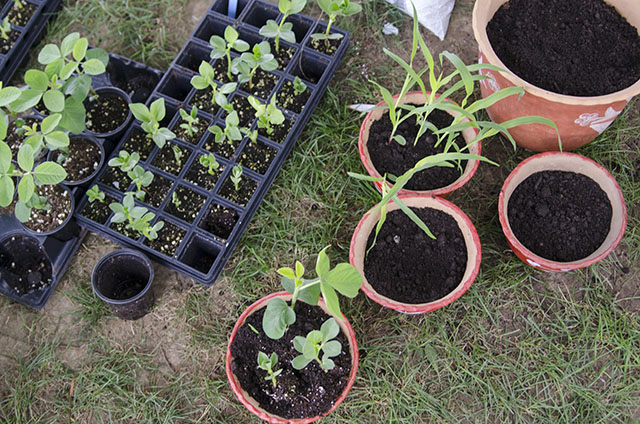 For two weeks, a small elm tree-shaded plot of the National Mall of the United States became a miniature Peruvian chacra. In Peru, the Spanish term "chacra" refers to small-scale agriculture farms, commonly organized into tiered terraces. On the Mall, our crew built custom tiered wooden planter boxes filled with potato and quinoa plants so that Festival visitors could learn about Peruvian agricultural practices first-hand.
To provide this educational experience, we first needed to grow the plants. Finding potato shoots was an unexpected struggle because most industrial plants were already too far along in the growing process. We looked for smaller-scale options and found Kate Lee, Garden Director at DC Greens, a local food education and policy organization. Kate works with gardening programs at schools in the D.C. area, which allowed the Festival to include locally grown plants in its agricultural presentation. We were excited to give young local communities an opportunity to be part of Perú: Pachamama.
The potatoes were planted at March at three schools: E.W. Stokes Public Charter School, Thurgood Marshall Academy Public Charter School, and School Within School @ Goding. Each school's garden is different in shape and size, but they all grow vegetables, fruits, herbs, and flowers. Children are allowed to take some of their harvests home, but a portion is used for cooking lessons or student-led farmers markets.
Kate explained how gardens are incredible instructional tools that allow students to learn more about the environment and the value of producing and consuming healthy foods in their communities. They can apply skills they learn in math class, social studies, health, and writing. Recognizing the importance of this hands-on experience, the D.C. Office of the State Superintendent of Education provides the necessary funding.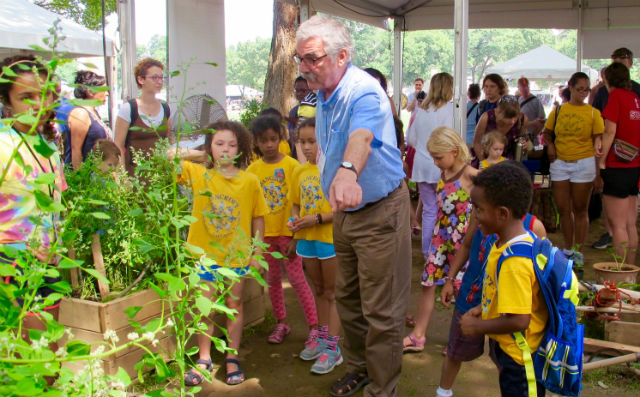 Unlike potatoes, we knew that quinoa plants would be very hard to find in the area, so we provided seeds to Bancroft Elementary School in the Mt. Pleasant neighborhood of D.C. Students tended to the seeds indoors until March, explained Devon Bartlett, who works with the Bancroft gardening program. Then, when the weather warmed up, they moved the plants outdoors.
They were allowed to work in the garden once a week, learning about this unique Peruvian crop that has become so popular in American cuisine. These agricultural and nutrition lessons are completely new concepts for most elementary school students.
Not only did the students learn about food production, but they grew healthy, strong potato and quinoa plants that gave a livelier ambiance to the Folklife Festival, allowing our visitors to learn from the process too.
Elena Baker is a program intern at the Center for Folklife and Cultural Heritage. She is a junior at Macalester College in Saint Paul, Minnesota, studying anthropology.