Basque Recipe: Pimientos Rellenos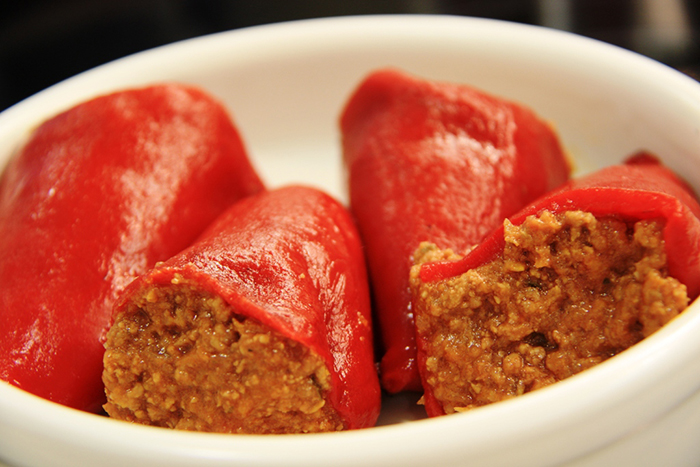 Editor's note: This recipe for Basque-style meat-stuffed peppers appeared in the 1991 Smithsonian Institution Press publication Smithsonian Folklife Cookbook, compiled by Katherine and Thomas Kirlin. The recipe was submitted by Maria Luisa Vidasolo de Lamikiz for the Old Ways in the New World program at the 1976 Folklife Festival.
My mother and grandmother taught me these recipes when I was a child living in Acorda, which is in Biskaia, the Basque region of Spain. I plan to pass these recipes on to my America-born children and grandchildren to keep our Basque heritage alive.
Ingredients
8 bell peppers
2 1/2 cups olive oil
8 cloves garlic, chopped
2 cups onions, chopped
Chopped parsley
3 pounds ground beef
1 chicken bouillon cube
1 cup red wine
1 can plain bread crumbs
6 eggs
2 cups flour
Sauce:
1 cup olive oil
2 cups onions, chopped
4 cloves garlic, chopped
4 carrots, chopped
1 tablespoon flour
1 16-oz can tomato sauce
1/2 cup white wine
1/2 cup water
Directions
1. Keeping peppers whole, remove stem and seeds and clean. In a large frying pan on high heat, fry peppers in olive oil until the skin is almost brown. Remove peppers, place on a large plate, and cover immediately with a cloth towel. Remove skins from peppers.
2. In a separate frying pan, saute garlic, onions, and parsley in a moderate amount of olive oil until onions are translucent. Add ground beef and brown thoroughly. Add chicken bouillon and wine, then bread crumbs. Mixture should be firm but moist. Stuff peppers with meat mixture.
3. Beat eggs in a shallow mixing bowl. Place flour in a flat dish. Roll the stuffed peppers in flour, then dip in eggs. Fry peppers in cooking oil, top side down.
4. To make sauce, saute onions, garlic, and carrots in olive oil until tender. Add flour to thicken. Add tomato sauce, wine, and water; stir and simmer for 1/2 hour.
5. Place peppers in a casserole. Strain sauce over peppers and cook on top of the stove for 15 minutes on medium heat. Serves 8.
The 2016 Folklife Festival will feature the arts, culture, and cuisine of the Basque Country. Mark your calendars for June 29 to July 4 and July 7 to 10!