Art and the Natural World: The Paintings of Brus Rubio and Ángel Callañaupa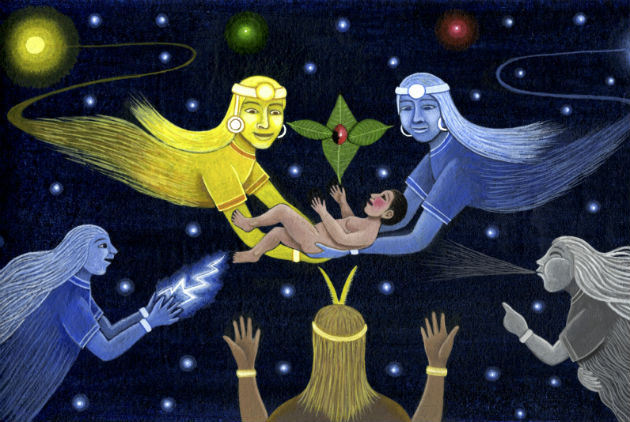 Influenced by the biodiversity of southern Peru and the Amazon, the paintings of Brus Rubio and Ángel Callañaupa depict a profound link between art and the natural world. Art collectors, curious visitors, and children alike can appreciate their artwork at this year's Perú: Pachamama program and the Folklife Festival Marketplace.
Amazonian painter Brus Rubio creates abstract scenes of Huitoto-Bora myths, local stories, and songs, using an indigenous grass called piri piri as his paintbrush and large sheets of handmade paper made from the bark of the Poulsenia Armata tree, called llanchama, as his canvas. Born in Paucarquillo, a town in the Loreto Region of the Peruvian Amazon, Rubio learned painting techniques by watching his parents who painted for tourists. Full of passion for painting and the meanings behind his work, Rubio especially engages his audience through oral storytelling to accompany his paintings and sometimes even sings the stories of his visual depictions.
Displaced by Caucheros—workers of the nearby rubber tree plantation—his traditional community is not alone under the threats of extractive industries and industrial demands for Peru's natural resources. Many of Rubio's paintings depict this increasing pressure on traditional ways of life, disrupting families and endangering the passing down of ancestral knowledge. He sees his paintings more as documentations of local history and beliefs than a criticism of change, and hopes his paintings serve to educate younger generations growing up without the lessons of their elders and traditional communities.
Further south in Chinchero, Ángel Callañaupa's paintings are delightfully imaginative, vividly depicting scenes from little-known traditions like the annual "Pilgrimage to Ice Mountain" for the ceremony of Qoyllu Riti (Star of the Snow) and other traditions that mark the life events of Inka people. Now a well-known Andean artist, Callañaupa grew up helping his family grow crops and raise livestock. His dream-like paintings are featured in the book Beyond the Stones of Machu Picchu: Folk Tales and Stories of Inca Life, written by Elizabeth Conrad VanBuskirk. The book depicts Andean village life through folktales that illustrate the rituals and beliefs about the Mother Earth, known as Pachamama, and the stages of life and growth.
Traditionally, stories such as these are used to ease social tensions within communities and teach children about the reality of life and the natural world, alluding to hardships that can be too difficult to discuss openly. Callañaupa's paintings illustrate the profound appreciation the Andean people in the high mountain villages have for the environment and explore deeper elements of life, like courage and transformation. Coupled with VanBuskirk's stories—some traditionally Andean and some adaptations of her own—the book proves that Andean people today are still connected to tradition. They still make glorious weavings, practice the traditions of their ancestors, and celebrate the natural world.
No matter your birthplace or your age, all can relate to the joys and anxieties of life and growth, the friction between tradition and change. The contemporary paintings of Rubio and Callañaupa provide insight to the fundamental and lasting links between their traditional Peruvian communities and the changing natural world that is intimately tied to their beliefs.
Rubio and Callañaupa will both be participants at the 2015 Folklife Festival's Perú: Pachamama program, demonstrating their art and skills on the National Mall. Rubio's original paintings will be available for sale in the Marketplace, as will VanBuskirk's book featuring Callañaupa's artwork. Visit the Festival Marketplace page to stay tuned for special events featuring Rubio and Callañaupa, sharing more about their work and interacting with Marketplace visitors.
Kevin McCarthy is the Marketplace assistant for the 2015 Smithsonian Folklife Festival.