A Summer Intern Guide to the Marketplace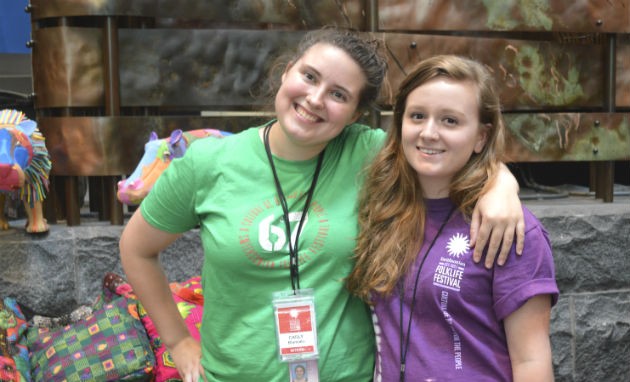 In the Folklife Festival Marketplace, you'll find an array of clothing, ornaments, food, jewelry, toys, books, CDs, and more from Peru and around the world. There is something great—and affordable!—for everyone. As the Marketplace interns, we have a few recommendations for our fellow D.C. summer interns, students, and other people living on the cheap.
All of these items are under $20.
Ceramic Ornaments
Mamerto Sanchez hand-makes all his items in a workshop attached to his house in the small Peruvian town of Quinua. His pieces range from small, $6 ornaments to a Virgin Mary stature that runs for about $200. The happy medium between these two is a $16 terracotta bull, which is a great representation of Sanchez's work—the perfect souvenir to take home from the Festival.
T-Shirts
We have new Perú: Pachamama shirts this year, along with shirts from the 2014 China and Kenya programs and our classic "Est. '67" shirts. They range in price from $15 to $25, in both unisex and women's sizes with a variety of colors.
Banana Leaf Bag
This year, the Marketplace will have a section dedicated to past Festivals, including last year's China and Kenya programs. It gives me a chance to experience past programs, even though I couldn't visit the Festival last year. A favorite item of mine is a hand-woven banana leaf cross-body bag from Kenya—it costs $18 and comes in different colors with a leather strap.
Quinoa Chocolate
Let's not forget about the edible goodies! We have a large selection of teas, chocolate, quinoa, and coffee, all from companies that are organic and/or fair trade. One of my favorites is the $4 chocolate bars with quinoa, which is like a chocolate Crunch bar but healthier. (Maybe not that much healthier, but it sure is good!)
Budgets aside, it's important to focus on the bigger picture: being in Washington, D.C. this summer to experience Peruvian culture in a first-hand way is truly a privilege. Taking home a piece of that culture while supporting those artisans is what the Marketplace is all about.
The Festival Marketplace is open daily through July 12 from 10 a.m. to 5:30 p.m. in the Potomac Atrium in the National Museum of the American Indian.
Carly Blancato and Emma Tainter are Marketplace interns for the 2015 Folklife Festival.