To the Beat of the Beads: Kenyan Beadwork Traditions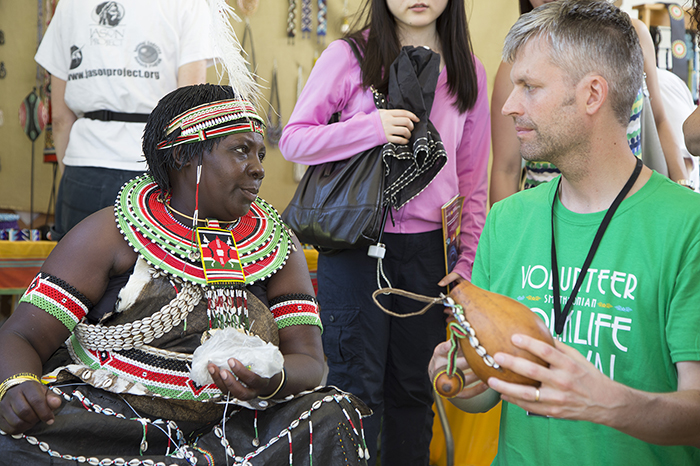 The Kenya: Mambo Poa program at the 2014 Smithsonian Folklife Festival invited two bead artists from Kenya: Susana Daniel Chemakwany and Susan Naserian Nketoria. Visitors enjoyed interacting with these bead workers and learned many surprising cultural aspects as they asked questions, picked up the beadworks, took photos of Susana and Susan, and heard their stories at the Boma Stage.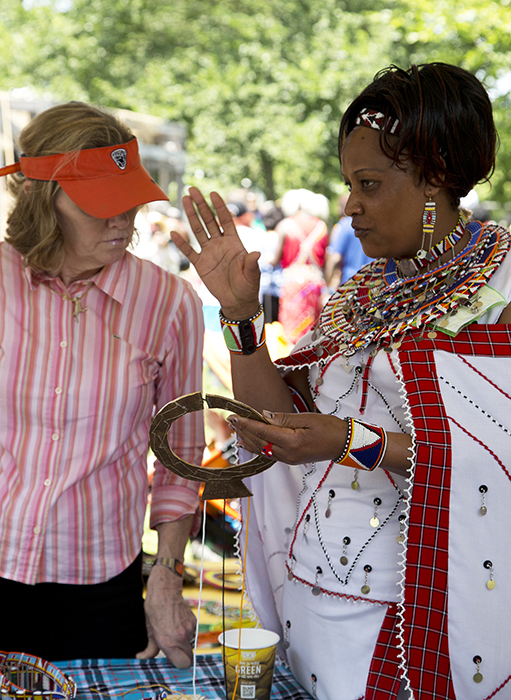 "In the Maasai culture, only women are allowed to bead," said Susan, a Maasai from Kajiado in southern Kenya. She learned beading from her mother and now does it daily after fetching water and firewood and other everyday chores.
Susan explained that beading is communal work. Women usually work in pairs while making beaded accessories so they can talk and decide what color patterns are appropriate in reference to meanings assigned to each color. For instance, white beads symbolize milk, red symbolize blood, black symbolize skin, and orange represent generosity.
One day at the Festival, Susana, a Pokot from Kapenguria in western Kenya, explained the change in beading materials over history. Before beads came from India, the Pokot people used wood and sisal fiber for making accessories including necklaces, headgear, and earrings. Once beads, wire, and other materials were introduced, they started to create more colorful and elaborate works. Styles changed with the influence of various cultural and economic exchanges, such as the use of shells in beadwork, brought from the coastal region.
Susana also fascinated the audience when she sang a Pokot song on stage. While singing, she rhythmically shook her shoulders to make her colorful beaded necklaces flow and keep the beat! Even though the sounds coming off her body were slight, nobody expected the distinct clinking produced by shaken beads.
The talk sessions offered wonderful chances to learn new things about traditional artistic expressions in Kenya. Beadworks are not just beautiful accessories but also musical instruments and a symbol of communal values.
Masatomo Yonezu is a Kenya program intern at the Center for Folklife and Cultural Heritage. As a Ph.D. student of ethnomusicology at Indiana University Bloomington, he specializes in the diverse musical traditions of Tanzania and Kenya.