The Art of Innovation in Action at Ocean Sole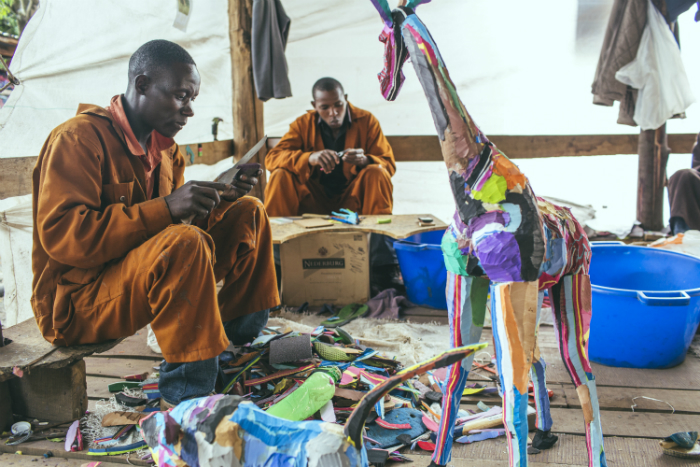 A simple Google search can lead you to shocking images of tons of trash found out in the middle of the ocean. Powerful ocean currents accumulate and move tons of garbage all around the world—sometimes transporting it for thousands of miles. Because not many of us spend much time in the middle of the ocean, the scope of the problem and its detrimental impact on marine life is easy to overlook. In Kenya, however, the problem washes up on the beaches every day.
The East African coast is littered with plastic and rubber waste that floats across the Indian Ocean from as far away as India and Indonesia, including countless discarded rubber flip-flops. Putting Kenyan resourcefulness and innovation to work, a company called Ocean Sole has found a creative use for the floating footwear.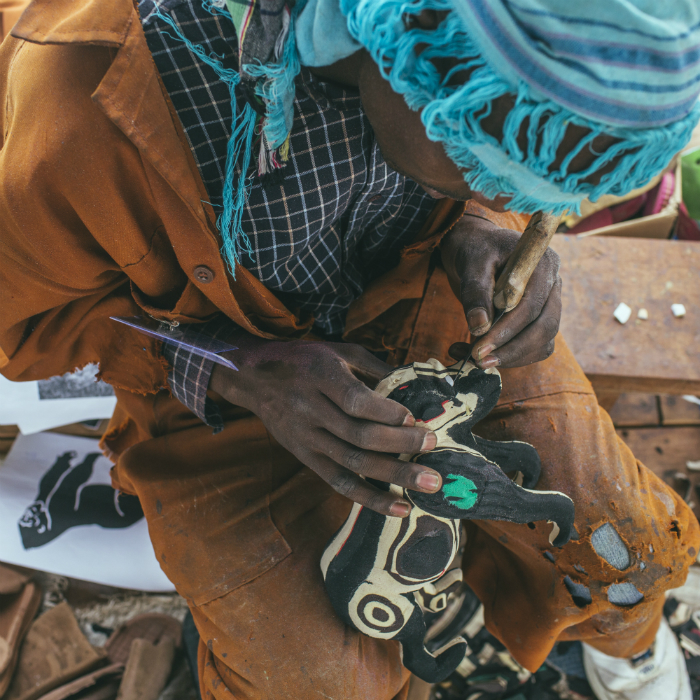 The men and women of Ocean Sole collect the beached flip-flops and, with a lot of hard work and imagination, turn them into works of art, jewelry, housewares and other useful items.
They start by cleaning and then compressing the flip-flops into large solid blocks of rubber, each one reflecting a swirl of brilliant colors. Then, the artists—many of whom are former woodcarvers—cut the blocks into familiar shapes such as a giraffe's long neck, an elephant's trunk, or a sea turtle's shell.
Piece by piece, these whimsical animals are shaped and assembled, resulting in sculptures that sometimes reach up to eighteen feet high!
Although it started small with a simple idea, Ocean Sole is now a rapidly growing arts company with a worldwide demand for its creative products. Some of the Ocean Sole artists' work can be seen in institutions such as the London Zoo and the Swedish Culture Museum—and now at the Smithsonian, too!
They funnel a portion of the proceeds from sales into the Ocean Sole Foundation, encouraging marine conservation awareness, recycling and reuse, sustainability and creativity in Kenya and beyond.
Want to see some of their incredible work for yourself? Stop by the "Art of Recycling" tent in the Kenya: Mambo Poa program at the 2014 Smithsonian Folklife Festival to see Ocean Sole artists in action, giving old flip-flops donated by Smithsonian staff a new look and life. A variety of Ocean Sole's recycled flip-flop art and products will be available in the Folklife Festival Marketplace for you to choose from and enjoy at home!
Stephanie Gikkas is a senior at the University of California, San Diego, studying biological anthropology and international relations. She is an intern at the Smithsonian Center for Folklife and Cultural Heritage working with the Kenya program.