Sustainability Matters: 2014 Festival Statistics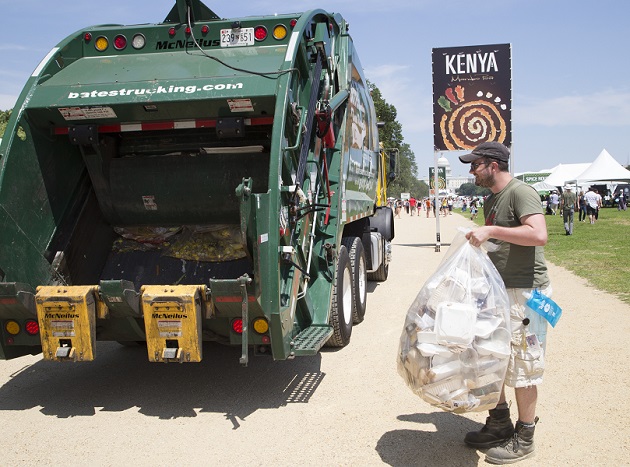 The 2014 Smithsonian Folklife Festival was the greenest one to date, and represented the largest composting effort for any event on the National Mall.
Resource recovery tents were strategically placed near dining areas and busy walkways to maximize accessibility and visibility. By collecting and sorting waste at these numerous stations, we were able to break our previous sustainability records and divert an incredible 93.15 percent of waste from landfills.
Total waste collected: 40.95 tons
Composted: 23.6 tons
Recycled: 14.6 tons
Landfill: 2.8 tons
While the resource recovery stations were the most visible aspect of Smithsonian sustainability efforts, there were many behind-the-scenes initiatives that increased our impact. All concessions vendors agreed to use compostable packaging, utensils, cups, and napkins.
Cashiers saved empty beer bottles and caps to give to the Kibe brothers of Kitengela Glass to create artwork and build their recycled glass hut in the Kenya: Mambo Poa program area. We even collected used cooking oil for processing into biofuel.
The production of the Festival requires a large amount of materials, and we made every effort to ensure that sustainable methods were used. Craftsmen who built the bamboo flower plaque structure returned to deconstruct it so that its materials could be used for future events. We used a 20 percent biodiesel blend, the highest the engines could tolerate, to fuel all generators and utility vehicles.
Visitor cooperation also played an important role in keeping activities on the Mall green. The bicycle racks for the China: Tradition and the Art of Living program were always well-stocked by visitors and made the Mall feel a little bit more like Beijing, where 16 percent of people commute by bicycle. Volunteers at information booths collected stacks of gently used programs for redistribution the following day. To reduce plastic consumption, three free filtered water stations were onsite for visitors to refill water bottles, and vinyl program signs from past Festivals were repurposed into tote bags and sold at the Marketplace to encourage visitors to cut down on the use of plastic bags.
These incredible statistics and initiatives wouldn't have been possible without the collaboration of our staff, volunteers, and visitors. For that, we want to thank you, and hope that you will join us in 2015 when we try to break these records!
Kendra Speak is a special events intern this summer at the Center for Folklife and Cultural Heritage. She will be a senior at George Washington University, where she is pursuing a double major in international affairs and geography with a concentration in contemporary cultures and societies.