Spotlight on a Kenyan Master Plaster Carver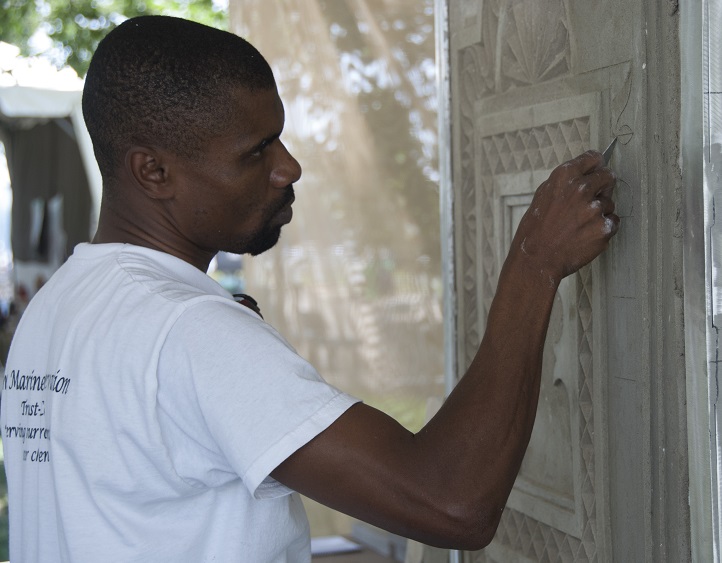 Amid the bustling crowds, impromptu Maasai dances, and rhythmic benga tunes that filled the Kenya: Mambo Poa site on the National Mall during the 2014 Smithsonian Folklife Festival, one man worked quietly and diligently under a small tent labeled "Plaster Art."
Each day of the Festival, plaster artist Ahmed Yusuf Suleiman mesmerized visitors with his intricate carvings, cutting through plaster so swiftly and effortlessly you'd think it was butter.
Over the course of the Festival, Suleiman completed four pieces of work: three small one-foot-square reliefs and his "masterpiece," a large five-by-three-foot wall. While purposely working slowly to demonstrate the intricacies and details of his craft, Suleiman completed the wall in six days and could often carve his smaller pieces in just a couple of hours.
For his plaster, Suleiman used a simple mixture of Portland cement and lime mixed with water, and alternated between a short knife and a hand-spade for his carving tools. Suleiman etched each of his complex, geometric designs without the help of a ruler or a straightedge, and used only a small, handheld level for reference. Although none of the pieces express a specific meaning or message, all are based on traditional designs from the Lamu area that contain a strong Islamic influence.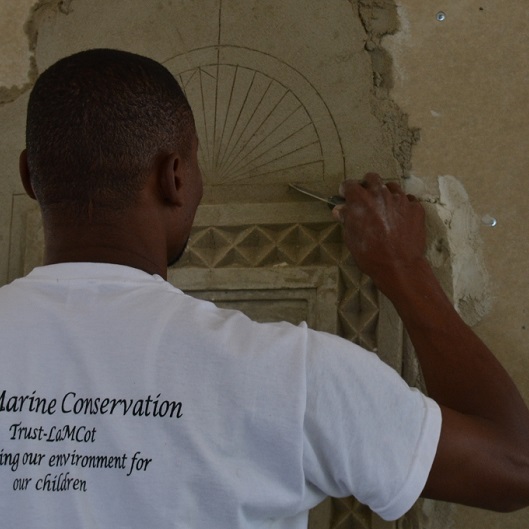 A native of Lamu, a small island off of the eastern coast of Kenya, Suleiman discovered his artistic ability at a young age and decided to forego secondary school to become an artist. He completed a two-year apprenticeship with the renowned carver Salim Hilu to learn the arts of masonry and plaster carving and design.
Since mastering the techniques he learned under Hilu, Suleiman has become one of the most sought-after plaster carvers and relief designers in East Africa. Over the past few years he has established a line of schools in Zanzibar, Tanzania, where he teaches many young artists the skills and techniques of plaster art.
Suleiman's Festival pieces have found a new home in the African Voices exhibit at the Smithsonian National Museum of Natural History. Since Suleiman was unable to put the final fine plaster coating on his wall before the end of the Festival and his return to Kenya, the museum is currently consulting him on how to finish the piece.
Once it is cured, Suleiman's wall will be placed on the other side of a large, carved wood door that is currently on display in the exhibit. This door has a special connection to Suleiman's hometown of Lamu and to another Kenyan participant: it was carved by dhow builder Ali "Skanda" Abdalla Ali's "grandfather" (whether he meant actual or figurative grandfather, we are unsure). With the addition of Suleiman's pieces, the Smithsonian will have quite a collection of Lamu artwork!
For any aspiring plaster artists with little to no experience (much like myself), Suleiman claims that after just two months under his direction, you too will be an expert plaster carver and designer. Anyone who saw him carve at this year's Festival will certainly believe him!
Simone C. Frank is an intern for the Folklife Festival's Kenya program. She will be a senior at Williams College, where she is studying anthropology and biology.