Reflections on Life and Legacy for Qing Ming Festival
My father insists that we are not Chinese. He left Hong Kong as a young man, with a little money in his pocket from siblings and friends, to see if he could forge a new direction elsewhere. For my father, his departure was in some ways a disavowal of Chinese history, culture, and politics—even ways of life. That disavowal recedes only on special occasions, such as when we come together as a family to celebrate our unity or to commemorate and honor our loved ones who no longer walk among us.
I first learned about Qing Ming ("ching ming") Festival as a curator at the Chinese American Museum in Los Angeles. I was told that Qing Ming is kind of like a Chinese version of Día de los Muertos. Here in Los Angeles, Día de los Muertos, or Day of the Dead, is a highly popular Mexican holiday to remember the dead, celebrated with jubilant public festivities, family fun programs, and temporary altars.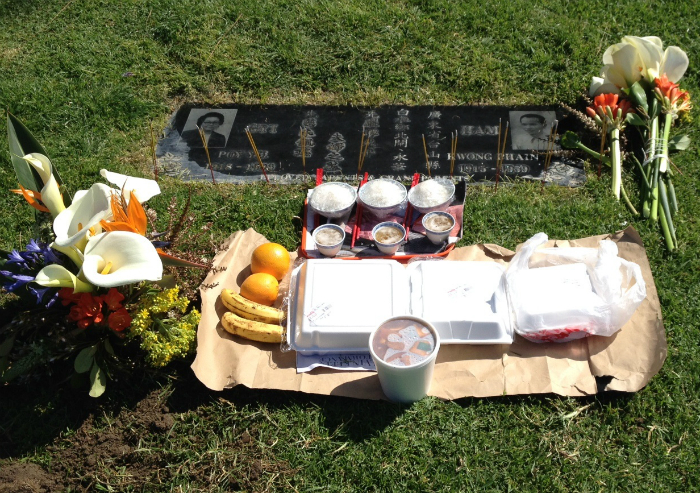 Qing Ming Festival, or Tomb-Sweeping Day, takes a relatively solemn and comparatively private approach to remembering one's ancestors. The Pure Brightness Festival, as Qing Ming is also called, points to the other dimensions of the holiday that celebrate nature, renewal, and vitality. Qing Ming takes place in early April when spring is new; the earth is ready for seeds to be planted, and the warmer weather is right for outdoor activities.
Los Angeles is a city without seasons, so tomb-sweeping and picnics at the cemetery can be had year-round. I recently joined my parents at the cemetery to visit the joint grave site of my grandfather and grandmother on a sunny Sunday morning.
My grandparents raised a family of six children in Myanmar. My grandfather, Ham Kwong Phain, descended from a long line of jewelers, but after fleeing Toishan just ahead of Japanese invasion, he did what he could in Rangoon to support his family. He owned a small barbershop, starting out with only one chair and expanding slowly with years of growing success. He named my mother Mei Sum, or "pretty heart," pleased that his fifth child was a sweet daughter. She loved him dearly.
My grandfather died of tuberculosis when my mother was just a young child. My mother always reminds me, "You're lucky to have a daddy. You know, not everyone gets to have a daddy. Do you know how lucky you are?" In the late 1960s, anti-Chinese riots in Rangoon drove my grandmother and her children to seek asylum in the United States. They came to Los Angeles with no country to call their own and only $16. Many years passed before they were reunited with my grandfather's ashes here.
I ruminated on what little I know about my grandparents as we arrived at the cemetery: I never met my grandfather, and I had never been close to my grandmother, Gyi Poy Yo, because of our language barrier. My aunt met us there with freshly cut flowers from her garden. My parents and I had cleaning and digging tools, incense, and a full picnic in tow.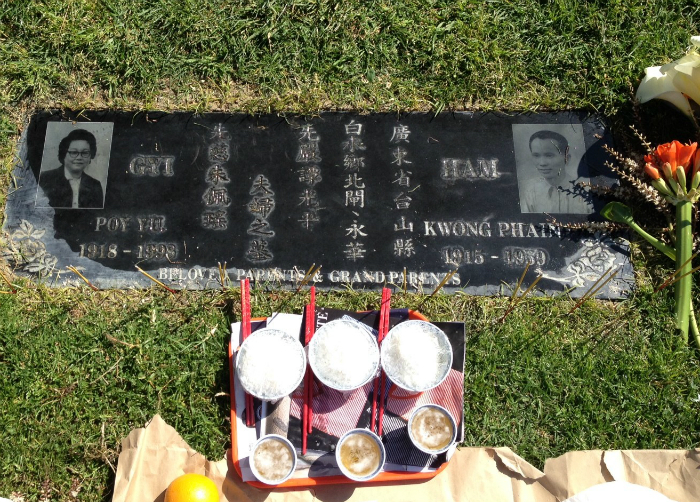 We cleaned the grave site and set the scene for a family meal outdoors. We placed flowers, food, fruit, and cups of wine as an offering. To signal our devotion and mark our respect, we tucked small bunches of lit incense sticks into the crevice that frames the single gravestone my grandparents share. This ritual also allows for families to burn spirit money and miniature versions of material possessions made in paper as a way to deliver gifts from the material world to our ancestors in the afterlife. Picture, if you can, the four-story house, the butler, the pile of gold bricks, and the Mercedes-Benz roadster—all made of paper—that we burned at my grandmother's funeral to ensure that she would enjoy a rich and luxurious afterlife.
In the order of oldest to youngest, we each took turns facing the gravestone and prayed and kowtowed to my grandparents several times . Through these acts of devotion and worship, we communicate our remembrance and gratitude that our ancestors remain an indelible part of our lives and constantly in our consciousness. Like a ceremonial toast, my mother poured wine as an offering over the ground immediately surrounding the gravestone. I reflected on how their single gravestone belies the time and distance they spent apart from each other. We then sat together as a family, sharing food and reminiscing about times when my grandparents walked among us and taught us how to live.
As we began to collect our items from the gravesite, my mother told me that my grandfather was happy to see me that day, happy that I came to visit him. This poignant visit made me feel spiritually linked to my grandparents whom I never really knew and closer to my parents for having taken part in the ritual along with their reverie.
For me, this exercise is more than just making time to remember loved ones who have passed away; it is also a way to know them, the children they created, and the role they have bestowed upon me in turn as part of their continuum.
Sonia Mak is an independent curator, writer, and arts administrator based in Los Angeles. She was founding curator at the Chinese American Museum, and she recently curated the exhibition 'Round the Clock: Chinese American Artists Working in Los Angeles at the Vincent Price Art Museum through the Getty Foundation's regional initiative, Pacific Standard Time: Art in LA, 1945-1980.