Recipe from China: Rice Wine Yuanxiao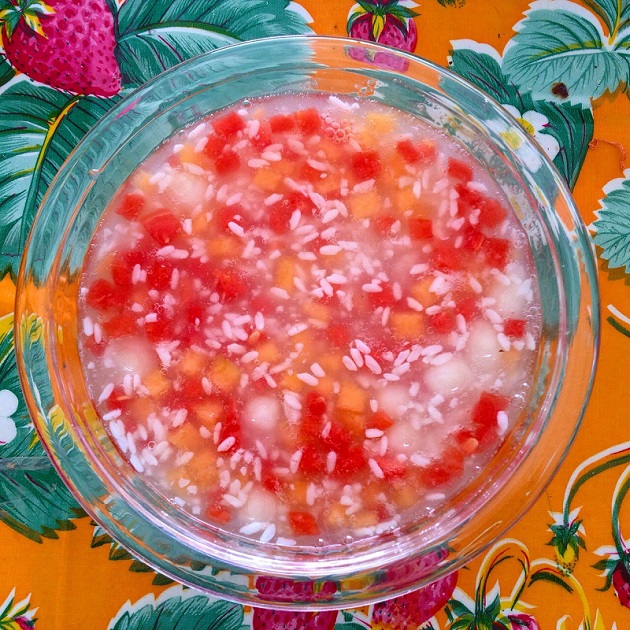 Today's recipe comes from Five Spice Kitchen's "Drinks and Desserts" session. Eating yuanxiao (round, sweet rice dumplings) is a favorite custom during the Lantern Festival, which occurs on the fifteenth day of the first month of the lunar calendar.
A special ingredient is used in this dish: jiuniang, or fermented glutinous rice wine. Jiuniang is sweet-tasting and low in alcohol content, with a subtle wine aroma. This dessert is typically served hot and keeps people in China warm throughout the winter.
Ingredients
7 oz fermented rice wine (This is available in most Asian markets. You can recognize it by the grains of white rice floating in the wine!)
3.5 oz glutinous rice (sticky rice) flour
3 oz watermelon
3 oz cantaloupe
1.5 tsp cornstarch
3.5 cups water, divided
Sugar to taste
Preparation
Finely dice watermelon and cantaloupe.
Boil half cup of water. Stir in rice flour until a smooth dough forms, then remove to a floured surface and gently knead.
Roll the dough into a cylinder about a half-inch in diameter. Cut it into equal half-inch-long pieces and roll into balls.
In a large saucepan, bring remaining 3 cups of water to a rolling boil. Add sugar and stir until dissolved. Gently pour in rice wine. Cook for about a minute. Add rice balls.
Stirring the boiling soup in only one direction, cook until the rice balls are all floating. Add diced melon and continue to stir and warm.
Add cornstarch, mix well, and serve hot.
Cindy Xu grew up in Dalina, China, and is an intern for the China: Tradition and the Art of Living program. She is also an expert on all the food trucks at L'Enfant Plaza, earning her the office title of Food Truck Queen.