Recipe from China: Pingqiao Tofu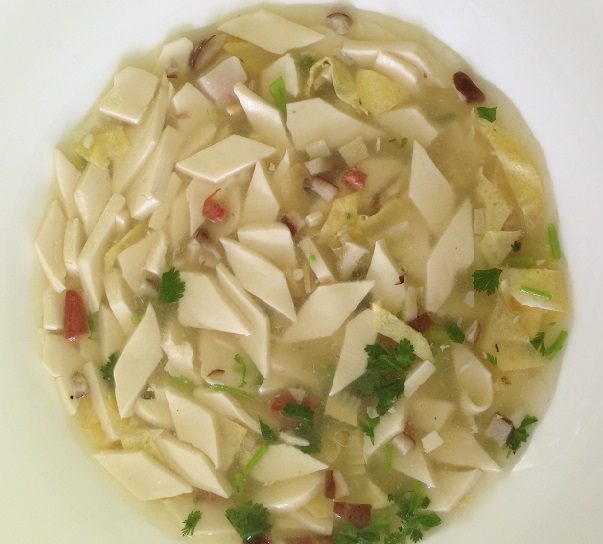 China Foodway's Five Spice Kitchen served up eight different traditional flavors yesterday, ranging from home-style dishes like pancakes with chive filling to regional specialties like Runbing spring rolls and Mongolian yogurt. Today's recipe comes from the Cooking with Tofu session.
Ingredients
1 box extra soft tofu (silken tofu)
4 oz bamboo shoots
2 oz shiitake mushroom
2 eggs
2 oz cilantro
Chicken stock
Water
Cornstarch
Preparation
Slice bamboo shoots and mushrooms into thin strips.
Carefully cut tofu into small cubes. Tip: It takes a lot of practice to cut your tofu into diamond shapes as shown in the picture. The easy way is to put the box of tofu upside down and pour the tofu onto the cutting board; gently hold the tofu in place with one hand, while using the other hand to make vertical cuts first. Then slowly move the knife through the tofu horizontally.
Cook the "egg skins." Beat the eggs and mix with a little water and cornstarch. Turn the stove to high heat and place a frying pan on the burner to warm up. Once the pan is hot, brush on a thin layer of oil. Pour a small amount of egg mixture to the center of pan, then gently tilt the pan and rotate it so that the egg batter forms a circle (think of how you make a pancake). When the surface of the egg solidifies and the edge curls up slightly, peel it off with a spatula and flip to cook the other side. When you finish, you will have a thin pancake of cooked egg. Repeat until all the batter is used up. Cut skins into thin strips.
Cook the soup base: heat prepared chicken stock. Add shredded bamboo shoots and mushrooms. Mix a little bit more cornstarch with water in a ratio of 1:5. When the vegetables are nearly cooked, pour the cornstarch mixture into the soup and stir gently. This step will thicken the soup and give it a smooth texture. Add tofu and cooked egg skin and heat for just a few minutes. Do not overcook.
Remove from heat and sprinkle in cilantro.
Variations
Chef Wang Peng uses egg skin in this dish, but you can also add ground beef or pork, shredded chicken, or shrimp to Pingqiao tofu. You can also experiment with different vegetables as long as you shred them and cook them in the soup base before adding the tofu.
Chicken stock can be replaced by pork stock. If you do not have pre-made stock or want to try a vegetarian version, water will also work.
Pingqiao tofu is not technically a soup, but if you like you can add more stock and make it one!
Claire Chen is an intern for the China program. Visit the Five Spice Kitchen any day during the Festival to learn about more authentic Chinese recipes.