Qiang Embroidery: Tradition Survives Disaster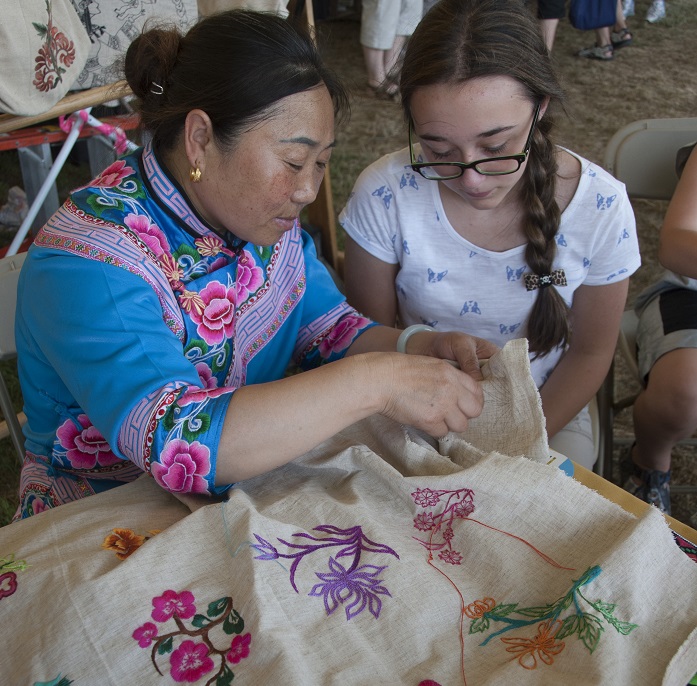 Li Xingxiu, a participant in the 2014 Smithsonian Folklife Festival's China program, is an embroiderer and textile designer and founder of Qiang Village Embroidery Workshop in Mao County, Sichuan Province. Program coordinator Jing Li interviewed her earlier this year about her inspiration and training, and the effect of the devastating 2008 earthquake (a magnitude 8 that killed tens of thousands of people and left millions homeless) on traditional arts and crafts in Sichuan.
What are the characteristics of Qiang embroidery?
Qiang embroidery has some special characteristics, though the basics are similar to other embroideries.  First of all, the patterns and designs are mostly about Qiang traditional symbols, such as sheep and flowers. Secondly, the color scheme is unique. The colors used in Qiang embroidery can be very bold. From where I come from, which is the Heihu village (literally "black tiger village"), people use a lot of contrasting colors such as black and white, green and red.
Traditionally, people used linen, cotton, or wool to weave cloths and embroider. People in the past were really talented and creative. They made their own clothes, shoes, and decorations for the family.
How did you learn this tradition, and how have you promoted it?
Before the 1990s, I was a teacher at a local elementary school for eight years. One day, I made an embroidered hanging that was bought from a tourist site for 360 yuan Renminbi (about $59). That was the equivalent of several months of my teaching salary at the time, and that was when I started to consider making embroidery for a living.
I began by selling embroidery patterns at a street stall for ten to twenty cents each. I next rented a vending stall at the local market, and here I drew shoe pad and other embroidery patterns and taught people how to embroider. I sold my first wedding dress for 60 rmb ($9.70) . That's when I started to think about running a business. I opened my first shop  in a country town where my clients were mostly local people. We still have many embroiders who work for us from their homes in the villages.
Over the years, I have taught many students. My daughter is also doing it, and she has been exhibiting her work in Beijing since she was nineteen years old. Sometimes I find people have used my designs and patterns, even those that I have registered copyright for. But I don't mind, especially for those who are poorer. I'm happy if they can make a living out of making embroidery.
How did the 2008 Sichuan earthquake affect you? How did it impact Qiang embroidery?
The workshop I was in at the time was a flat one-floor building. A colleague sensed the earthquake, and we all ran out. The outer wall of the building collapsed. Luckily we all escaped in time, and no one was hurt.
Since the earthquake, the government has focused great attention on this tradition. Before, embroidery was a means for women to feed their family. Afterward, it became an even more important means to help women gain income and support.
It used to all depend on individual effort to promote Qiang embroidery, which was very difficult, but after the earthquake the government funded "help centers" for us to help teach women to embroider in order to make a living. I went to Chengdu (the capital of Sichuan Province) with four of my best embroiders to assist. It took me four days to get there because the roads were all closed (normally it only takes three hours). It was the best and biggest support of Qiang embroidery that I have ever experienced.
As a designated "inheritor," what else are you doing to pass on the tradition of Qiang embroidery?
In 2014, I would like to open my own training school. I'm in my fifties and my eyesight is declining. I would like to take teaching as my next step. I am working on opening a training center at a local tourist site with sponsorship from the local government. After the earthquake, many embroidery schools have been established as an after-disaster recovery project. They hired people like myself to teach. I wrote the first Qiang embroidery teaching book, and in it I named the different stitches, which helps with the teaching of the craft.
This interview with translated from Mandarin by China program coordinator Jing Li and edited by media intern Meg Boeni.