Marketplace Special Event: Miao Embroidery
SATURDAY, 2:20 PM—This event has been rescheduled for this evening at 5 p.m. after getting rained out on Thursday.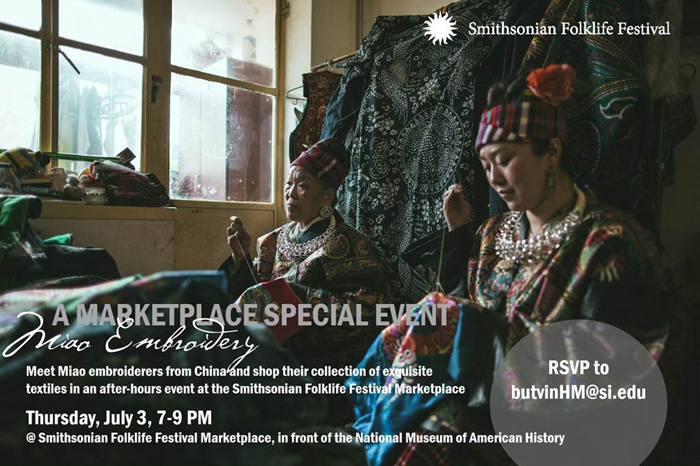 The Smithsonian Folklife Festival Marketplace is hosting an invite-only, after-hours event on Miao embroidery, featuring China: Tradition and the Art of Living participants Pan Yuzhen and her daughter Zhang Hongying. This is an exclusive opportunity to learn the story of each exquisite textile piece and shop the Miao textile collection. The event takes place in the Marketplace, in front of the south entrance of the National Museum of American History, today from 5 to 6 p.m.
In Miao communities, embroiderers record their history and culture in the embroidery on their clothing. It can take four to five years to make a fine handmade piece of embroidered clothing—from making the cloth, cultivating the silk worms, and dyeing the cloth and threads to the embroidery itself.
Pan Yuzhen 潘玉珍 is an embroiderer originally from Guizhou Province and currently based in Beijing. She began learning the embroidery traditions of her ethnic Miao community from her mother when she was seven years old. She has lived in Beijing since the 1970s, selling embroidery in Panjiayuan Market, the largest antique market in the city. She has participated in the Santa Fe Craft Market for eight years and has been featured in a book called An Shen Daji. At the Festival, she is joined by her daughter, Zhang Hongying 张红英.
Please RSVP to ButvinHM@si.edu. We hope you can join us!
Halle Butvin is a senior advisor for the Smithsonian Office of International Relations and Marketplace consultant for the 2014 Smithsonian Folklife Festival.