Marketplace Diary: Arriving in Lamu, Kenya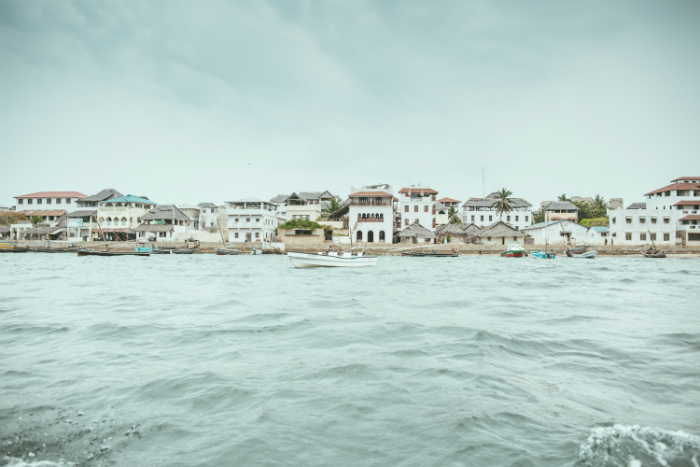 Editor's note: This winter, Folklife Festival Marketplace consultant Halle Butvin traveled to Kenya and China along with photographer Josh Eli Cogan to document the stories and crafts of the traditional artisans who will participate in this summer's Festival. This is the first in a series of posts about 2014 Folklife Festival participants.
As our nine-passenger propeller plane bounced over the baobab trees of Tsavo East, the Indian Ocean came into view. I expected Lamu to be far from the coast—I wasn't expecting such a dense archipelago, with dhows navigating narrow channels through extensive mangrove forests.
Our little plane landed abruptly in the dry landscape, and when the pilot's door swung open we immediately felt the humid heat of Kenya's coast.
We were greeted at the airport by Kathryn Coney-Ali, dressed in the traditional dark hijab, her face lit with her usual ear-to-ear grin. Commenting on the strong winds, she ushered us to the small motor boat that would take us to Lamu's stone town, where we would spend the next seven days.
Originally from the United States, Kathryn was working on her studies in Lamu when she met her husband, Mohamed. Mohamed works at the Lamu Museum, which is run by the National Museums of Kenya. Together they are working hard to preserve Lamu's cultural traditions. They have also been instrumental in collaborating with curator Preston Scott on the coastal component of the 2014 Smithsonian Folklife Festival Kenya: Mambo Poa program.
We rented Beyt Salaam, a private house directly on the seafront. That first evening, the house owner organized a traditional Swahili meal for us on the rooftop. Josh and I were joined by Mohamed, Ali Skandar (a master dhow builder), and Fatima, a true force of nature with a long family lineage in Lamu. We drank fresh mango juice and ate calamari with coconut rice, and coconut snapper.
As we ate, Ali explained the seasonality of the winds. In the past, the strong winds we were feeling guided dhows from Lamu directly to India. In a few months' time, the winds would shift and push traders from India directly to Lamu. These winds shaped the economy, architecture, and culture of the region.
We fell asleep that night to the sound of the trade winds prying their fingers around the wooden shutters of Beyt Salaam.
Halle Butvin is a senior advisor for the Smithsonian Office of International Relations and Marketplace consultant for the 2014 Smithsonian Folklife Festival.