Kenyan Women in Music: More Than Divas!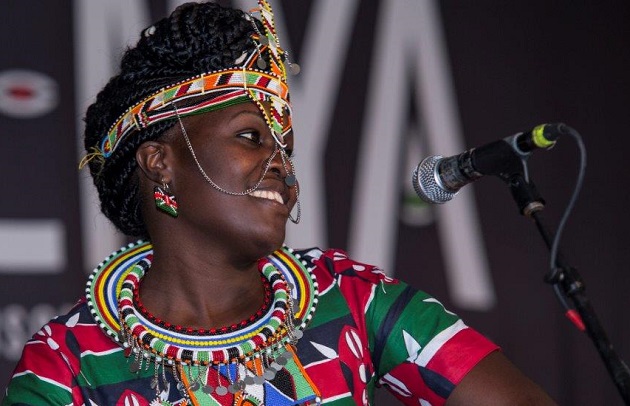 I heard about Iddi Achieng' and Chepchumba long before they came from Kenya to perform in the United States. The "divas" and I emailed each other in anticipation of a meeting soon to come. Our conversations ranged from pleasantries to brief details about their upcoming trip to Washington, D.C., to take part in the magnificent Smithsonian Folklife Festival, beginning with "Divas Night: Homage to Kenyan Women in Music."
Divas night—I was intrigued from the very second I heard about it. A diva is defined in many ways, but in this case the most appropriate definition might be: a celebrated female singer; a woman of outstanding talent.
I quickly began to think of who might like to sponsor what promised to be a thrilling event. I had been in conversation with philanthropist and champion of education, the arts, cultural heritage, and women's causes Deborah Santana. She was considering supporting the Folklife Festival in some way, and when I approached her about supporting "Divas Night," her nearly instant response was, "Yes!"
Deborah had met Iddi Achieng' in Kenya and was impressed with her work on and off stage. Iddi, who was born in Nairobi, has been performing since she was a young girl in church, and decided early on that she would become a professional singer. She also decided that she would help women and other members of her community reach their goals in life through her NGO called The Iddi Achieng' Trust. It was Iddi's professional activities that first drew Deborah's attention in Kenya, and it was the reconnection facilitated by the Smithsonian that garnered eventual philanthropic support of the Folklife Festival.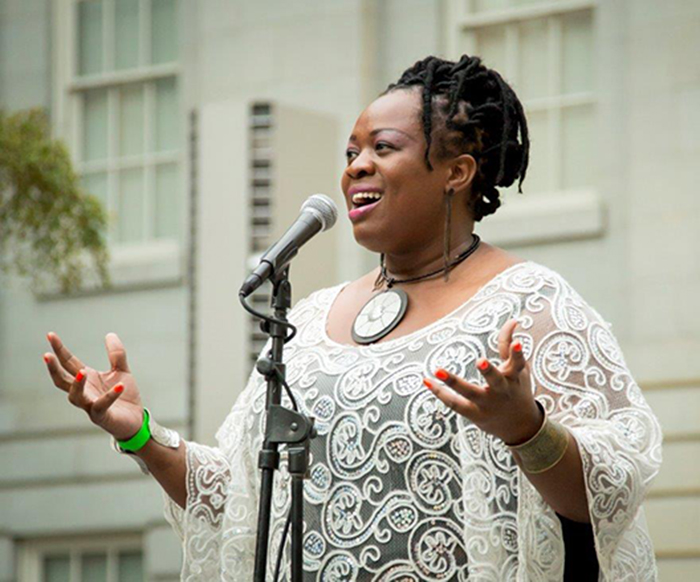 I first met Iddi on the night of the Festival's private opening reception at the Smithsonian American Art Museum and the National Portrait Gallery, a chance for participants from China and Kenya and Festival organizers to gather off the National Mall. A select group of performers gave the audience a taste of what was to come at the Festival over the next ten days, and among those was Iddi Achieng'!
She burst on stage with a mighty yet soulful voice that instantly reminded me of South Africa's powerful singer and activist, the late Miriam Makeba. Iddi wowed the audience, leaving us all wanting more. Her performance at "Divas Night" promised to be as magnificent as the artist who stood before us, singing and swaying in a white laced dress to the Kenyan beats.
During the opening reception, I also met Doris Chepchumba Tanui, who is Kalenjin [Tugen] from the highlands of Kenya. Although Chumba, as she calls herself on and off stage, did not perform that night, it was clear that this spirited young woman, dressed elegantly in a striking green, black, and red Kenyan dress, would do more than amaze an audience. She introduced herself to anyone who approached her, and she exuded both confidence and poise. She was on a mission to represent her country proudly.
Chumba is indeed multifaceted. She was in Kenya's military for eight years, and she is the wife of a Kenyan journalist and political analyst David Makali and a mother of two. She is a university student studying forensic investigations, and she is an entrepreneur who owns a company that supplies hotels and stores with fresh orange, mango, pineapple, and other juices. It was clear that Chumba has many talents, but what we were about to experience on stage was more than we had imagined.
On June 26, "Divas Night" featured Iddi, Chumba, Gargar, Linda Muthama, Nyota Ndogo, Suzanna Owiyo, and Atemi Oyungu on the Ngoma Stage. From the singers to the percussionists, guitar players, and more, the music held everyone spellbound. They represented themselves and their county with pride, talent, grace, and a driving spirit that landed straight in the hearts, minds, and souls of all in attendance.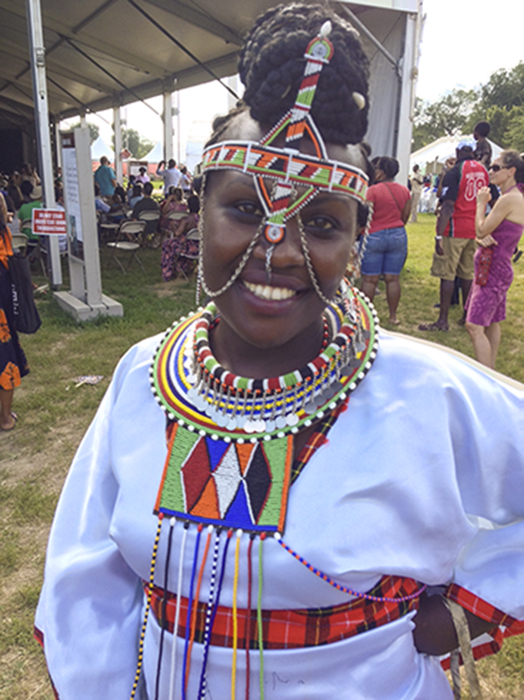 I didn't see Chumba again until the last day of the Festival, posing for photos and dispensing her trademark signature—a kiss—leaving a lipstick trace on CD covers, hand fans, Festival guides, or whatever her American fans and Kenyan kinsfolk placed in front of her. She had just delivered her Rift Valley roots sound to an audience that was still rocking to the beat. She was dressed in brightly colored attire with elegantly beaded jewelry draping her highly coiffed braids, her forehead, and wrists, with a delicately beaded collar around her neck.
The day after the Festival closed, I asked Iddi and Chumba about their greatest takeaways from the experience. Iddi said it was clear that women have to continue to exert themselves to get to the top, no matter what their chosen profession. She said she is prepared to do her best to succeed and help other women do the same. Chumba said she was not expecting such a warm response to her music by Festival audiences. She told me she will now take herself more seriously in her profession as an artist, and that she is determined to reach the top.
I think that they all did just that. They reached the top as divas on stage and as more than divas in their daily lives! We all hugged and wished each other well, vowing that this would not be goodbye, but that we would definitely meet again. Chumba wrote me upon her arrival home. Aside from being very jet-lagged and overjoyed to be reunited with her husband and children, she was ready for whatever came next.
Dr. Cynthia Jacobs Carter is chief development officer at the Center for Folklife and Cultural Heritage, where she raises funds and develops funding partnerships for programs for the Center and the Festival.