Jiànzi: Making Friends with Your Feet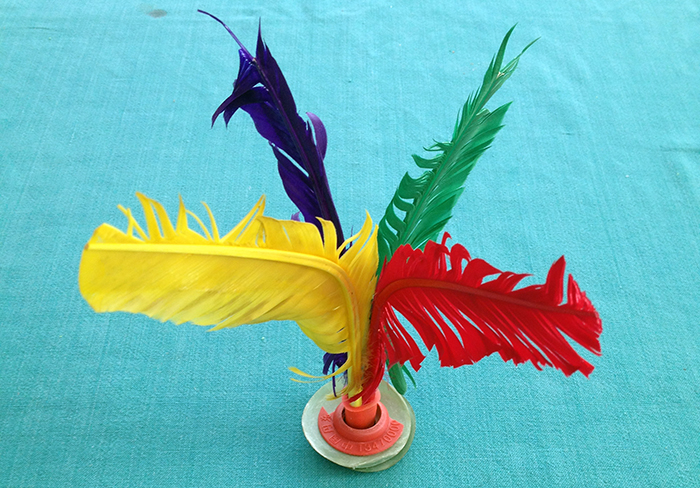 During the first few weeks of my internship with the 2014 Folklife Festival's China program, my lack of fluency in Chinese was obvious. As the only non-fluent speaking intern in the group, I felt nervous about the language barrier between me and the Chinese artists and performers who would soon be arriving.
Fortunately for me, I found a little toy called jiànzi (毽子). Jiànzi, which was offered in the People's Park area of the Festival, is a jingling, feathered Chinese shuttlecock that is played like American hacky-sack: your goal is to keep the object in the air using any part of your body but your hands. After doing a little research, I found that these shuttlecocks are a common sight in public parks in China, where fellow intern Zhang Qiaoyun said you can see people of all ages keeping a jiànzi in the air for minutes at a time.
This gave me the idea to practice the game so that, come Festival time, my proficiency would impress the participants enough for them to overlook my language deficiencies. Luckily, I have played soccer my entire life, so the concept of "juggling" with my feet was nothing new. Several interns (including my jiànzipartner for the summer, Emma Lewis) joined in on the office practice sessions, which took place in the hallways and the spaces between our work stations. Their shared enthusiasm made me less worried about annoying my coworkers with the rattling sound of the shuttlecock bouncing off our feet.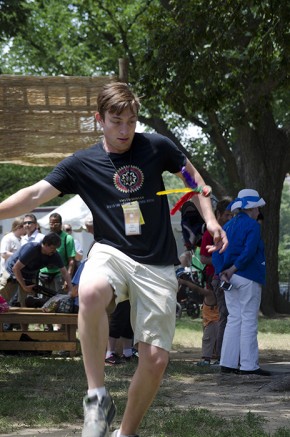 When we finally got out on the National Mall, I was feeling pretty good. I had practiced a lot, and I was excited to demonstrate my skills. During the first week of the Festival, I played in People's Park every day to encourage visitor interest in this fun aspect of Chinese culture, and in hopes that some of the Chinese artists would join me. While the heat left me drenched in sweat after every session, I kept going back, and, much to my delight, every day new Chinese participants would join for a little bit to share in the fun.
By the second week, I felt confident enough with my Mandarin and my interactions to begin actively seeking out conversations. Most of these talks started strong and ended in confusion as people overestimated my language ability and spoke with a speed and vocabulary I could not follow.
In spite of this, all of the people I talked with were pleasantly surprised when I spoke to them in Chinese. I received the ultimate compliment when a native-Chinese-speaking volunteer told me that he could actually understand what I was saying.
When I started as a program intern in the spring, I had not expected the Festival to have such a profound impact on my life. After beginning this journey without quite knowing what to expect, I am leaving the Center for Folklife and Cultural Heritage with a renewed interest in Chinese language and culture and so many amazing memories—and I can't help but think it has everything to do with the four-feathered jiànzi.
Coby Friedman interned for the China program at the 2014 Folklife Festival and is pursuing a major in mathematics with a minor in Chinese at Colby College. He hopes to study abroad in Beijing and Hangzhou and reconnect with new friends from the Zhejiang Wu Opera Troupe and other Festival participants.