Honoring Ralph Rinzler and Pete Seeger at the 2014 Folklife Festival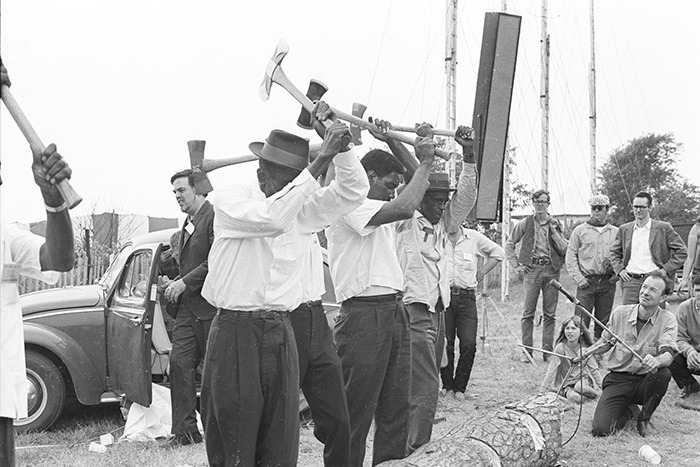 The staff, interns, and volunteers in the Ralph Rinzler Folklife Archives and Collections are striving to make the Archives a more visible, publicly engaged voice of the Center for Folklife and Cultural Heritage. This voice will be part of the 2014 Smithsonian Folklife Festival, through events that celebrate the individual lives and collaborative work of the Center's founding director, Ralph Rinzler (1934–1994), and the legendary Pete Seeger (1919–2014).
The Rinzler Memorial Concert on Friday, June 27, is a Smithsonian Folkways Recordings tribute to Seeger, the man whose legacy is permanently memorialized throughout many of the Rinzler Archives' collections as well as on well over a hundred Smithsonian Folkways releases.
Two narrative stage presentations on Saturday, June 28, reflect the work both men championed. While the name "Ralph Rinzler" may not be as globally recognized as "Pete Seeger," both are forever connected through the Smithsonian Folklife Festival (which Rinzler co-founded in 1967 as the Festival of American Folklife), as well as the transformative act of bringing the iconic Folkways Records to the National Museum of the United States. Just two years away from the fiftieth Folklife Festival, there is no better time to pay homage to Rinzler and Seeger.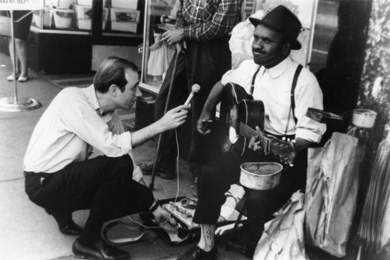 The vision behind the concert and narrative sessions began as the archivists noted that 2014 marked the twentieth anniversary of Rinzler's passing. 2014 is also the year that Archives staff and interns completed the first formal archival arrangement of Rinzler's personal papers—over one hundred cubic feet of biographical material, correspondence, photographs, collected texts, and ephemera.
Rinzler's material legacy reveals his role as a complex, multidimensional advocate who fostered new research, collection development, public programs, employment, and a Board of Regent membership that expanded racial and cultural diversity across the Smithsonian. In honor of Rinzler's history with the Folklife Festival, these narrative stage sessions are gathering together key musicians, researchers, and other individuals from the Festival's past and present.
Ultimately, these programs will bring into sharper focus those transcendent principles that Rinzler and Seeger supported, whether through music and art, documenting traditions in the field, engaging with the public at festivals, or promoting critical issues in culture, activism, and community, here in the United States and around the world.
Rinzler Memorial Concert: Smithsonian Folkways Tribute to Pete Seeger, Citizen Artist
The music making of Ralph Rinzler and Pete Seeger—both multi-instrumentalists—shaped the way the public thought about tradition and the accessibility of those traditions. Rinzler once summarized Seeger's musical performances by commenting, "You can't sit idle at a Pete Seeger concert."
Similarly, Rinzler was not an idle person when it came to capturing the spirit behind the traditions that he and Seeger promoted: music that summoned public engagement, fostered social and communal awareness, and built bridges between the voices of people on the margins and those in the mainstream. Both men saw music within a larger continuum, not as a relic of the past, but as a tool for advocacy and social change.
Building on what they learned as students of tradition, Seeger and Rinzler created a social framework, promoting greater awareness within the public conscience.
Featured Artists:
Radmilla Cody, Navajo singer, activist
Nobuko Miyamoto, actress, singer, activist
Luci Murphy, singer, activist
Holly Near, singer, activist
Quetzal, Smithsonian Folkways Recordings artists
Tony Seeger, banjo player, ethnomusicologist, former Smithsonian Folkways director
Tony Trischka, Smithsonian Folkways Recordings artist
Abigail Washburn, banjo player, singer
Musicians from the 2014 Smithsonian Folklife Festival
Betto Arcos, radio host, and Jeff Place, Folkways curator and archivist (emcees)
Ralph Rinzler Folklife Archives Narrative Stage
Each participant in the narrative stage events will speak about documenting traditions "in the field," festival production, and culture, activism, and community. Our goal for each storyline is to align Rinzler and Seeger's collective role as an important cornerstone of what takes place on the National Mall every year, drawing on the living memories of those who knew and worked with both men.
1. "History in the Present: From the Field to the Festival"
Rinzler and Seeger were practitioners and supporters of traditional music making, art, and artisanship. Like many of their contemporaries, they actively documented traditions as part of their fieldwork, capturing essential sounds, images, footage, and text. They were also intimately involved with festival production, providing access to the complexities of an individual or group's cultural identity in a public forum.
Many of these materials collected from the field are now part of the archival record, made available through publications and recordings and presented at festivals and performances, either by the tradition bearer or a student or enthusiast. Within this complex network of field documentation, interpretation, and public presentation, ethical and cultural lines can become blurred through the ongoing actions of the documenter and those who are documented.
Fieldwork and festival production also shape discourse by incorporating content related to current social, ethnic, gender, and identity issues, as well as holding an event on a site accessible for those with disabilities. This panel will explore the historical efforts of people like Rinzler and Seeger and discuss the legacy and relevance of those efforts today.
Participants:
Roger Abrahams, folklorist
Jeffrey LaRiche, former Center for Folklife and Cultural Heritage (CFCH) program coordinator
Worth Long, folklorist
Diana Parker, former Smithsonian Folklife Festival director
Marjorie Hunt (moderator), CFCH curator
2. "Culture, Activism, and Community"
Both Rinzler and Seeger advocated for key cultural elements that are common threads in the human experience: the importance of individual voices, the need for agency and empowerment, and the fight for justice. Rinzler wove these threads through his fieldwork and engagement as a folklorist, musician, and cultural advocate, and Seeger embodied these elements through an advocacy in which music and public engagement function as core elements of humanity.
The Folklife Festival demonstrates powerfully how these themes—these human elements—exist on a global scale, and how people who may not know the names "Rinzler" or "Seeger" fully embody and demonstrate what these individuals believed in and helped shape as the heart and focus of the Center for Folklife and Cultural Heritage and the Smithsonian Folklife Festival.
The collaboration between the Folklife Festival and the Rinzler Archives represents an essential link for preserving institutional memory and creating a variety of platforms whereby cultural stakeholders—organizers, artisans, and the public—can gain an overview of the Festival's past to become empowered guides for its future.
Participants:
Junious Brickhouse, dancer, choreographer, community organizer
Quetzal Flores, musician, activist, Smithsonian Folkways Advisory Board member
Martha Gonzalez, singer, activist, assistant professor of Chicana/o Latina/o studies at Scripps College
Sojin Kim, CFCH curator
Luci Murphy, singer, activist
James Early (moderator), CFCH Cultural Heritage Policy director
The Rinzler Memorial Concert and narrative stage sessions are a collaborative effort between Greg Adams, Xóchitl Chávez, James Early, Elizabeth Lalley, Sabrina Lynn Motley, Jeff Place, Dan Sheehy, and Stephanie Smith.