Foodways Friday: Swahili Fish with Creamy Coconut Sauce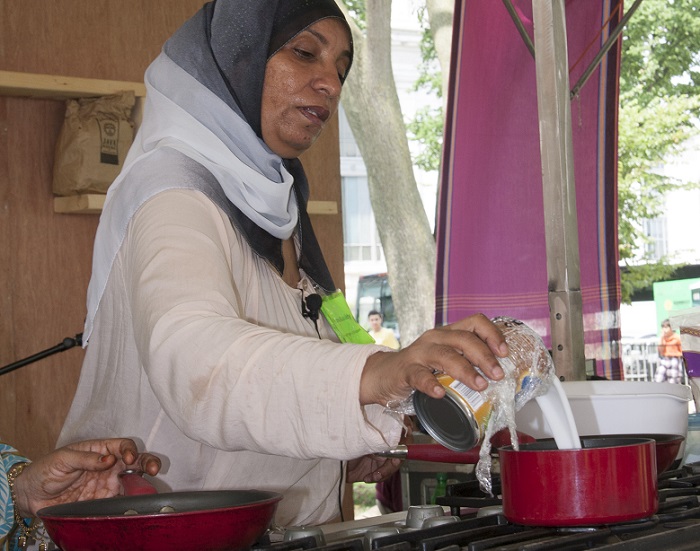 This fish dish from the Kenyan island of Lamu is usually made for some kind of special occasion such as a wedding, but it is also especially popular during the month of Ramadan. During Ramadan, those who observe the Islamic holiday fast from sunup to sundown. I the morning before dawn, a small light meal is consumed, but at night adherents break their fast with a huge feast known as iftar. A variety of dishes that provide a balance between heavy and light foods are specially prepared for this meal.
Kenyan cooks Amina Harith Swaleh and Fatma Ali Busaidy (who demonstrated this recipe at the 2014 Folklife Festival) explained that they usually use fish weighing upwards of four or five kilos (eight to ten pounds). Red snapper or kingfish are the most desirable catch in Lamu to use in this dish, but any white fish will work. The dish is generally served with a millet or wheat porridge during Ramadan but can be paired with sim sim bread or rice as well.
Ingredients
8 lbs firm white fish, whole if possible (red snapper preferred)
Juice of 3 limes
6-7 cloves garlic, pureed
1/4 cup pepper
3 tbs salt
Sauce:
2 16 oz cans coconut milk
1 tbs tamarind
2 1/2 tbs turmeric
Pepper to taste
Preparation
Toss the lime juice, pureed garlic, pepper, and salt in a large plastic bag. Remove bones and scales from fish, but no need to remove the head. Place fish (whole) into bag and marinate for two hours.
Remove fish and place on baking sheet. Broil fish at 350° F for about fifteen to twenty minutes, or until cooked through and lightly browned.
Pour coconut milk, tamarind, pepper, and turmeric into a medium saucepan and let simmer for about fifteenminutes, stirring occasionally. Add salt to taste.
Plate the fish. Remove sauce from heat and carefully use a spoon to coat both sides of the fish in coconut sauce. Pour any extra sauce on top. Serve warm with bread or rice.
Michaela Wright worked as a production intern for the 2014 Folklife Festival. She studies anthropology and art history at the College of William and Mary.