Foodways Friday: Swahili Chicken Curry with Coconut Rice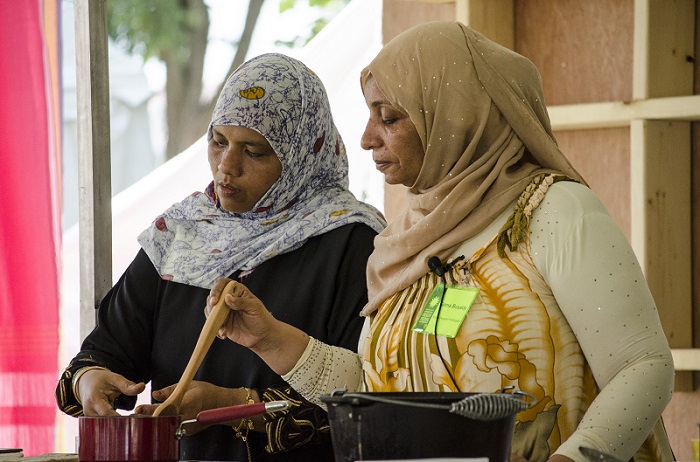 This recipe was taught to me at the 2014 Folklife Festival by Amina Harith Swaleh and Fatma Ali Busaidy, two women from the island of Lamu, just off the Kenyan coast. I spent the day in the Flavors of Kenya foodways tent chopping onions, making mistakes, and asking a lot of questions.
Amina and Fatma explained that this casual dish is prepared often in their households for family lunch and sometimes dinner. The curry is comprised of fresh ingredients that would be easy to find in their Kenyan community, while the rice reflects the prevalence of coconut in the coastal diet. Instead of buying canned or boxed coconut milk like we might here in the States, Fatma explained the process of making coconut milk from scratch. The process is laborious and includes scraping the coconuts of their pulp and wringing the pulp out with a hand-woven sieve and other homemade tools.
When the cooks saw the free-range chicken our foodways coordinator had gotten for them, they were astounded by its size. They had never seen such a small chicken. Look for a large, robust chicken for this dish to pay homage to the ladies who shared it with me!
Curry Ingredients
Marinade:
2 limes
3 heads of garlic, peeled and chopped
1 tbs black pepper
1 tbs salt
1 whole chicken
4 whole ripe tomatoes
1 bell pepper, diced
1 red onion
2 tbs tomato paste
2 large fresh ginger roots (1 ½ cups when pureed)
1 cup fresh cilantro
3-4 heads of garlic, minced
2 c + 2 tbs vegetable oil
Cinnamon to taste
Salt and pepper to taste
Preparation
Marinate the chicken: chop the whole chicken into rough pieces, leaving bones in. Juice limes. Toss lime juice with chopped garlic, salt, and pepper in a large plastic bag or bowl. Add chicken and toss. Let marinate for two hours or more.
Make the curry: Chop tomato into large pieces, then puree in a food processor until smooth. Pour into a bowl and reserve. Chop and puree ginger.
Chop onion into thin strips. Heat two cups vegetable oil over medium heat. Pour onions into oil and simmer for fifteen to twenty minutes until deep brown and crispy but not burned. In a deep pan saute the minced garlic and the ginger in two tablespoons vegetable oil. Add the bell pepper and cook until soft. Pour in tomato puree and tomato paste. Let simmer, stirring occasionally, for a few minutes and add cinnamon and coriander.
In a separate pan, sear chicken so that outside is crispy and brown, but the inside remains pink.
Toss chicken into pan with tomato sauce. Cover dish and let simmer for thirty to forty minutes. While the curry is cooking, make coconut rice.
The Swahili women who taught me this recipe don't generally use standard Western measurement; this recipe usually uses proportions instead of cups or kilos, with the rice in a 2-to-1 ratio with water or milk.
Coconut Rice Ingredients
2 c basmati rice
1 c coconut milk
1 c water
Preparation
Wash the rice thoroughly in a bowl and allow to soak for ten to fifteen minutes. Rinse rice after soaking and set aside.
Bring coconut milk and water to a boil in a pot over medium-high heat; add rice and stir.
After about six to eight minutes, reduce the heat to low, cover, and let simmer for fifteen minutes. Rice is finished when it is fluffy and has soaked up almost all the water and coconut milk.
Pour curry over rice and serve warm.
Michaela Wright worked as a production intern for the 2014 Folklife Festival. She studies anthropology and art history at the College of William and Mary.