Foodways Friday: New Year's Dumplings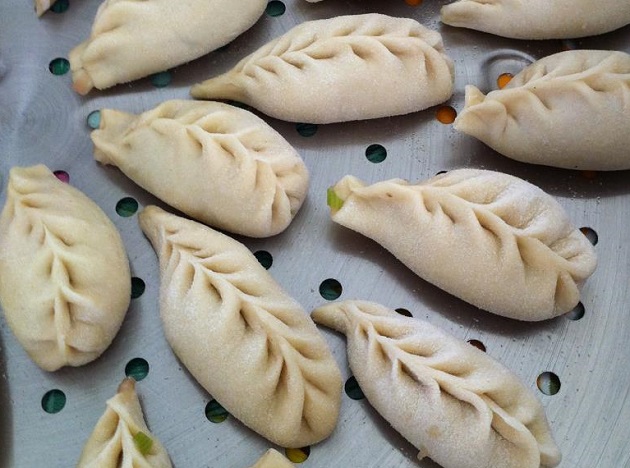 Tian Yali, one of the paper-cutting artists from the Folklife Festival's China program, brought her special recipe for dumplings to the Five Spice Kitchen. During Chinese New Year, dumplings are a symbol of wealth and reunion. Tian says that in her family they hide a coin inside one of the dumplings, and whoever gets the lucky one will have an especially good year.
Ingredients
Wrapper:
2 cups all-purpose flour
1 egg
1/2 tsp salt
Cold water
Filling:
1 lb ground pork
1 cup scallions, chopped
1 tbs fresh grated ginger
2 tbs soy sauce
1 tbs chicken bouillon powder
1 tsp prickly ash (also known as Szechuan pepper), ground
Dipping sauce:
1/4 cup Chinese black vinegar
1/4 cup soy sauce
1 tsp prickly ash (Sichuan pepper)
1 tsp garlic
1/2 tsp sugar
Preparation
Add salt into flour.
Add egg and mix well.
While continuing to mix, add water by tablespoons until the dough can be kneaded into a large ball.
Turn the dough out onto a floured surface and knead until it becomes smooth and elastic.
Wrap the dough in plastic wrap and refrigerate for at least 30 minutes.
Divide dough into 2 or 3 sections; roll each section into about a one-inch-thick log and slice into half-inch pieces.
Flatten the pieces. Using a narrow rolling pin, press and rotate the pieces until the wrappers are thin but still firm enough to hold the filling, about a quarter inch.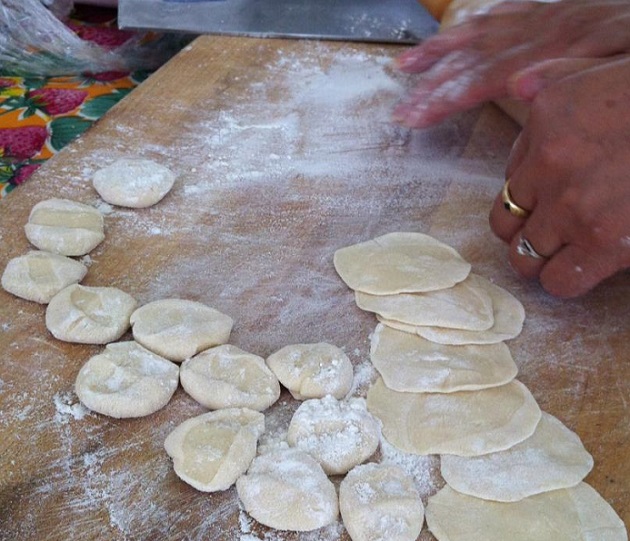 Mix all filling ingredients together.
Using a spoon, scoop a small amount of filling into the center of a wrapper.
Fold the wrapper in half and slowly pinch the edges together.
Grease bottom of steamer. Place dumplings into steamer, and steam for around 10 minutes, or until wrappers are semi-translucent.
Mix all sauce ingredients together. Serve with hot dumplings.
Karlie Leung was born and raised in Hong Kong and is currently a first-year graduate student at The George Washington University studying anthropology with a museum training concentration. She is an intern at the Center for Folklife and Cultural Heritage working with the China: Tradition and the Art of Living Folklife Festival program.