Foodways Friday: Kenyan Mandazi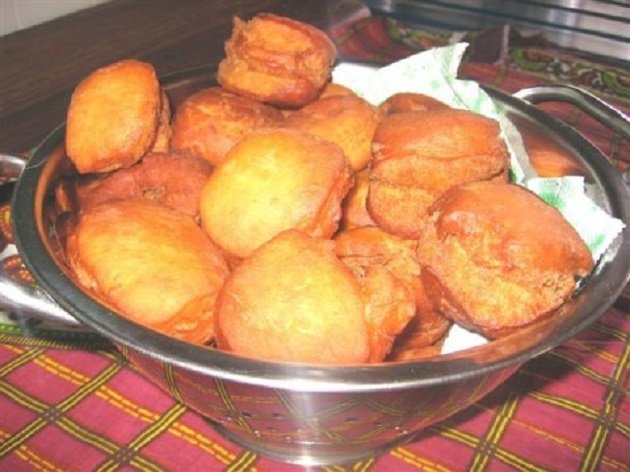 In addition to the Foodways artisans who will be offering cooking demonstrations each day on the National Mall, the Kenya: Mambo Poa program will feature authentic Kenyan food in its concession stands.
The source? Not the far reaches of Africa, but Swahili Village Restaurant and Bar, located in nearby Beltsville, Maryland. The restaurant, operating as Choma Grill, will offer a variety of vegetarian and meat options as well as desserts and drinks.
Swahili Village features a variety of Kenyan recipes on its blog, Village Talk, as well as Kenyan news, health tips, and stories of culture and customs. Here's one for mandazi, a type of donut-like sweet eaten as a snack or for breakfast with a cup of chai tea.
Ingredients
1 egg, beaten
1/2 cup sugar
1/2 cup milk
2 tbsp butter, melted
2 cups white flour
2 tsp baking powder
Oil for frying
Preparation
Let all ingredients come up to room temperature before mixing. With clean hands or a spoon, blend all ingredients together, adding more flour if necessary so that the dough is soft, but not sticky.
Roll the dough on a lightly floured board to about a 1/4-inch thickness. Cut into triangles and fry in hot oil, until both sides are golden brown.
Remove mandazi from oil and drain on paper towels or newspaper. Sprinkle with powdered sugar while still hot. Mandazi are best served warm.
Variations
Put some granulated white sugar into a bag, add a few mandazi, and shake the bag to coat them with sugar.
Add about a 1/2 teaspoon of cinnamon, ginger, all-spice, or cardamom to the dough, or a combination of these spices to total a 1/2 teaspoon.
Use a circular donut cutter to make mandazi in the shape of traditional donuts.
Substitute pineapple, orange, or lemon juice for the milk.
Add some shredded coconut to the dough.
Add ground peanuts or ground almonds.
You may substitute 1 teaspoon dry yeast for the 2 teaspoons baking powder, but you will need to allow the mandazi to rise before cutting into shapes and frying.
Meg Boeni is a media intern for the Center for Folklife and Cultural Heritage who studies journalism and Spanish at Boston University. Special thanks to Shirlene Brown, social media manager for Swahili Village. Find out more about the Kenya program at Kenya: Mambo Poa.