Foodways Friday: Jade Shumai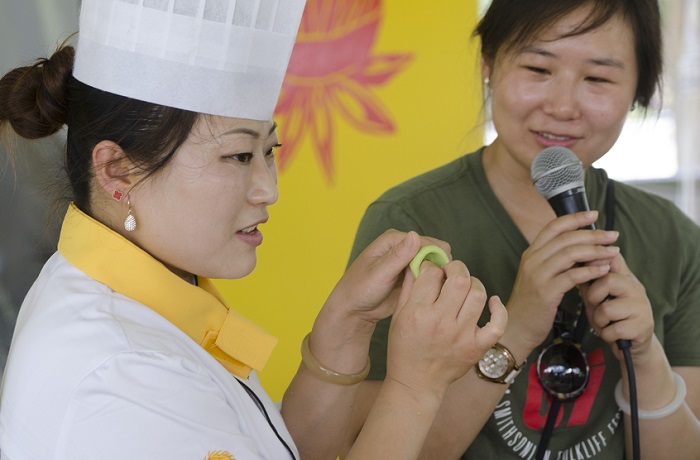 There are many different kinds of the small Chinese dumpling called shumai. The variety featured in this recipe is called "jade" shumai because both the filling and wrapper are a pale green color when cooked.
When making the filling, all ingredients must be finely chopped because the dumplings are so small. In order to mince the filling into tiny pieces, the chef uses a knife technique called "running horses": a large butcher knife is held in each hand, and the chef chops the ingredients with both hands in a quick alternating succession, so that the noise of the knives beating on the table sounds likes galloping hooves.
The chef who brings us this dish is Zhao Yuman 赵玉曼, an expert in both Asian and Western pastries.
Ingredients
Adjust amounts according to taste and how many dumplings you want to make.
One head of Shanghai greens (known as bok choi in the U.S.)
Fresh bamboo shoots, cut into thin strips
Green onion, minced
Fresh ginger, minced
1 medium-size pork sausage, browned and minced (for garnish)
3 cups all-purpose flour
2 tbs vegetable oil
1 ½ tsp sugar
1 tbs sesame oil
Preparation
Filling:
Bring a saucepan of water to a boil. Prepare a bowl of ice water, and set it aside. Boil the bok choi for a little less than a minute, and then remove immediately to ice water. Remove greens from the water, and squeeze out excess liquid.
Mince greens thoroughly. Using a strainer or a piece of mesh or cheesecloth, remove excess water again, but this time catch it in a small bowl and set it aside.
Boil bamboo shoots for about one minute, then remove from water and mince.
Coat a large wok or skillet with vegetable oil and heat until very hot (the oil should reach nearly 400° F). Toss onion and ginger into the hot oil and cook for about thirty seconds or until fragrant. Add the bamboo and stir. After about thirty seconds to a minute, add the bok choi. Stir. Add sugar and sesame oil. Remove from heat and allow to cool.
Wrappers:
Form a mound of the flour on a clean, flat surface. Make a well in the top of the mound and pour in some of the reserved water squeezed from the greens. You may or may not use all of the liquid, but the general ratio is 2 flour to 1 water—enough so that the dough is neither dry nor sticky, but elastic and holds together when kneaded. Sprinkle some ice water over the dough as well.
Knead the mixture until blended, and continue to knead for another two to three minutes. Roll dough into long thin cylinders of about 1.5-inch thickness.
Pinch off a section of the cylinder and roll into about a 3/4-inch ball. Gently flatten and roll into a circular shape about three to four inches in diameter that is thick enough to avoid breaking but almost translucent. Repeat the process until all dough is used up and you have a few dozen flat rounds.
Place two or three teaspoons of filling mixture in the middle of a circle of dough. Pinch up the sides around the filling, leaving a small opening at the top (see picture). Fill all dumplings. Garnish the open top of each shumai with a few pieces of sausage.
Prepare the steaming basket: brush bottom with vegetable oil. Steam dumplings for six to seven minutes or until cooked through. Presentation is very important in Chinese cuisine, so make sure to arrange your shumai nicely on a plate! Serve warm.
Michaela Wright worked as a production intern for the 2014 Folklife Festival. She studies anthropology and art history at the College of William and Mary.