Foodways Friday: Irish Soda Bread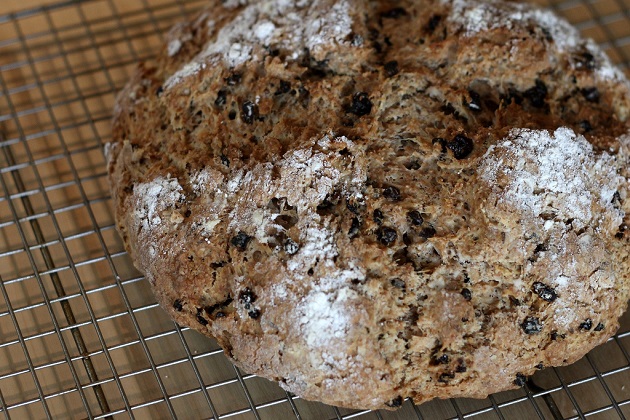 Growing up in a poor Irish neighborhood in Chester, Pennsylvania, during the Great Depression, my grandmother on my mother's side remembered many breakfasts and suppers that consisted of nothing more than a few slices of bread with butter and sugar. The bread was old-fashioned, yeastless Irish soda bread. The woman who baked it was my great-great-grandmother "Mam," who raised my grandmother after her mother died in 1928.
You only have to take a few bites of soda bread to see how it could have sustained a family of nine, even without a rasher of bacon or some stew to go with it. It's thicker than steel-cut oatmeal and makes for a breakfast that could sink a battleship. My mother still bakes the warm, crumbly-crusted bread that Mam used to prop up herself, four grandchildren, and four men, only one of whom, a policeman, had regular work. It's something that can be made quickly, every other day if necessary, and will go with whatever other food happens to be in the kitchen.
Historically, soda bread was well-adapted for the Irish climate. Yeast breads seldom rose evenly before refrigeration or central heating in the "land of damp, rainy thatch huts," as my mother puts it, and the most common variety of wheat in the British Isles was one that was low in gluten and didn't make for high, fluffy breads.
The original family recipe, sadly, seems to have never been written down. My mother only found this version about thirty years ago, but it has been verified by several relatives who remember similar bread of "Granny Nuttle's or Kitty's or Mam's" from various Irish women in my family. The bread with currants and caraway seeds would technically be called "Spotted Dog" or "Spotted Dick," and you can also make it plain if you prefer.
Ingredients
4 cups unbleached flour (white, whole wheat, or half and half)
3 tbs sugar
1 tbs baking powder
1 tsp salt
¾ tsp baking soda
6 tbs cold butter, cut into small cubes
1 ½ cups currants or dark raisins
1 tbs caraway seed
2 eggs
1 ½ cups buttermilk
Preparation
All steps are done by hand—an electric mixture will ruin the texture.
• In a large bowl stir together the dry ingredients. Cut in the butter with a fork or pie mixer until the mixture is coarse and crumbly.
• Stir in currants and caraway seeds, if using.
• In a separate bowl, beat eggs, and remove about one tablespoon and set it aside.
• Add the buttermilk to the remaining beaten eggs. Stir well, and then pour into the flour mixture. Stir until the mixture is moistened and the dough is very sticky.
• Turn onto a well-floured surface and knead dough for about ten quick strokes, folding as you knead. Shape into a ball. Place in a two-quart round glass casserole dish.
• With a sharp knife, cut a cross into the top of the loaf. Traditionally, this blesses the bread or lends good luck to the cook. It also lets the steam out while cooking and makes it easier to break into hunks. Brush top with the remaining egg.
• Bake for about an hour and twenty minutes at 350° F until golden brown, and a toothpick comes out clean.
• Cool on a rack for ten minutes or so before removing from the casserole.
• Serve with plenty of sweet butter and a cup of tea.
Variations
This bread is also, unsurprisingly, delicious when made over the hearth or even an ordinary campfire. My mother, who is a whiz at modern stove-top cooking as well as traditional open-fire methods, says to follow all steps for mixing and kneading, and place the dough in a round pan. Lower the pan into a cast-iron dutch oven that has been warmed on the fire for about fifteen minutes. Nestle the oven into a bed of hot coals, cover the lid with a uniform layer of coals, and "don't peek for an hour." Lift the lid, replace, and add more coals if the soda bread looks too pale. Cooking times should be about the same.
Meg Boeni is a media intern for the Center for Folklife and Cultural Heritage, who studies journalism and Spanish at Boston University. Other family recipes she'd like to hunt down and try include haggis, fruitcake cookies, and "whistlepig," or stewed groundhog.