Foodways Friday: Brewed Bamboo Shoots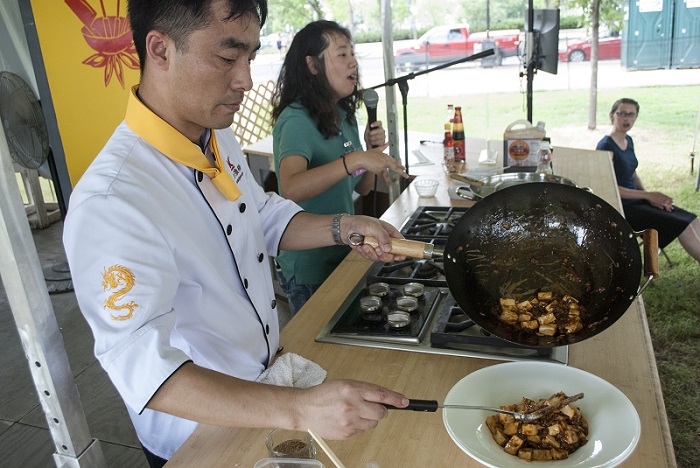 This recipe is from Chef Wang Peng 汪鹏, who is from Huai'an, Jiangsu Province. His home province is the birthplace of one of the most influential cuisines in China, the Huaiyang style, which is characterized by artistic presentation as well as unique flavors. Since finishing his studies in the Yizhou Chef School, Wang has worked as the head chef in several different restaurants. In 2010, he received the title of Culinary Master of China from the China Hotel Association.
Ingredients
4 lbs fresh bamboo shoots
Pork belly to taste (for flavoring—the bamboo shoots are the main part of the dish)
¾ cup chopped spring onion (about one)
1 fresh ginger root shaved into thin strips
4 ½ tsp soy sauce
1 tbs thick soy sauce or oyster sauce
¼ cup water
2 tbs vegetable oil
Pinch of salt
2 tbs sugar
1 tbs sesame oil
Extra soy sauce (to taste)
Preparation
Chop bamboo roots into big chunks about 3 inches long and 1½ inches thick.
Remove skin from pork and chop meat into 1-inch cubes.
Blanch the bamboo shoots: bring a saucepan of water to a boil. Boil bamboo for 2 to 3 minutes, then remove immediately to a bowl of cold water to stop the cooking. Remove from water and set aside.
Coat a pan with vegetable oil and heat. Add pork, and fry about 2 to 4 minutes or until cooked through and crispy. Add spring onion and cook for an additional 1 to 2 minutes. Finally, add the bamboo shoots. Toss together for an additional 30 seconds, then add soy sauce, oyster sauce, water, sugar, and salt.
Cover and cook 2 to 5 minutes to allow vegetables to soften. Add sesame oil and more soy sauce 1 teaspoon at a time to taste. Serve immediately with rice or scallion pancakes.
Michaela Wright worked as a production intern for the 2014 Folklife Festival. She studies anthropology and art history at the College of William and Mary.