Fasting for Ramadan from a Kenyan Cook's Perspective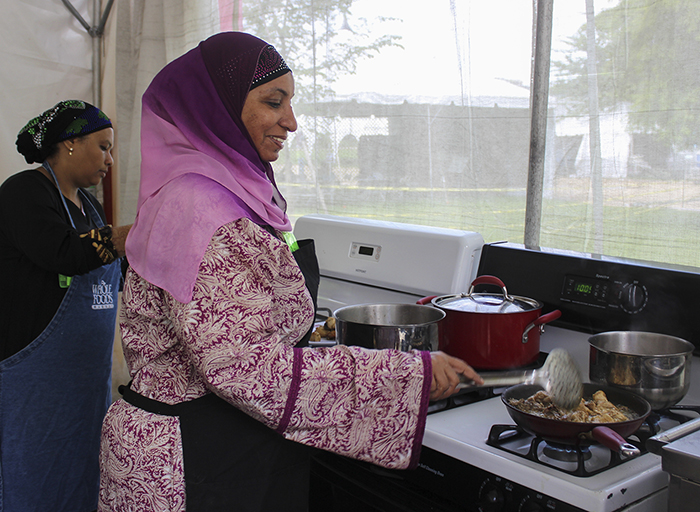 Starting today, many of our Kenyan participants from the Swahili coast and other predominantly Islamic areas are observing Ramadan. Appropriately named after the root word for "scorching heat," Ramadan is the ninth and holiest month in the Muslim calendar, when followers fast from sunrise to sunset for about thirty days.
The month begins at the first sighting of the crescent moon, following a new moon, so the first day of Ramadan can vary in different parts of the world. While some religious groups began fasting on Saturday, presenter Kathryn Coney-Ali said the Muslim participants in Kenya: Mambo Poa voted to start today, due to the hard work and long hours they put into their Festival duties.
Foodways demonstrator Fatma Ali Busaidy will be cooking in the Flavors of Kenya tent each day but abstaining from eating or even drinking water during daylight. Currently, daylight in equatorial Kenya lasts twelve hours, but further north in Washington, D.C., Fatma and her fellow participants must fast for fifteen hours.
Why are they committed to fasting for so long? Fatma explained the three meanings of Ramadan: 1) to be healthy and rid of certain viruses that can only die through fasting, 2) to teach morality and compassion, learning what it's like for people who cannot afford food and gaining respect for all human beings, and 3) to bring all Muslims together through socializing, increased prayers, and distribution of food, despite differences in congregation.
"At the end of Ramadan, you can see people are changing their lifestyle and behavior," she said.
In the morning, they will eat the pre-dawn meal called suhoor. Fatma prefers fruit and milk tea, but others rely on a heavier meal to get them through the day. After sunset, the Key Bridge Marriott in Arlington—where all the Folklife Festival participants stay—will prepare a special later meal for the Muslim contingent.
"We normally drink black coffee and have dates, and then we go for prayers," Fatma said about the post-sunset meal. "Normally at home we have snacks, like the bajias, samosas, meat pies, fish cutlasses. And then family meets, and we have iftar. That's when we cook big dishes."
The daily iftar is a chance to invite others from the community into your home. Anyone at the local mosque who has no family to break fast with is invited for the meal. Families always cook large quantities of food, more than they can eat.
"Then near opening of Ramadan, we send plates of food to the poor people or to the neighbors. That's very important," she said. "And if you can afford it, half you eat, half you give away."
In the Flavors of Kenya tent, Fatma will have to give all the food away, but she says the fasting is not difficult for her. Even away from her home in Lamu, she said she feels settled and healthy enough to observe. With the three purposes of Ramadan in mind, and a new prayer tent constructed this weekend by the Festival tech crew, she is prepared to carry on her religious traditions here on the National Mall.
Elisa Hough is the editor for the Center for Folklife and Cultural Heritage and is about to break fast at Spice Routes Cafe now that she has finished this blog post.