Celebrating Jamaican Folklore and the Life of Olive Lewin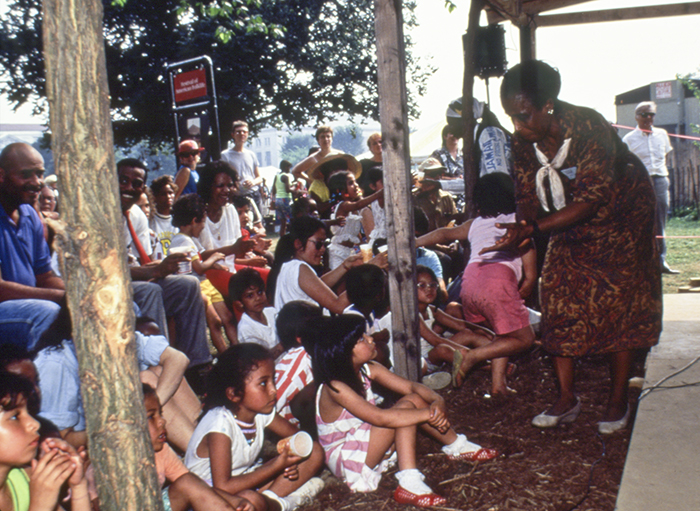 Several hundred Jamaican Americans of all ages gathered at Nova Southeastern University in Davie, Florida, on a beautiful bright Saturday afternoon in May to officially launch the Olive Lewin Heritage Foundation with joyous song and celebratory speeches. I was honored to serve as keynote speaker at this event that drew attendees from across Central and South Florida and the Jamaican Consul General from Miami to remember and celebrate the work of Dr. Olive Lewin (1927-2013) and community-based musical expressions, children's games, and other expressive genres and knowledge systems.
The program notes summarized Lewin's work, signaling the high value Jamaicans attach to education:
"Jamaica's treasure of folk music and some of our oral history would have largely remained unknown and buried in the deep recesses of rural Jamaican culture, were it not for Olive Lewin…. For much of her lifetime, she traveled to the remote rural villages, towns and communities all over Jamaica, attending events featuring Jamaican folk music late into the nights. She sat by the feet of the elders in some of these districts, learning from them our history and culture, ensuring that she thoroughly yet respectfully probed their musical memories."
The launch featured video clips of Lewin and spirited, often sing-along musical presentations from four community-based groups: The Jamaican Folk Revue, The Sierra Norwood Choral Ensemble, The Tallawah Mento Band, and The South Florida Caribbean Choral. All performances evidenced deep, abiding interests by the diverse audience in maintaining living connections to the community-based or folk memories and practices among the estimated 60,000 Jamaican citizens and residents mostly concentrated in South Florida.
Former Prime Minster Edward Seaga, the pioneer in Jamaican folklore research and statecraft policy, also presented. Now eighty-four years of age, he is a man of encyclopedic knowledge about Jamaican musical culture. He described how he conscientiously immersed himself as a young upper-class Harvard-educated adult in rural and urban Jamaican communities of lower social and economic status bountiful in African-informed cultures. Still, Seaga emphasizes that many formally educated and middle- and upper-class Jamaicans today are somewhat uneasy with the community-based musical and cultural creators whose folk-based musical expressions in particular have given Jamaican "worldwide positive branding."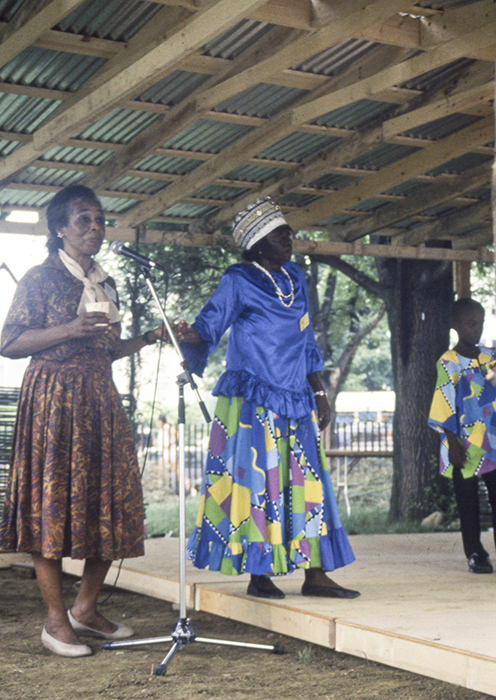 Lewin collaborated with the Center for Folklife and Cultural Heritage on numerous Folklife Festivals in the 1970s and 1980s. At her surprising request, I agreed to write the introduction to her book, Rock It Come Over: The Folk Music of Jamaica, described at the time as "the most extensive study of Jamaican folk music yet published."
In my introduction I noted, "In contrast to cultural work with grassroots communities and festivals that simply present traditional performance groups without context or as quaint, even exotic, aspects of life in rural and 'foreign' places, Olive Lewin's professional collaboration with Jamaican tradition bearers has always been consistent with the philosophy of the Smithsonian Institution Center for Folklife Programs and Cultural Studies: 'to join high-quality scholarship with strong community service and educational outreach.'"
Olive Lewin remains in the legacy-chain of the Center for Folklife and Cultural Heritage, especially Smithsonian Folkways Recordings. She had cited renowned ethnomusicologist Charles Seeger as one of the academic and professional colleagues "crucial" in giving "inspiration and confidence" to her writing Rock It Come Over.
Anthony Seeger, grandson of Charles Seeger and Smithsonian Folkways founding director-curator, noted on the death of Lewin: "Olive took me under her wing because she knew my grandfather, Charles Seeger. She was always gracious and tough-minded. We worked on many projects together, and I was always grateful for her tact and honesty."
Miss Olive, as many including myself referred to her, foregrounded a defining ideological debate that has engulfed polemics about the terminology, substance, and contemporary viability of concepts of folklore, folklife, tradition, and heritage. The diverse community turnout and sing-out is testimony that these terms and the community expressions they figure are vibrantly alive, as is the spirit of Olive Lewin.
James Early is the director of Cultural Heritage Policy at the Center for Folklife and Cultural Heritage.