Capturing the Social Life in Folklife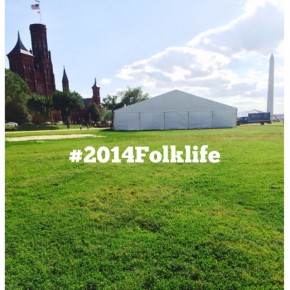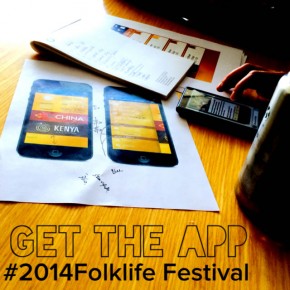 As the first new media projects employee for the Center for Folklife and Cultural Heritage, I've been excited to introduce to our followers all the amazing content and hard work that goes on within these walls. Not only this, but I'm also tasked with communicating the array of concerts, demonstrations, storytelling, and art that will exist outside our walls on the National Mall during the 2014 Smithsonian Folklife Festival.
The talented interns that came before me did a spectacular job at maintaining the Center's social media accounts, but the larger picture of our digital presence is often buried among the logistics in planning an international multi-program Festival. Part of my goal in heading up our new media projects has been to portray our Center and its staff, interns, and volunteers as the colorful, intelligent, and innovative ensemble that they are. Additionally, I've focused on creating social media avenues through which our followers and fans are able to interact and engage with our content, as well as voice their opinions.
To give readers a snapshot of our social life from its many platforms, I've compiled a list of my favorite posts and some of our social initiatives leading up to the #2014Folklife Festival. If you haven't already done so, you can click to "follow" along in each of these posts to learn more about our China and Kenya programs this year, the Festival's history in Washington, D.C., and the Folklife characters that make it happen every year.
Additionally, you can download our Folklife Festival App on iPhone and Android devices for the ultimate connection to the Festival—post status updates and pictures, watch videos, learn more about the Festival artists and musicians, and build a personalized schedule.
The first Smithsonian Folklife Instagram Contest is themed "Capture a Moment of Discovery." We are challenging our Festival visitors to capture that fleeting moment when someone learns a new dance step, sings a new song, or eats a new food. Read our contest rules here [PDF].
For the past couple years, we have used an iteration of #2014Folklife to gather social posts for each Festival. This year I introduced an additional hashtag,
#MyFolklifeFestDC
, to give our Festival-goers, both seasoned and new, a voice to share what the Festival means to them. Our followers have answered with fond memories and passionate opinions about having a Festival like ours on the National Mall and in their lives.
With the two-part Tweet below, I encouraged our Twitter followers to RSVP to our main Facebook event page and I gave them an idea of the scope of the Festival (one million visitors!). Since this post, we've had about three hundred more RSVPs, and we expect many more for each of our evening concerts, such as the Ralph Rinzler Memorial Concert: Smithsonian Folkways Tribute to Pete Seeger.
(1/2) #2014Folklife update: 430 people have #RSVP'd on our FB event page, which is a lot… http://t.co/qLKCQtACq0 #FactFriday

— SmithsonianFolklife (@SmithsonianFolk) May 30, 2014
(2/2) However, each year we see over #1Million visitors over its 2-week run! RSVP: http://t.co/qLKCQtACq0 #FactFriday pic.twitter.com/tlpClwKTqu

— SmithsonianFolklife (@SmithsonianFolk) May 30, 2014
Each social media platform offers its own variety of multimedia options. Instagram is becoming increasingly versatile with a seemingly endless amount of apps developed to enhance your 'gram. The collage and video features have been a great way to demonstrate some of the Festival crafts.
The interactive 360 Panorama photo speaks for itself. As tents went up last week, these panoramas place the user right on the National Mall and right in the middle of Festival preparations. I imagine these will only get more and more busy and exciting as we get closer to opening day. You can spin through all of our 360-degree panoramas on our Occipital page.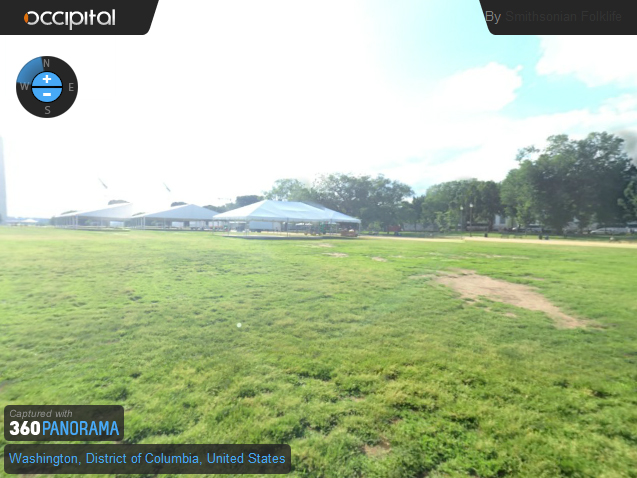 Snapchat is brand new to the Center. Following in the footsteps of other organizations (Smithsonian Channel, for one), I'm excited to get snapping with fun, smart, and on-your-toes sharing. While Snapchat messages do disappear, they offer a low-stakes and lighthearted way to communicate the Festival. Add "SmithsonianFolk" to your Snapchat contacts and you'll get pictures of Festival setup, messages from the staff, and Festival highlights snapped right from the National Mall.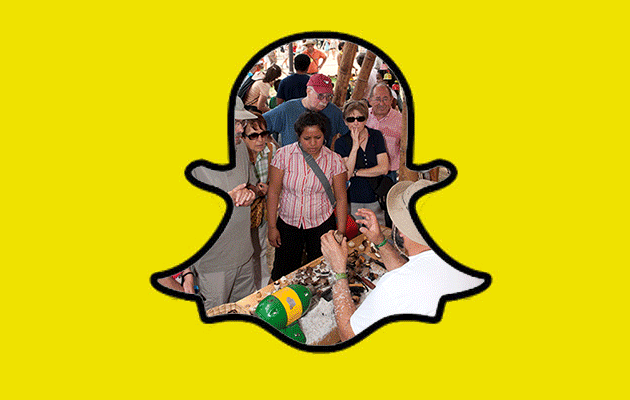 KC Commander, a Georgia girl with a background in musicology, is the Center for Folklife and Cultural Heritage's new media projects assistant. A former Smithsonian Folkways intern, she is excited to post, tweet, snap, and tumble the 2014 Smithsonian Folklife Festival right from the National Mall.