Working Magic, Occupations of the Film Industry: Introducing Kid Richmond, Stuntman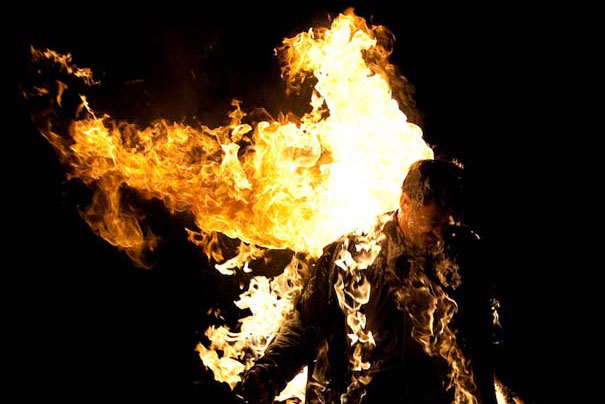 When was the last time you sat through all the credits after watching a movie? How many of those job titles did you understand?
I rarely sit through the credits unless I know there is some sort of bonus scene at the end, and only recently have I begun to learn the details of movie-making. Since I started my internship with curator Betty Belanus here at the Center for Folklife and Cultural Heritage on research for a future Folklife Festival program on occupations in the film industry, one of the things I've discerned while doing this research is that "working in the film industry" can encompass a wide variety of professions. From pre-production to post-production, a huge team of professionals all lend their unique skills to make a finished film. Often, however, their only recognition is seeing their names in the end credits.
At the beginning of my internship in September, I was tasked with creating podcasts of some of the interviews which had been done by Betty and interns before me. Betty has been talking to people whose occupations range from set building to sound engineering to so much more, learning about the crafts of film production to put together an exciting Festival program in which visitors will learn how complex a job it is to produce a movie. I was also encouraged to find and interview other film workers once I familiarized myself with the concept behind the Festival program and the type of information Betty was seeking.
Producing these podcasts meant teaching myself a whole new suite of skills. With no previous experience editing audio, I downloaded free software and taught myself how to cut, rearrange, and tweak the sound. It was slow going, and sometimes involved listening to the same five seconds of audio over twenty times just to figure out what was wrong with it. I had to remind myself what human breath naturally sounds like. In the end, though, I had a lot of fun and wanted to share the end result here.
I've always loved movies but had never thought too hard about what it really takes to make a good one. This series will explore a tiny sample of the wide variety of jobs involved in making film; a stuntman seemed like an explosive place to start.
We kick off this series by introducing Jake "Kid" Richmond, a stunt actor and coordinator who built his career from the ground up by literally driving out to Hollywood from his native Richmond, Virginia. For my first podcast effort, I worked with an interview conducted by Betty and then-intern Mike West at Kid's home. Kid is also the inventor of Devil Skin stunt gel, allowing him and other stuntmen to safely set fire to skin without a protective garment. In this episode, Kid talks about his struggles breaking into the film industry, how moving to Los Angeles changed his assumptions about what it meant to work in film, what it means to be successful as a stuntman, and much more.
Interview with Kid Richmond
Click here to read Jake "Kid" Richmond podcast transcript.
Click here to find out more about Kid Richmond on his website.
Julia Fernandez will graduate from Smith College in 2014 with a B.A in American studies focusing on popular culture. This past semester, as an intern at the Center for Folklife and Cultural Heritage, she worked on the future Festival program on occupations in the film industry, conducting interviews with local film professionals and creating this podcast series.
Interview recorded with Betty Belanus on November 17, 2010.