The Return of the Welsh—Presenting at One World, Many Voices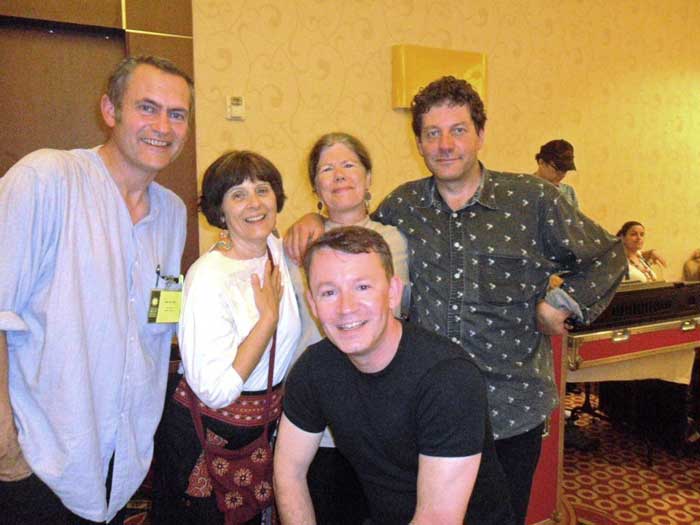 When Marjorie Hunt, co-curator of this past summer's One World, Many Voices: Endangered Languages and Cultural Heritage program, informed me that she was using Welsh as a case study, and she would like me to present the Welsh participants, I was beyond thrilled. I could finally pay Marjorie back for her hard work presenting for the 2009 Wales Smithsonian Cymru program that I had curated!
Welsh language and culture are dear to my heart and the idea of bringing even a small number of Welsh experts for another Festival program made me very happy. (Not only me, but many members of the St. David's Welsh American Society of Washington, DC, who came out almost every day to support the participants during the event!)
Presenting the Welsh participants gave me an opportunity to do short interviews with the two participants who also came in 2009. Poet and broadcaster Ifor ap Glyn came to the One World, Many Voices program during the first week. He commented that the 2013 program, compared to the Welsh program in 2009, was like being "a cog in a bigger clock…and obviously in many ways it's more stimulating because you're encountering things that you're just not familiar with."
He described a wonderful encounter with the Yiddish participants during a "song swap" that was closed to the public due to a heavy rain: "It actually turned into more of a genuine song swap, and that was fantastic, a definite highlight."
During the first week, the Welsh participants, who did not have their own tent, were welcomed by the Wabanaki tribal participants from Maine into their demonstration tent, and the table they occupied became known as "The Welsh Embassy."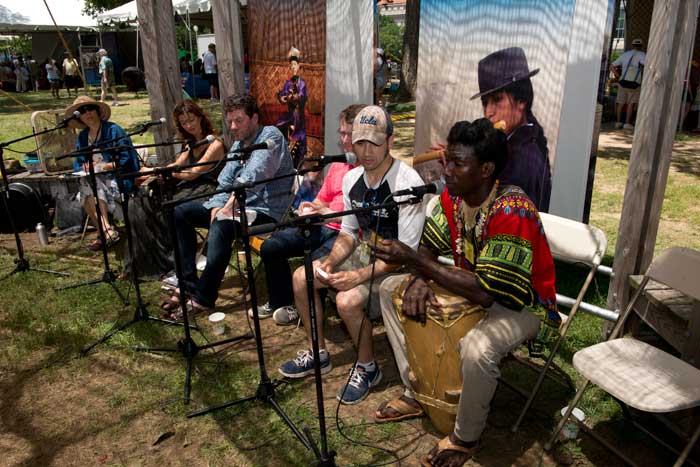 Singer and songwriter Gwyneth Glyn came the second week of the Festival and had a similarly positive experience.
"I've really enjoyed this year's focus on language and cultural heritage because that's really, fundamentally why we do what we do," she said. "So that's been a particularly fascinating experience, to talk to people specifically about the language and how we use language, and having to ask myself many questions that I previously hadn't thought about. Having to examine how I use language, and really to think about the moral values of saving a language or preserving a language has been very rewarding for me as an artist."
Ifor and Gwyneth also explained how participation in the 2009 program had affected their work. Both commented on how encountering not only other people from Wales who they did not know before, but the participants in the other programs that year (Giving Voice: The Power of Words in African American Culture and Las Americas: Un Mundo Musical) had encouraged them to reach out to other collaborations within Wales. Since 2009, Gwyneth has worked with some Urdu musicians in Wales, and Ifor has followed up with some of the "unexpected synergies and interesting combinations" of performers that found themselves coming together at the 2009 program.
Gwyneth came away from the One World, Many Voices program with the promise of working with fellow Welsh participant Twm Morys.
"Although we move in the same circles, there has never really been a chance to properly collaborate before, and we had some really good feedback on our performances [at the Festival], so I'm hoping that can continue when we get back home," she said.
Ifor is hoping to stay in touch with the Yiddish poets and musicians. All four of the Welsh participants this year—Ifor, Gwyneth, Twm, and Owen Saer—expressed their willingness to come back another year! Owen commented in an e-mail, "This experience has most certainly broadened my outlook, strengthened my pride in my language and culture, and given me a renewed urgency and vigor in pursuit of my calling as guardian and promoter of these."
Thanks, Marjorie, for giving me the gift of revisiting Welsh language and culture, and diolch yn fawr iawn to Ifor, Gwyn, Owen, and Twm for making it such a memorable experience. I am looking forward to traveling back to Wales to visit all my friends there, but first I had better work on my meager Welsh, or Owen will never forgive me. Good thing there are now resources for learning and practicing Welsh on the Internet!
Betty J. Belanus is an education specialist and curator at the Center for Folklife and Cultural Heritage. She spent four months with her family living in Wales in preparation for the 2009 Wales Smithsonian Cymru program.
Explore Welsh culture at the Smithsonian Folklife Festival and in DC: