Hungarian Recipe: Tepertős Pogácsa/ Savory Biscuits with Pork Cracklings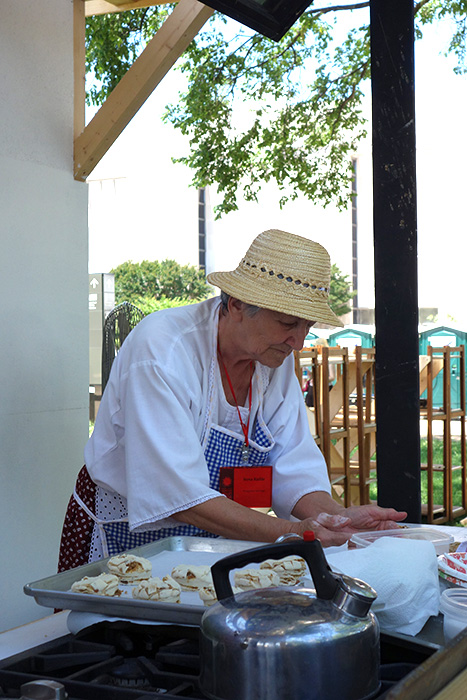 These flaky, savory biscuits are a quintessential snack in Hungary, with each region or city claiming its own unique version, with variations size, shape, texture and flavor. There are many different ingredients which can be sprinkled on top of the biscuit or mixed into its dough. These include fresh and dry cheeses, cabbage, black pepper, hot or sweet paprika, garlic, red onion, sesame seeds, sunflower seeds or poppy seeds. The recipe below is for Tepertős Pogácsa, a variation flavored with pork cracklings mixed in and caraway seeds sprinkled over the top of the dough before baking.
Hamuban sült pogácsa (scones baked on a cinder) play an especially important role in Hungarian fables and folk tales as the hearty, life-sustaining snack wrapped up in the knapsack of the young protagonist off to try his luck in the world. Pogácsa can be eaten alone as a snack or with goulash.
Pogácsa / Scone Made with Pork Cracklings
Recipe by: Ilona Kollár
Ingredients
Dough:
2 lb 3 oz flour
3/4 oz. sour cream
salt, pepper, sugar, caraway seeds
5 oz. lard
10 oz. farmer's cheese
3/4 lb. ground pork cracklings
4 .25 oz packets of dry yeast
1 cup of milk
1 egg
5-6 Tbsp dry white wine
Filling:
Approximately 3/4 lb of ground pork cracklings*
2-3 Tbsp salt
1 heaping tbsp. ground black pepper
Topping:
1 egg
1 pinch of salt
1 pack of caraway seeds
*To make your own Tepertő/pork cracklings:
1 lb pork belly chunks (You can find this in most Asian food markets)
Cook pork chunks in a pan in the oven, or in a skillet on the stove, until all fat is rendered out and what is left are small crispy pieces.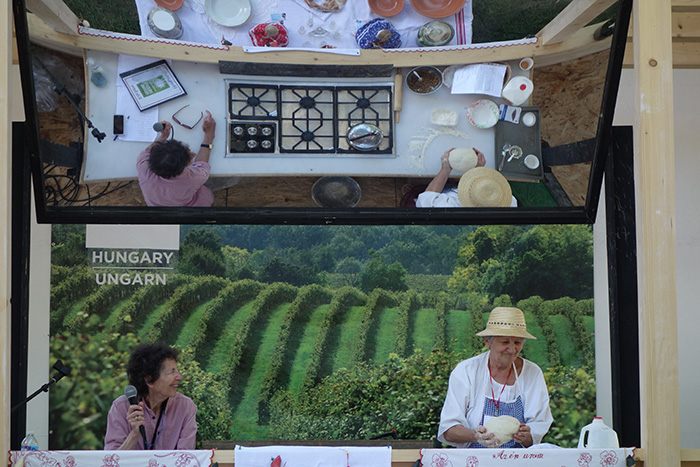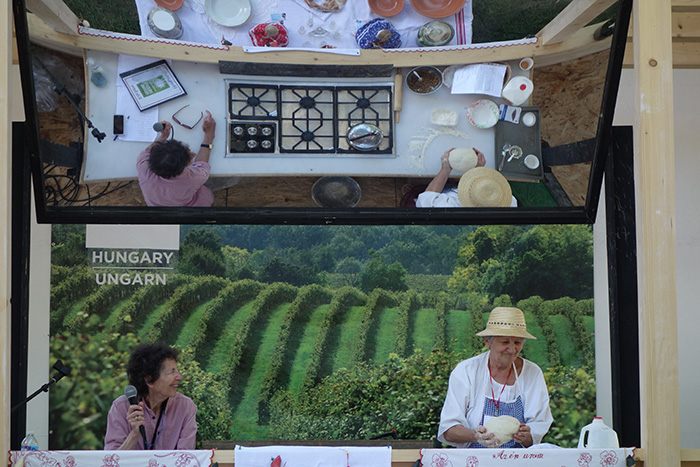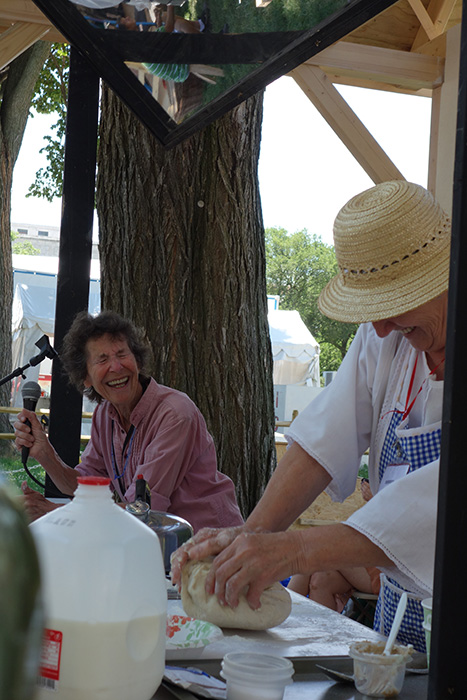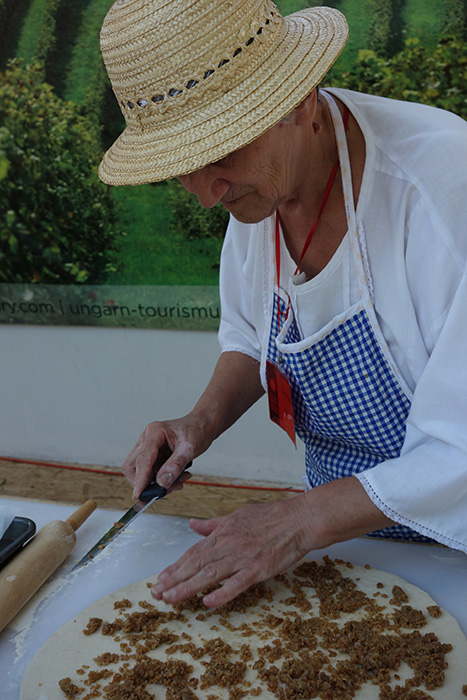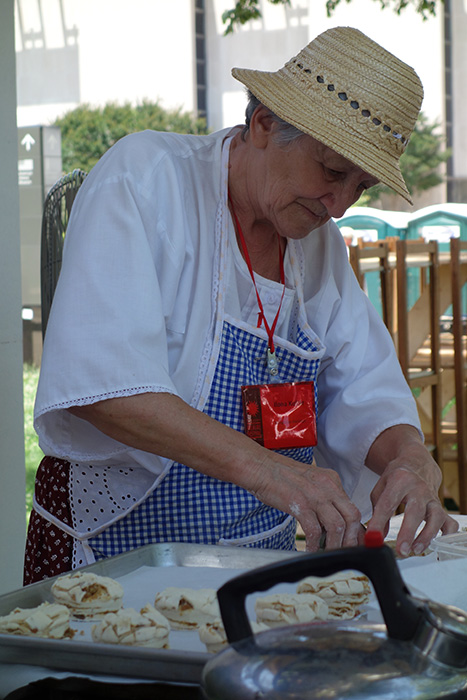 To prepare the scones:
Preheat the oven to 390˚F.
Dissolve the yeast and sugar in some warm milk, and allow it blooms (starts to bubble). If you're short on time, you can skip this step and add dry active yeast to the dry ingredients instead.
Sift the 2 lb. 3 oz. of flour into a bowl and mix in the salt.
Form a dent in the mound of flour with your fist and add the yeast-sugar-milk mixture, sour cream, lard, and white wine, mixing everything carefully together within this dent (either by hand or with a wooden spoon).
Gradually add the rest of the warm milk and work it into the flour.
Knead the dough thoroughly, until it is smooth and sprinkle the surface with flour.
Cover dough with a clean cloth and let it rest in a warm place for about 1 hour (until it expands to twice its original size).
In the meantime, grind the pork cracklings and mix in the salt and black pepper.
Lay the risen dough onto a board sprinkled with flour and, using your hands (also sprinkled with flour, knead it and stretch it to be about 1/4 in. thick.
Spread the pork crackling evenly onto the surface and tightly roll up the dough from the bottom to the top. (Ideally, the dough should be left to rise for 10-20 minutes after it's been rolled.)
Starting from the left side and moving to the middle, flatten the dough a bit and then flip the right half over the left, like pages of a book.
Cover it with a clean cloth and let it sit for 20 minutes.
Stretch the dough to 3/4 in. thickness and score the surface about 1/2 in. apart and 1/4 in. deep.
Dust a round cookie cutter with a diameter of 2-3 in. (or 1 in. for minis) and use it to cut out shapes from the dough.
Arrange these on a baking tray, setting them at least 1 in. apart from each other. This is very important, because otherwise you will end up with one giant rectangular biscuit!
Beat one egg, add a pinch of salt, and brush over top of raw dough.
Sprinkle a small amount of caraway seeds on each.
Let the dough rest in a warm place for 15-20 minutes before placing the pan into the oven.
Bake for 20 minutes (check after 15 min.) until the tops turn reddish gold.
These are best served fresh, but you should wait to serve them until they cool down a bit, lest they you a stomach ache!
Lili Kocsis is the Participant Assistant for the 2013 Hungarian Heritage Festival program. She graduated from Harvard University in 2011 with a B.A. in linguistics. She dedicates her spare time to purposeful travel, food photography, and writing about regional cuisine.