Save the Date: Festival Opening Ceremony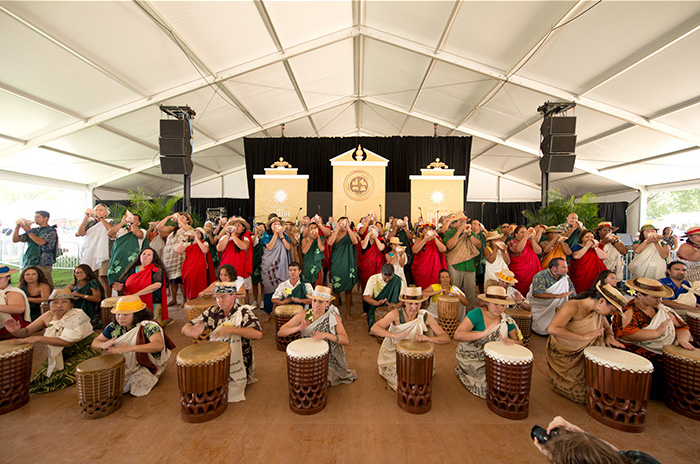 Come down to the National Mall on June 26 for the opening of the 2013 Folklife Festival! The opening ceremony, which signifies the official start of the Festival, begins at 10:30 a.m. on the Danubia Stage at the Hungarian Heritage program. Distinguished speakers and talented performers from our three programs (Hungarian Heritage: Roots to Revival; The Will to Adorn: African American Diversity, Style, and Identity; and One World, Many Voices: Endangered Languages and Cultural Heritage) will help to kick off the Festival with energy and excitement. Following the end of the ceremony at noon, the Festival opens to the public.
Among these speakers are Tamás Fellegi, President of the Hungary Initiative Foundation; Tibor Navracsics, Hungarian Deputy Prime Minister and Minister of Public Administration and Justice; Madaha Kinsey Lamb, Executive Director of Mind-Builders Creative Arts Center; John Fahey, Chairman and CEO of the National Geographic Society; and George Papagiannis, External Relations and Information Officer for UNESCO.
Performing at this year's opening ceremony are Szalonna and His Band and the Juhász Family for the Hungarian Heritage program. Dancers from international collective Urban Artistry will be performing for the Will to Adorn program, and Tuvan instrument maker Aldar Kanstantinovich Tamdyn will display his musical skill for the One World, Many Voices program.
Other speakers include Smithsonian Secretary Dr. G. Wayne Clough and Undersecretary Richard Kurin. Michael Mason, director of the Center for Folklife and Cultural Heritage (CFCH), will speak on behalf of the whole staff of CFCH, whose hard work has made the Festival possible. Come join us for this memorable event!
Louise Ahmann is a Special Events intern this summer at the Smithsonian Center for Folklife and Cultural Heritage. During the academic year, she studies music business at New York University.